Royal Links Golf Club: A unique taste of British Open golf in Las Vegas

By
Bill Bowman
,
Contributor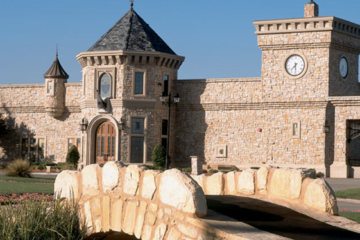 View large image | More photos
Experience the challenge of some of golf's most historic holes at Royal Links in Las Vegas. (Courtesy of Royal Links G.C.)
LAS VEGAS -- To say Las Vegas is a unique destination would be an understatement.
And the golf is no different.
Want proof? How about playing golf in Las Vegas on some of the best holes in the British Open rotation?
Not possible? Well, have we got the perfect spot for you -- Royal Links Golf Club.
At this 7,029-yard, par-72 Dye International design, players will find themselves on a wondrous journey through Scottish-style golf holes that were inspired by some of golf's most famous layouts. Replicas of some of the best holes in British history -- such as the "Road Hole" and "The Postage Stamp" -- are right here in Vegas.
"It's certainly a golf course many people wouldn't expect in Las Vegas," said Josh Hill, director of marketing for Walters Golf. "It's a unique experience to play a round of golf they wouldn't be able to do at their home course. It was the brainchild of Mr. [Billy] Walters. He wanted to create something different designed in line with the resorts that take themes from around the world."
On the course at Royal Links Golf Club
Some of the holes you'll never forget at Royal Links include the par-3 eighth, The Postage Stamp hole from Royal Troon. At 153 yards, it's a short iron off the tee, but that's only if players hit this postage stamp-sized green. Miss it and one of the five bunkers comes into play.
These are five of more than 100 bunkers sprinkled strategically (and sometimes out of view) around the course. And we're not talking about any ordinary bunkers. These are deep and menacing, just like you'd expect on a British Open-style layout.
And while you're on the eighth tee box, you'll find amazing views, too, including the Las Vegas Strip to your right.
The 10th hole is a replica of the Road Hole on the Old Course at St. Andrews. The 466-yard par 4 is a severe dogleg right off the tee. Players need to cut as much of the dogleg off as possible -- without hitting the impressive scoreboard that welcomes players to the Road Hole.
Hit it too far left and the gorse comes into play, and you'll be faced with hitting a wood or long iron into a green that's fronted by a menacing bunker and backed up by the road that gives the hole its name.
"Our guests rave, day in and day out, how well Dye did designing this course," Hill said. "Some have played some of the British Open courses and are amazed at how well these holes look and play."
The 18th hole at Royal Links is a fitting end to a tremendous round of golf. The finale, modeled after the 14th hole on the Old Course at St. Andrews, is a 515-yard par 5 that features no less than 15 bunkers along with rolling hills and a huge, undulating green. A great drive and a solid second shot will get big hitters home in two, but the green also features a false front that will test players' short-game skills and putting prowess in search of a birdie (or eagle) to finish the round.
No matter the score, you'll come away with a new appreciation for the game of golf and its origins.
Other amenities at Royal Links Golf Club
Playing at Royal Links is more than just a round of golf -- much more. Players will learn about the history of the sport as monuments around the course highlight memorable moments in British Open history.
The Swilcan Bridge greets players as they walk to the first tee, and a Champions Wall salutes past Open winners. There's an old-fashioned phone booth on the ninth tee, where players can phone in lunch orders (including specialties such as fish and chips, and bangers), and, to finish off an amazing round, grab a Guinness at Stymie's Pub. History never looked -- and tasted -- so good.
One other thing to remember when you're playing Royal Links: Make sure to take a caddie (or a Parmate) for your first round, or at the very least buy a yardage book. With many bunkers hidden away, players will need advice on the best ways to attack holes.
Royal Links Golf Club: The verdict
You may not be playing golf across the pond, but a round at Royal Links will give players that feeling they are teeing it up where golf began.
"From the time players pull in until they leave, players will have a great golf experience," Hill said. "We pride ourselves on customer service, and that's one reason we have people coming back to play two and three times a year. It's a great course and players will get a unique look at the history of the sport. It's just 10 minutes away from the Strip but worlds away from the ordinary."
More photos
«
»
May 25, 2011
Bill Bowman is a Las Vegas-based writer who has more than 40 years in the sports-writing business. He's spent the past 16-plus years covering the golf scene in Vegas and has teed it up for magazine profiles with celebrities including comedian Bill Engvall, actor Jeffrey Donovan (USA's Burn Notice), ESPN personality Colin Cowherd, NASCAR's Kurt Busch, Collective Soul's Ed Roland, the Baltimore Ravens' Jonathan Ogden and many others.