Royal American Links in Galena is a central Ohio 'secret'

By
Jason Scott Deegan
,
Senior Staff Writer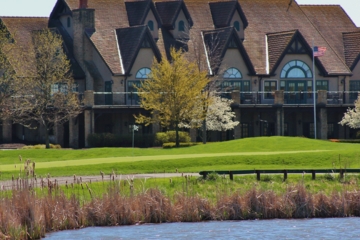 View large image | More photos
The finishing hole is the No. 1 handicap at Royal American Links in Galena, Ohio. (Jason Scott Deegan/TravelGolf)
GALENA, Ohio -- Welcome to Farmville. Not Facebook style but reality.
The path to Royal American Links is as rural as central Ohio gets. The back roads can make it seem like you're hopelessly lost. It appears that civilization -- not to mention a strong golf course -- is miles away.
Royal American Links calls itself "central Ohio's best-kept secret" for this very reason. It's not easy to find for outsiders, but those who make the journey are rewarded. Opening in 1992, Royal American was built to be a private club, so all the pieces of a great golf experience are there.
Course staff members often end up picking up the phone to give directions to wayward souls. "You've got to come out here once to get your bearings straight," said Jason Shelton, the assistant general manager at Royal American.
Architect Michael Hurdzan gave the 6,879-yard course a links feel on 143 acres of mostly flat land decorated with wetland and woods. Fescue grasses -- not houses -- line many of the holes.
"We like to say we are a private club with a public course," Shelton said. "Golfers like the links style. They like the water. They really like the clubhouse."
The 18,000-square-foot clubhouse does its best castle impersonation with a stone exterior. Upstairs is a wonderful banquet facility and balcony overlooking the ninth and 18th greens. The Grille Room downstairs next to the pro shop is spacious and a great place to hang out after the round.
"I like the ambiance of the clubhouse and how they treat us here," said Leon Chandler, a member from Grove City, Ohio.
The staff might be friendly but the course can get surly at times. There's enough water to hold a fishing tournament.
Players should be prepared to hit quality shots from the opening tee. Water crosses the fairway on the first three holes, a theme throughout the round (more hazards dissect fairways at 10, 14 and 18). Even though the par-5 first hole is the No. 18 handicap and the par-4 second and third holes are shorter than 352 yards from the tips, they're all potential pitfalls that can derail the day.
"If you can get through the first four holes, you are okay," Shelton said. "On holes 2 and 3, you can score well or you can go in the water a couple of times."
Players who are good ball-strikers or good course managers can find ways to score at Royal American Links. Four par 4s play less than 352 yards from the tips. Those skills help avoid ponds on the par-4 ninth and par-4 15th holes, too. The signature hole, a par 3 at No. 12, demands a 190-yard blast over, you guessed it, more water.
"The course is a lot of fun to play. It is challenging every day," said member Larry Conti. "There are some nemesis holes and ones you can score on."
Royal American Links: The verdict
The links theme is a bit misleading but that can be forgiven. All the water makes Royal American Links more of target course than a links. The variety of the par 4s makes the day enjoyable.
More photos
«
»
May 8, 2012
Jason Scott Deegan has reviewed more than 700 courses and golf destinations for some of the industry's biggest publications. His work has been honored by the Golf Writer's Association of America and the Michigan Press Association. Follow him on Twitter at @WorldGolfer.