Revere Golf Club in Las Vegas: 36 holes, one great golf experience

By
Bill Bowman
,
Contributor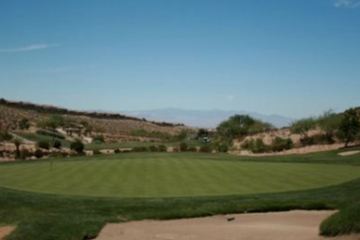 View large image | More photos
Revere Golf Club's two Greg Nash/Billy Casper layouts test golfers from start to finish. (Courtesy of Revere G.C.)
HENDERSON, Nev. -- Start with 36 holes of golf, add in some of Las Vegas' most dramatic skyline views, throw in challenging holes and you have the makings of an outstanding golf experience.
In other words, you have Revere Golf Club.
The two Greg Nash/Billy Casper layouts -- the Lexington and Concord -- test golfers from start to finish. Both courses roll over, around and through Vegas' foothills.
"There are a lot of risk/reward scenarios here," said Dennis Piekarski, director of sales and marketing at Revere G.C. "But what you see is what you get. It's all pretty well laid out in front of you."
Accuracy off the tee is the key to success on both Revere courses, but with impressive doglegs, challenging lies and well placed bunkers, that's not always an easy task.
"The rough will definitely penalize you on some holes," Piekarski said. "Players just need to play smart."
So grab your clubs (and camera), plot out a smart strategy (purchase a yardage book) and get ready for a solid test of golf.
Revere's Lexington Course stretches out to 7,143 yards and is a shot-making adventure. Take the par-5 seventh hole, for example. Called King's Chapel, this 489-yard par 5 is as beautiful as it is challenging. A precise tee shot will give players the chance to go for the green in two. But bunkers short and a pond/waterfall long make pinpoint accuracy a must. The second (or third shot depending on how aggressive players are) will be to an elevated, multi-tiered green. While birdies and eagles are possible, sometimes par is a great score.
The 10th hole, an easy-looking but tough 379-yard par 4, will also test players to pull the right club. Eight bunkers must be avoided off the tee and a gulley cutting in front of the green makes the second shot tough, even with a wedge in hand.
Overall, the Lexington is one of those courses players will have more success with the more they think their way around.
Revere's Concord Course plays 7,034 yards with large, receptive greens. Like the Lexington, elevation changes will affect club choice at many turns.
That's no more apparent than on the par-5 18th. At 551 yards from the tips, it's a very intimidating hole. The tee shot is over a deep-blue pond to a fairway that narrows with six bunkers edging their way into the fairway. At this point the fairway starts to slope severely downhill, leaving golfers with downhill stances. Going for the green in two is possible, but a dry creek bed cuts its way across the front of the green and nine bunkers surround the sides and back of the green, putting even more demand on an accurate shot. Lay up with your second shot and take your chances with a wedge.
Take your best shots at both courses. You'll be glad you did. And if you're just looking to work on your game, the Battlefield, an all-grass facility, is perfect for those practice sessions or lessons.
In the clubhouse at Revere Golf Club: Before or after the round, the clubhouse, Buckman's Grille, is an ideal spot for a drink or meal, and players can have front-row seats as the famed Vegas skyline lights up at sunset. It's also a popular place for special events as the ambiance and service are top-notch. Menu items run the gamut from burgers to salads.
More photos
«
»
May 18, 2012
Bill Bowman is a Las Vegas-based writer who has more than 40 years in the sports-writing business. He's spent the past 16-plus years covering the golf scene in Vegas and has teed it up for magazine profiles with celebrities including comedian Bill Engvall, actor Jeffrey Donovan (USA's Burn Notice), ESPN personality Colin Cowherd, NASCAR's Kurt Busch, Collective Soul's Ed Roland, the Baltimore Ravens' Jonathan Ogden and many others.