Red Mountain Ranch Country Club in Mesa, Arizona: A Dyeabolical little golf course from 150 yards in

By
Scott Bordow
,
Contributor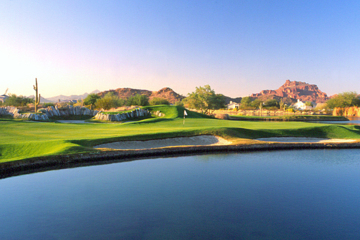 View large image | More photos
Red Mountain Ranch C.C. in Mesa, Ariz. demands accuracy and a strong thought process. (Courtesy of Red Mountain Ranch C.C.)
MESA, Ariz. -- Pete Dye designed Red Mountain Ranch Country Club in 1986.
That must have been a bad year for him.
How else can you explain the diabolical mounding, contours and small greens that turn what should be a benign par-72 course into a supreme test of shot-making?
You see, Red Mountain Ranch -- a once-private club that now offers limited public play -- isn't very long (6,653 yards from the tips), the landing areas off the tee are fairly generous, and there's hardly an overabundance of water and sand.
But from 150 yards in, the course is as difficult as any in Arizona. That's why it has a slope of 146 and a rating of 73.0.
"This is very much a second-shot golf course," Director of Golf Scott Bunker said.
The mounding, borrowed from Scottish links courses, gives Red Mountain Ranch its bite. It's not uncommon to stripe a drive down the middle of the fairway only to have a side hill or downhill lie. And even with a short iron in hand, those lies make it difficult for weekend golfers to hit their approach shots near the pin.
But where the mounding really comes into play is around the greens. Rare is the hole where you can employ a bump-and-run. It's imperative to be able to play a flop shot, given some of the mounds around the green are so big that if you stand right behind them you can't see an inch of the putting surface.
Compounding matters are the greens themselves: They're small compared to most Valley courses, severely contoured, and most slope from back to front. Come up short on the approach, and the ball will back up. Fire 15 feet past the pin, and you're faced with a devilish downhill putt.
And if you miss the green either right or left, good luck getting over the mounds and up-and-down for par.
"If you short side yourself you can stick a fork in you," Bunker said. "You're done."
That doesn't mean Red Mountain Ranch Country Club is unplayable from 150 yards in. But golfers must think their way through their shots. For example, it's often wiser to aim 30 yards away from the pin to a safer landing area than it is to fire at the pin, miss your target by 10 yards and have an impossible chip.
Three other characteristics define Red Mountain: Dye's beloved railroad ties that dot the course, dramatic elevation changes, particularly on the back nine, and doglegs that force you to play target golf off the tee, aiming at the 150-yard markers in the fairway.
The course starts with a bang, primarily because the nines were flipped several years back. Two of the first four holes are 440-yard par 4s, and No. 4 is a 174-yard par 3 with four bunkers surrounding the green.
But where the golf course really picks up is the back nine. The 13th hole is a 397-yard par 4 with water all the way down the left side of the fairway. There's no safe landing area left of the green and a miss right brings the mounding in play.
The 15th hole may be the best on the course, a 203-yard par 3 to a green that slopes from right to left, has huge mounds to the right of the green and two bunkers to the left. As Red Mountain Ranch's own website so accurately puts it, "Aim for the center of the green and get out of there. Otherwise you will be mumbling about Pete Dye and his mental stability."
The 18th, a 354-yard par 4, is the perfect finishing hole for the course. It looks harmless at first, but big hitters can reach the water off the tee, and the fairway narrows dramatically the farther you hit it. The approach shot has to carry water, railroad ties and sand in front of and right of the green. It's possible to make birdie -- or triple bogey.
"People will look at the scorecard before they play and say, 'Oh gosh, we're going to tear this place up," Bunker said. "But they don't. It's a Pete Dye masterpiece."
Red Mountain Ranch Country Club: The verdict
Red Mountain Ranch Country Club is a golf course that demands accuracy and a strong thought process. Where you hit your approach shots is almost as important as how you hit them. Scoring well the first time here is almost impossible, but a few trips around the course and better knowledge of the mounding will improve the scorecard.
More photos
«
»
June 17, 2011
Scott Bordow is a sports writer with The Arizona Republic and an avid golfer (although you can't tell from his putting stroke). His blog appears on azcentral.com. Follow Scott on Twitter at @sbordow.