Fun with Tom Fazio at Primm Valley Golf Club's Desert Course southwest of Las Vegas

By Judd Spicer,
Contributor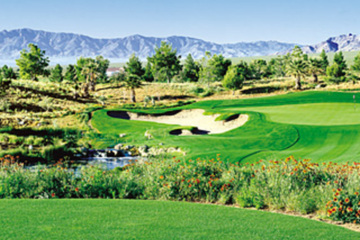 View large image | More photos
Tom Fazio's Desert Course at Primm Valley G.C. sits 45 minutes south of Las Vegas. (Courtesy of Primm Valley G.C.)
PRIMM, Nev. -- Opened in 1997, Primm Valley Golf Club sports a pair of Tom Fazio-designed tracks that all but rise like an oasis from the region's rustic canvass. The courses sit some 45 minutes south of the Las Vegas Strip.
It was built by the original owner of the Primm Resort, Gary Primm, who wanted it as his Shadow Creek. With all the wildlife and nature out here, it's kind of a little sanctuary, and newcomers need know that this golf stop is no Vegas gamble. For local players, the value green fee of Primm Valley offers the rare opportunity to beat the house.
Barry, a mid-handicapper from Las Vegas, said Primm Valley's Desert Course "is pretty challenging."
"The greens are tricky but fair, and I think the people here are very nice -- so I really like this course. I play a lot of golf, and this is one of my favorite courses for the money. It's just a really good value."
Primm Valley Golf Club's Desert Course: Arid and exacting
Between the two tracks at Primm Valley -- the Desert Course and Lakes Course -- the Desert will appeal more to the better player. Staff say that for high-handicappers, however, it tends to play harder because the desert can get into their heads. If you're comfortable hitting a shot off of dirt -- which most single-digits are -- then it will play easier. But for the high-handicap, hitting from the desert can be mental.
Such head games are furthered by finding flat lies, avoiding taut traps and navigating some tight boxes.
Though more arid than its Lakes' sister, the Desert outset offers dual water holes.
After a fun, 389-yard, par-4 sixth with the risk-reward of avoiding desert waste on the right, the Desert cards back-to-back par 5s. Pass the getable seventh, and the meaty 565-yard eighth hole sports desert left and a challenging, raised green structure.
An attractive, 222-yard, par-3 ninth takes players around the turn before the Desert regains steam four holes later. The 13th is a double-dogleg par 5 that requires both a good drive and a solid second shot and only the longest hitters are reaching it in two.
Primm Valley Golf Club's Desert Course: The verdict
Between Primm Valley's two courses, the Desert is more of a shot-makers course. The more arid of the pair in design, players seeking a day of 36 may well want to gear up on the Lakes Course before dialing-in for the Desert's enhanced test.
Guests going to-or-from Las Vegas will indeed want to look into 36-holes of golf, an opportunity heightened with a stay-and-play at Primm Resorts, just five miles down the highway.
Instruction is offered, and there is a full practice facility and eatery on site.
More photos
«
»
October 9, 2015
Judd Spicer is an award-winning, veteran freelance writer hailing from St. Paul, Minn. After 12 years of covering MLB, NBA, NCAA and the active golf landscape of the Twin Cities, he relocated to the Palm Spring, Calif. region to further pursue his golf work and Champions Tour dream. Sporting measured distance off the tee, Spicer refers to his pitching wedge as his "magic wand." Follow Judd on Twitter at @juddspicer.