Olde Stonewall Golf Club soars over western Pennsylvania

By
Tim McDonald
,
Contributor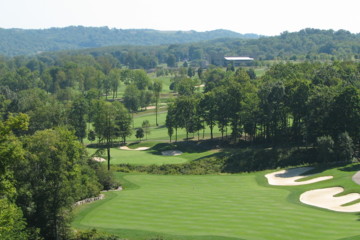 View large image | More photos
No. 16 at Olde Stonewall Golf Club shows off its dramatic elevation changes. (Tim McDonald/WorldGolf.com)
Olde Stonewall Golf Club has castles, knights in armor and moats. It also has a great golf course with fast bentgrass greens, superb elevation and a top notch design by Michael Hurdzan and Dana Fry.
ELLWOOD CITY, Pa. -- The owner of Olde Stonewall Golf Club, a man named Richard Hvizdak, lives partly here in the green, rolling hills of western Pennsylvania and partly in central Florida.
One day in Kissimmee, Fla., well before Olde Stonewall was built, he came across Medieval Times, the tourist attraction that pulls them in like bees to honey in that part of the world, so close to Disney World.
Inspired, he asked Head Golf Professional Jesse Horner, who hadn't been working for Hvizdak long, to get a pen and paper.
Fast forward to 1999 and the opening of Olde Stonewall. Those who arrived that day and golfers who show up to this day, encounter a soaring castle for a clubhouse, right here in the middle of taciturn Pennsylvania farm country. They also see a castle for the snack bar at the turn. In fact, if they look hard enough, they'll see a castle for the maintenance building.
Says Horner: "He has always liked castles."
He also likes rocks and plenty of them. The parking lot and the grounds of the course are landscaped with huge boulders -- 600 million pounds of them if you cared to weigh them -- and they can be found throughout the layout, carted over from a quarry 11 miles away.
There's also a knight in shining armor, a moat and 12-foot doors weighing 800 pounds each. Then there is the matter of the bronze animal statues scattered throughout the rolling, heavily wooded layout.
If all this sounds like a tourist attraction lifted from Disney, be assured it is not. It all works. The effect is bold and, at least in this part of the world, unique. That's mainly due to the beautiful, often sensational, nature of the grounds the course is routed on and through.
The front nine of Olde Stonewall is a lovely walk through rural Pennsylvania, but when you get to the back nine, the golf course soars up there higher even than the castle/clubhouse. The holes, especially nos. 11-16, take you high up over Lawrence County and wow you with the views at the same time they wow you with the actual golf.
This is a beautiful golf course that deserves the recognition it has received from the golf establishment: Golf magazine has rated it one of the top 10 public golf courses in the U.S., and Golf Digest has included it in its 100 Greatest Public Courses, for example.
Olde Stonewall Golf Club: The verdict
First of all, the conditioning is superb, from the bentgrass tee boxes to the bentgrass fairways to the bentgrass greens.
The golf course, relatively isolated even though it's only a 40-minute drive from downtown Pittsburgh, only does about 11,000-12,000 rounds in a normal year, so there is no sign of wear and tear, just as there is no sign of homes cluttering up the beauty. The 15-minute tee times ensure a relaxed round.
More about those greens: The course, designed by Michael Hurdzan and Dana Fry, has dramatic movement throughout but really picks up steam around the green complexes in the form of swales and hollows, deep, grass-topped bunkers and the contours of the greens themselves, which often drop off to collection areas, bunkers or water.
This is one of those golf courses where you need to hit to certain sections of the greens. When you combine the slope with the speed of the greens, putts that are hit too hard can slide by the hole like a locomotive, picking up steam until you're back in the thick stuff, not the short grass.
There is impressive variety: downhill tee shots and uphill approaches; long, PGA Tour-like par 4s and drivable par 4s; reachable par 5s and daunting par 3s that require all the testosterone you can muster.
Olde Stonewall is a par-70 layout, 7,052 yards from the back -- or "Epic" -- tees, and plays every yard from back there. Try it from the tips: They don't mind a bit here if you want to rough up yourself.
More photos
«
»
September 16, 2008
Veteran golf writer Tim McDonald keeps one eye on the PGA Tour and another watching golf vacation hotspots and letting travelers in on the best place to vacation.