At historic Ojai Valley Inn & Spa in southern California, character and history abound

By Judd Spicer,
Contributor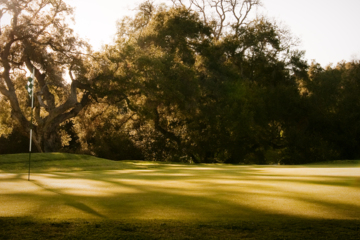 View large image | More photos
Since 1923, the Ojai Valley Inn & Spa has been a great place to play a round of golf. (Courtesy of Ojai Valley Inn & Spa)
OJAI, Calif. -- Eschewing vestige for vibrancy, the historic grounds of the Ojai Valley Inn & Spa maintain relevance in modern day.
While tipping out at a mere 6,292 yards, this classic 1923 design from George C. Thomas (working with Billy Bell) is far more than simply a homage to the past. With ceaseless nooks and nuance, it truly is a wonder how modern ball and club technology is worth about as much as a used golf glove across this timeless routing.
Ojai requires as much shot making today as Ojai has across the generations for tee-sheeted names the likes of Vardon, Ray, Hogan, Demaret, Palmer and Trevino.
"Our course has stood the test of time," says Mark Greenslit, veteran director of golf at the Ojai Valley Inn. "Even today, with the changes in equipment and the way the golf ball goes, you still have to play the course the way George Thomas designed it. You can't overpower this golf course.
"And I laugh all the time when I play with a younger player or somebody who's a pretty good player who's here for the first time. All the trouble they get into trying to overpower the course."
In lieu of distance upon the par-70 card, the wealth of the routing across scenic and serene Ojai demands consistent study of ball placement and continual work between the ears.
"It's a shot-maker's course. You've got to hit the right shot to get close to the hole; you can't just throw the ball in there and hope it works out well for you," Greenslit says. "For the most part, it really is all about being strategic, and it's a variety of shots that you're forced to hit."
Holes found and "lost" at Ojai Valley
The front side at Ojai Valley is a hole-to-hole study of strategy and a thesis of design personality.
After the dramatically downhill, dogleg-right opening hole, the second ensues with one of the best tests in all of western American golf.
"Number 2 definitely gets people's attention. It's not a difficult hole, but you can get in trouble," Greenslit says of the 358-yard par 4. "I think the mistake people make on no. 2 is laying up too much. The goal is to try to get the ball as close to the bunker as you can from the tee; get 10 yards from the bunker and it opens up all the pin placements. And visually, the approach on the second can be intimidating if you focus on the barranca. Getting the right yardage is challenging, and it's one of those greens you don't want to miss."
The diminutive, downhill par-3 third follows before the engaging, 297-yard par-4 fourth asks for a dichotomic club-down mentality with a forced carry from the box.
"The tee shot on no. 5 is one of the most fun on the golf course," Greenslit says. "You're elevated and can kind of let it go. It is tight in some respects depending on how far you can hit it, and then it's a very challenging green depending on where the pin is."
Two holes later arrives what may well prove Ojai's most studied challenge.
"On the seventh, you've got the false front and a bunker next to that, but there's also a little bunker in the back," Greenslit says of the demanding approach. "So when the pin is on the left and you have to factor in that false front, it's a very tight shot to the pin and you've got to a hit a high-lofted shot in there."
Though Ojai presents a more pedestrian run from nos. 8-14, the finish is fervid.
Following the parable par-5 15th (the course's longest hole at 571 yards), come Ojai's "Lost Holes," which had been part of a facility redesign during World War II to accommodate U.S. Army troops and training.
A 1999 rework (of which Greenslit was an integral part) brought 16 and 17 back to their original glory.
"The tee shot on the 16th is just one of those where you have to hit the shot," says Greenslit of the bunker-laden par 3. "There's no bailout, with out of bounds on the right, a barranca on the left and then a lot of bunkers in front. It definitely gets the adrenaline flowing."
The beatific view of the par-4 17th is measured by a truly finite tee shot.
"Number 17 tee is my favorite view in the valley," Greenslit says. "It's a good, challenging tee shot and you can't go right, can't go left. Then it's a very exacting second shot. And it's really three greens in one, depending on pin placement. If you don't get it in the correct quadrant of the green, you're going to have a tough two-putt."
Ojai Valley Inn & Spa golf course: The verdict
"I love it; kind of a target golf course," says Chris Vaughn, a return visitor from Los Angeles who sports a single-digit handicap. "The green are fast and there can be a lot of trouble out here if you can't hit the proper draw or fade."
A rare Thomas design open for public play, Ojai counts among the most unique courses in SoCal and proves a must-visit for those who appreciate classic architecture. Nearing its 100th anniversary, the course continues to reward accuracy over distance.
Full practice facility is on site, complimenting one of the state's most aptly lauded resort and spa experiences.
More photos
«
»
December 1, 2014
Judd Spicer is an award-winning, veteran freelance writer hailing from St. Paul, Minn. After 12 years of covering MLB, NBA, NCAA and the active golf landscape of the Twin Cities, he relocated to the Palm Spring, Calif. region to further pursue his golf work and Champions Tour dream. Sporting measured distance off the tee, Spicer refers to his pitching wedge as his "magic wand." Follow Judd on Twitter at @juddspicer.