Northern Hills Golf Course in Rochester, Minnesota narrows the gaps between golfers

By
Kiel Christianson
,
Equipment Editor and Senior Writer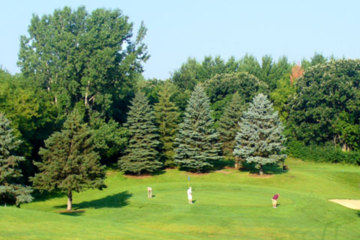 View large image | More photos
The opener at Northern Hills is a cute, short dogleg that runs downhill to a characteristically small, round green. (Kiel Christianson/WorldGolf.com)
Municipal golf courses often get a bad rap - conditions, pace of play, hole designs, you name it. But the municipal course is where many of history's greatest golfers cut their teeth and learned their craft. In the best of all possible golf worlds, it is at the "muny" where low handicappers and weekend hacks can come together, and, with the help of the handicap system and strategic course design, play competitive golf.
Rochester, Minn., is as close as one might come to this sort of golf utopia. Recently ranked as the fifth best golf city in America by one national golf publication, Rochester boasts four munys, three privately owned public courses and two private clubs in the city proper, along with a dozen outstanding daily-fee facilities within a 45-minute drive.
Moreover, as home to the world-renowned Mayo Clinic, Rochester is a center of medical research and treatment. In fact, one out of every 58 people in Rochester is a physician, making it home to more doctors per capita than any other place in the nation.
As a result, on any given day on any given muny in the city, you are just as likely to be paired with a skilled heart surgeon as you are a regular Joe Sixpack.
At Northern Hills Golf Course, one of the city's collection of solid munys, even the layout itself seems to be designed to bring golfers of all economic and skill levels together onto an even playing field.
How Northern Hills plays
At just 6,335 yards from the tips, this 1976 Bumper Westrum design has all the earmarks of a working-class golf haven: reachable par 5s, simple and relatively unbunkered green complexes and plenty of strategically placed trees and high grass to keep everyone honest.
One of the most striking features, which dawns on the first-time visitor after about nine holes, is that the par 4s are all relatively short. And, actually, even the longer ones are designed in such a way as to make longer hitters question whether driver is the best choice off the tee.
In fact, the first long par four, and the first real chance to use driver on any hole other than a par 5, comes at the 418-yard 11th hole. Two holes later, at the second-longest par four (393 yards), the tee shot is to a fairway bisected by a stream and wetlands. As there is no signage to let the uninitiated know how far it is to the hazard, longer hitters may waver and take a shorter club. Shorter hitters, though, can bomb away. Here, as on many holes, both longer hitters and shorter hitters may well end up very near one another after their tee shots, with similar approaches into the often small and front-to-back canted greens.
This isn't to say that Northern Hills is dull. The par 5s are all potentially reachable in two by longer hitters, with the best eagle opportunity coming at the firm and slightly downhill 486-yard 10th. On most par 5s, though, OB looms large, as it does on several par 4s. This is another feature that helps level the playing field between longer and shorter hitters, as OB is often only a real threat to longer balls.
Nevertheless, the abundance of short par 4s does induce a bit of amnesia - it's hard to remember individual holes here, unless you do shoot some birdies or eagles along the way. The par 3s are all nice, as I recall, but frankly I cannot remember any specific details about any of them.
The two truly memorable holes are cleverly saved until the end. The 342-yard 17th again has the first-time visitor scratching his head on the tee, from which the short hole runs downhill to a stream. With absolutely no clue as to yardage to the hazard, it's a bit of a guessing game. And the approach over the water to a green fronted by one of the rare sand bunkers will also play with your judgment.
The 506-yard, par-5 18th is a strong closer. After a drive through a chute of trees and over the creek, the fairway turns left nearly 90 degrees about 100 yards out from the green. The putting surface itself is steeply uphill from the fairway, cut into the side of a hill and nestled just below the clubhouse. This is clearly a case of saving the best for last.
The verdict on Northern Hills Golf Course
Northern Hills is a shot-maker's course that will challenge better players, while at the same time being accessible and inexpensive - in short, this is the sort of muny golf that grows the popularity of the sport. The greens are generally small and round, and generally slanted front-to-back, but they are some of the easiest to read that I have ever encountered, and golfers will be rewarded for keeping their ball below the hole.
On the fourth hole, I was asked by a player in the foursome in front of me if I had played Northern hills before. I said no, and asked him if he had.
"First time," he responded. "I'm here for the Mayo Clinic, and decided I needed to get out for some fresh air and fun for a change."
I didn't want to pry, to ask if he was a patient or a relative of a patient. Either way, I could imagine how stressful and frightening day after day of tests or treatment would be, even at the most famous hospital in the world.
And I became intensely grateful for the restorative, medicinal properties of golf. Our world certainly isn't perfect, but as far as this wonderful game is concerned, Rochester's munys ain't all that far away.
Rochester lodging and dining
Northern Hills, and all of the municipal and public golf courses in Rochester, are only a few minutes drive from the city's growing downtown. The Rochester Marriott (507-280-6000) is linked to the Mayo Clinic and other downtown hotels via an underground shopping mall. It is also right next door to the Peace Plaza, a lovely pedestrian mall running through blocks of restaurants and shops, many of which feature outdoor seating in the warm summer months. Chester's Kitchen & Bar (507-424-1211) is the newest addition to the Peace Plaza, and arguably the best place in town to watch the Twins or Vikings while enjoying a cocktail and appetizer (try the Chicken Lavash Pizza).
More photos
«
»
June 9, 2009
Kiel Christianson has lived, worked, traveled and golfed extensively on three continents. As senior writer and equipment editor for WorldGolf.com, he has reviewed courses, resorts, and golf academies from California to Ireland, including his home course, Lake of the Woods G.C. in Mahomet, Illinois. Read his golf blog here.