Sea Trail Plantation outside Myrtle Beach: Drive, breathe and play a little easier

By
Tim McDonald
,
Contributor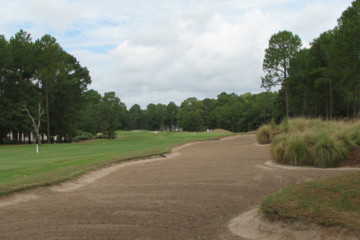 View large image | More photos
The Jones course at the Sea Trail Plantation was designed by Rees Jones. (Tim McDonald/GolfPublisher.com)
Sea Trail Plantation golf resort is far enough away from the overcrowded bustle of Myrtle Beach to put your focus entirely on its three player-friend golf courses.
SUNSET BEACH, N.C. - What's remarkable about Sea Trail Plantation's three golf courses isn't about what's there - it's about what isn't there.
As in: exhaust fumes, crammed fried food joints, girlie shows and jammed-up groups of frustrated golfers waiting to tee off.
Sea Trail is at the northernmost reaches of the Grand Strand, across the state line up in the southeast coastal area of North Carolina, where the air is clear and the marshes are wide and empty.
From the laid-back plantation, you can see the beach houses at Ocean Isle Beach a mile away, across the wide expanse of marsh, and you can drive - and breathe - a little easier up here.
That isn't to say the place is deserted. Sea Trail is one of the more popular destinations for golfing tourists to enjoy Myrtle Beach golf without battling the mess on Highway 17.
You also don't have to battle high slope ratings: All three of the plantation's courses are relatively easy resort courses, where your scorecard can get as relaxed as you are.
Of the three, the Rees Jones course is often said to be the most difficult - the Willard Byrd and Dan Maples courses are the other two - but that is a relative statement.
What you get when you play the Jones course is a layout with mounded fairways and generous landing areas - though they may not always look that way from the tees. Jones isn't above a little visual trickery.
"There are some tee shots out there that make you a little apprehensive, but once you get out on the fairway, you see it's extremely wide," said Tom Plankers, Sea Trail's president of golf operations. "Like No. 10, that doglegs around a lake."
Jones also has terrific, bentgrass greens. It's a picturesque course, despite the homes around the perimeter, designed by one of the more tasteful and well-known architects of his era.
Jones, the son of Robert Trent Jones, earned his nickname, the "Open Doctor" for his re-design of courses preparing to host major tournaments, having remodeled seven U.S. Open courses, five PGA Championship courses, three Ryder Cup sites and one Walker Cup layout.
His namesake course at Sea Trail opened in the spring of 1990 and can be played from the back tees, at 6,731 yards. It's a fair challenge from back there, with a slope rating of 132, or you can step up to one of the middle tees.
It's also a course for the ladies to enjoy. On the day I played in mid-September, in fact, ladies seemed to be the dominant gender, most of them playing from the ladies tees a little less than 5,000 yards.
It's a fairly straightforward course, set amid lakes, old oaks and towering pines, with water on 11 holes.
The pines are mostly scattered, and you will usually have a chance at recovery if you're wayward off the tee - even the mounds won't funnel some drives - since there is little rough to speak of.
However, you'll need to come into the greens by air, not by land.
"You've got to carry it to the green," Plankers said. "There's not a lot of run-ups. He gives you some very big greens, but you have to hit to certain areas to have a putt at it."
Course officials "naturalized" the layout in 1999 with wildflowers and native grasses, and the result is a track harmonious with its surroundings. In fact, with the course having matured, maintenance crews are now sticking to the aesthetics.
"Recently, we've gone back into the beautification of the golf course," Plankers said. "We're concentrating on landscaping. In fact, we have a landscaping crew that does all three golf courses. That's something we've never had before. We're making it pretty in areas that obviously don't come into play."
Jones course, Sea Trail Plantation: The Verdict
The Jones course shares a clubhouse with the Byrd course; the Maples layout gets its own clubhouse. As far as practice facilities, there are two putting greens, one chipping green and a lighted driving range.
All three courses are good plays, but I prefer the Jones because it's a little more challenging that the other two.
"It seems to be a littler harder, but not that much harder," said Sean Pembrook, of Indiana. "I think it's the most scenic."
Stay and play
The Caravelle Resort Hotel and Villas is a great place to stay, if you like beach walks, sunsets and watching surfers. The hotel overlooks the Atlantic and also caters to golfers, throwing what it calls the "biggest golf party on the Grand Strand" Thursday nights in its 2001 night club.
It has nine different types of accommodation in different buildings, including the hotel, Harborside Condos, Carolina Dunes and the St. Johns Inn.
The resort also has 4,000 square feet of meeting space including a private dining room, banquet facility and hospitality room. There's an indoor pool, several outdoor pools, a "lazy river, whirlpools ice cream shop, on-site restaurant and fitness center.
More photos
«
»
September 21, 2007
Veteran golf writer Tim McDonald keeps one eye on the PGA Tour and another watching golf vacation hotspots and letting travelers in on the best place to vacation.