At LakeRidge Golf Course in Reno, Nevada, amazing 15th hole seals deal

By
William K. Wolfrum
,
Contributor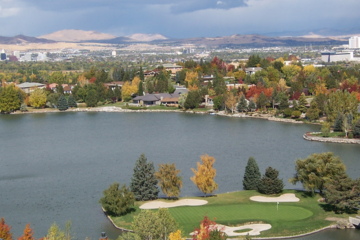 View large image | More photos
The spectacular 15th, with its 145-foot-high island green, highlights a round at LakeRidge Golf Course in Reno. (William K. Wolfrum/WorldGolf.com)
RENO, Nev. - At LakeRidge Golf Course, everything leads up to the 15th hole.
That says more about the stunning par 3 than it does the rest of this Reno course - the other 17 holes do their part to keep a golfer impressed.
The Robert Trent Jones Sr. design has been winning hosannas since its 1969 inception; it's been named the best golf course in Reno by Golf Week Magazine and northern Nevada's best by Nevada Magazine. But when you leave, it's the 15th you'll be talking about.
"I've seen people play here and just have a terrible day scoring-wise," local golfer Dick Peraldo said. "But then they'll play the 15th hole and tell us how much they love the course."
What's not to love? At the 15th tee you find yourself a jaw-dropping 145 feet above a 239-yard hole that, due to the drop, actually plays 195 from the tips. Golfers not only get a spectacular panoramic view of the Reno area but a fun and challenging tee shot to a natural island green. (Mind the wind; when it's swirling it tends to push tee shots right.)
"It's really a special hole," Head Professional Randy Beeghly said.
Playing to 6,715 yards with a 71.6 rating and 136 slope from the tips, LakeRidge Golf Course as a whole will give any golfer a good challenge, but not the kind that'll make high-handicappers want to hurl their clubs into No. 15's lake.
The fourth, a 599-yard par 5, is one of the few holes that really demands length off the tee. The 213-yard par-3 sixth will give you a different kind of workout, with its narrow, bunker-protected green.
"It's not the most punishing course you'll ever play," Beeghly said. "It still requires you to hit some golf shots, but you won't feel like you're in a 15-round fight out there."
LakeRidge Golf Course: The verdict
LakeRidge Golf Course's 15th is everything you've heard and more. Hitting the green from the tips is a challenge, but a successful shot will validate every positive feeling you've ever had about golf. It's a truly memorable hole.
The rest of the golf course is a tribute to Jones' design style. Rolling fairways with strategically placed bunkers will keep golfers on their toes at this parkland-style run. Elevated greens add another twist, and well spaced water hazards create multiple forced carries.
"I'd say it's a typical Robert Trent Jones Sr. design," Beeghly said. "It's not extremely demanding but definitely requires some shot-making skills."
LakeRidge Golf Course is a semi-private course with a private-course feel - valet-style carts, GPS, outstanding practice facilities, classy clubhouse. You will definitely feel pampered. The green fees are fair, considering the amenities and the relatively upscale locale.
Great conditioning and cheerful service make LakeRidge one of Reno's signature courses and a High Sierra favorite. The 15th knocks it into must-play territory.
More photos
«
»
December 22, 2006
William K. Wolfrum keeps one eye on the PGA Tour and another watching golf vacation hotspots and letting travelers in on the best place to vacation. You can follow him on Twitter @Wolfrum.