Naples Grande Golf Club on Florida's Gulf Coast: A private experience open to resort guests

By Jason Scott Deegan,
Senior Staff Writer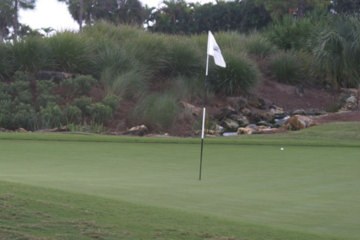 View large image | More photos
A brook protects the back edge of the green on the par-3 fourth hole at the Naples Grande Golf Club. (Jason Scott Deegan/WorldGolf.com)
NAPLES, Fla. - There's a secret most members at the Naples Grande Golf Club would prefer to keep that way: You can sneak inside their world.
Access to Naples Grande, one of the best layouts in Southwest Florida, is available through two nearby resorts. Guests at the Naples Grande Beach Resort, an 18-story, high-rise luxury hotel on the Gulf of Mexico, and the Edgewater Beach Hotel, a sister LXR Luxury Resorts and Hotels property nearby, can play it.
Their golf packages afford the keys to the luxurious life of a country-clubber for at least a day.
While most private golf courses in Naples were designed to sell real estate, Naples Grande winds uninterrupted through natural pines and cypress trees without a condo or home in sight. The playing experience is a breath of fresh air amid a sea of private and semi-private courses choked with homes and condos that feature gaudy backyard lanais and swimming pools.
The Rees Jones-designed golf course, which hosted the EMC Golf Skills Challenge from 2001 to 2003, is so popular during the high season from January to April that players tee off on both nines to keep up with demand.
"It's a unique place," said Director of Golf Chris Brems.
Naples Grande Golf Club: The course
Even though the Naples Grande golf course offers some spots tight enough to challenge PGA Tour pros in a skills challenge, Doug Mentiply, a recent visitor from Scotland, enjoyed its playability.
"It's a good challenge of golf. It's fair," Mentiply said. "If you keep it in play, you won't lose too many balls. You'll lose a lot less here than (at) other courses in the area."
Jones, nicknamed "The Open Doctor" for his redesign work on U.S. Open courses, proves at Naples Grande that high handicappers still own a place in his heart. Straightforward greens and some generous fairways as wide as runways, complemented by a relatively low number of bunkers (43), allow players the chance to slap it around and still shoot a decent score.
Carelessness can find trouble, though. Five major water hazards dominate the flat topography. The first five holes serve as a warm-up for a course that grows more sinister as the day progresses.
Naples Grande Golf Club's par-5 ninth boomerangs around water, tempting players with a how-far-can-you-carry tee shot. One starter calls the three-hole stretch, beginning at No. 11, a long dogleg par-4 with water along the entire left side, the golf course's "Amen corner."
But most players remember the stirring finish. Possibly the largest Jones-designed bunker guards the corner of a dogleg on the par-4 15th hole. The par-5 16th is one of the best holes in Florida - a visual stunner that runs alongside a 30-acre lake and a narrow ribbon of waste bunker. It ends at a green perched atop rock pilings and guarded by a bunker on the right.
The tee complex on the par-3 17th juts into the lake. During the skills challenge, PGA Tour pros attempted delicate wedge shots from here over the water to the 18th green.
And at the 18th hole, a blind tee shot over a ridge sets up a daunting approach to that final green snug against the lake.
"It's a tough finish," Mentiply said. "The back nine is harder than the front."
Naples Grande Beach Resort
The Naples Grande Beach Resort, known as the The Registry Resort and Club from 1986 to 2006, received a multimillion-dollar renovation during a rebranding earlier this decade. New are the modern lobby, Strip House steakhouse and Golden Door Spa. Fifty bungalow suites and 474 guest rooms were refurbished. The sprawling pool complex features multiple whirlpool hot tubs and the 100-foot Mangrove Mountain water slide.
The spa, a staple of Luxury Resorts, features traditional Japanese architecture, serene gardens, relaxation pools, individual iPods and a meditation labyrinth.
Guests can play tennis on 15 Har-Tru courts or go snorkeling, sailing, surfing and aqua cycling in the Gulf. Canoeing and kayaking can be found at the 200-acre mangrove forest and estuary next door.
While the Naples Grande reports that 60 percent of its business is corporate, the seven-story Edgewater Hotel attract families and couples with its all-suites accommodations.
It shares the spa and tennis center with Naples Grande, which is four miles away, but includes a bigger beach and seven miles of sand. The Edgewater Hotel was also redesigned several years ago by the same interior architect, Robert Barry, who reinvented Naples Grande.
Naples Grande Golf Club: The verdict
So what's the best resort course in Naples - Tiburon or Naples Grande? That's a toughie. I generally preferred Naples Grande. Its two par fives, the ninth and 16th, were arguably the two best holes I played on a recent visit to the area. Tiburon has a steady diet of good holes but no great ones. My best advice? Play both golf courses. An interesting argument could wage for hours.
More photos
«
»
January 18, 2010
Jason Scott Deegan has reviewed more than 700 courses and golf destinations for some of the industry's biggest publications. His work has been honored by the Golf Writer's Association of America and the Michigan Press Association. Follow him on Twitter at @WorldGolfer.