No deaths reported so far at John Daly's Murder Rock Golf and Country Club near Branson

By
Tim McDonald
,
Contributor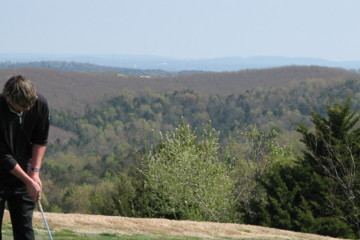 View large image | More photos
John Daly's Murder Rock Golf and Country Club has the highest elevation of any Branson-area golf course. (Tim McDonald/WorldGolf.com)
Murder Rock Golf and Country Club is a Branson-area golf course with superb views, excellent greens and a relatively easy layout, high in the Ozarks.
HOLLISTER, Mo. - When you hear the name John Daly's Murder Rock Golf and Country Club you surely think murder, mayhem and "Oh, my aching back."
Calm down. Nobody's getting killed here.
"People hear John Daly and the name, and they think, 'Oh man it's going to be 8,000 yards,' " said Assistant Golf Professional Mike Meade. "But this course is all about precision."
John Daly had nothing to do with the design. He simply sold his name to the developer, though he occasionally makes suggestions about tweaks to the golf course.
And the semi-private course isn't 8,000 yards, nor is it 7,000 yards. It's 6,600 yards from the back tees. The next set of tees goes down to less than 6,200 yards, one of the few drawbacks to this lofty layout, high in the Ozarks and south of the live, country music capital of Branson.
In fact - gulp - it's been called "lady friendly" by Murder Rock officials, and we're not talking about Hooters girls. The course has few forced carries, and many of the greens are open in front, qualities many women enjoy.
"Obviously, it's not a long golf course," Meade said. "But, it can be demanding as far as accuracy. The back nine, it can get breezy, and it's all about hitting the right spot on the green."
It gets breezy because Murder Rock occupies the highest place in Taney County, 300 feet above the neighboring Branson Creek, which itself is considered a mountain golf course. The view from the big window at Murder Rock's clubhouse bar is dazzling.
"I guarantee you this is the longest 6,600-yard golf course you'll ever play when the wind blows," Meade said.
The front nine at Murder Rock plays down in a valley through the hills, while the back nine climbs along a high, spiny ridge with views seemingly into infinity; the Ozarks are all around you and below you. The back nine has the more dramatic holes, as well as views.
Aside from the misleading marketing, this is a fine golf course. It isn't in the same league with Branson Creek Golf Club, but it's unfair to compare it against one of the best golf courses in Missouri, and besides, Murder Rock has its own charms, one of which is substantially lower green fees.
The course was actually designed by a corporation, Landmark Land Company. It would have taken a lifeless corporate drone to mess up a golf course on terrain this spectacular, and Landmark didn't.
Of course, corporations also like to save money where they can, and it did so here by sprigging the zoysia fairways instead of sodding them. The results are fairways that are patchy in some areas.
Bad weather has delayed the growth - the course only opened last year and this part of Missouri has suffered serious rainfall and flooding - and once the fairways have grown in completely, the problem should be resolved.
Murder Rock Golf and Country Club: The Verdict
Daly played the course the day before I visited and had several suggestions.
Not surprisingly, he wants to lengthen it by 300-700 yards and add more fairway bunkers, according to Meade. For example, he wants to make the No. 9 par-3 235 yards and add three, greenside bunkers to the par-3 11th.
Adding length would be a good move, especially if it enabled the course to lengthen the intermediate tees.
Still, this is a very engaging golf course the way it is. It's fairly open with little trouble from trees, and it has a good variety of holes. There are several blind landing areas off the tee, naturally enough on terrain this high and rolling.
The high, fescue rough can be bothersome if you miss the relatively ample fairways.
The greens are excellent. They're Crenshaw bentgrass and have a very lush look and feel. Though slower and smaller than Branson Creek, the greens at Murder Rock have enough slope and undulation, but not too much, to make putting on them a pleasure.
The name Murder Rock actually is derived from a Civil War bushwacker named Alfred Bolin. He and his men used to ambush hapless travelers under a rock outcropping.
Green fees range from $48-$75, depending on the season. Murder Rock is a good bargain at those prices.
Branson golf resorts
The Thousand Hills Golf and Conference Center is close to all the Branson attractions and, of course, has its own golf course. It has a large rental program, with more than 250 cabin and condo rentals, from suites to four-bedroom units.
The rustic-looking cabins can sleep from two to 16 people, and have Jacuzzis, fireplaces, fully equipped kitchens and screened-in back porches. They range in price from $139-$405.
The condos go from jacuzzi king suites up to four-bedroom, four-bath units that sleep up to 10 people, with private patios or decks, washers and dryers and free high-speed Internet. They range in price from $89 to $389 a day.
All cabins and condos have either golf course or wooded views.
The resort has seven indoor and outdoor swimming pools, a fully equipped fitness center, tennis courts and free parking, something you can't always count on in Branson.
Click here for Branson hotel info and reservations.
More photos
«
»
May 27, 2008
Veteran golf writer Tim McDonald keeps one eye on the PGA Tour and another watching golf vacation hotspots and letting travelers in on the best place to vacation.