The Oaks would be a very good course but for those greens

By
Tim McDonald
,
Contributor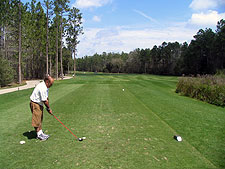 View large image | More photos
The Oaks Golf Club has relatively narrow fairways, averaging about 40 yards wide. (Tim McDonald/WorldGolf.com)
PASS CHRISTIAN, Miss. - Pablo Gutierrez struck his putt and watched it bounce - and bounce, and bounce, and bounce - on a rough course toward the hole. After bouncing along over the dry, bare patches, it came up short by six feet.
"Man, I thought they said they worked on these greens," said Gutierrez, an Army engineer on vacation with his wife. "They're in bad shape. It's like playing basketball."
Or worse, like trying to play golf on greens in very bad shape. The problem, officials at The Oaks Golf Club said, is some freaky November weather. First it was unseasonably hot and then 10 inches of rain was dumped on this part of coastal Mississippi. The result is that the over-seeding was killed and the greens suffered.
"This is the first time we've had a problem with that," said Oaks pro Russ Bloom. "Usually, the greens are the best part of the course."
It's a shame because now the fairways are the best part, green and lush. They over-seed the entire course here, unlike many other courses, so the fairways and tee areas are in prime condition. But, the scarred greens turn an otherwise very good course into an experience that should not require the full price for unsuspecting golfers.
On this mid-March day, the greens had a foursome that included Gutierrez, Manny Perez and Rafael Vargas, shaking their heads and muttering at the conditions. "This is terrible," Vargas said, pointing out yet more bare patches.
The Oaks Web site says, in part: "Our greens ... feature a putting surface so fast and smooth that you will quickly learn to do all you can to keep your ball below the hole." Actually, on this day it really didn't matter where you landed on the green: you could pretty much count on a three-putt unless you got lucky.
The Oaks sits in a 400-acre development with 400 lots in a gated community of hardwood and pine groves. It has creeks and wetlands running through it and, though there are homes along the layout, it still projects a pastoral feel.
"It's very scenic out here, peaceful," Gutierrez said. "I like these nice drives through the woods. I like the way it meanders through the trees."
The course was built and is operated by Landmark National, which develops master-planned golf course communities. The list includes South Padre Island, the Greg Norman-designed Meadowbrook Farms Golf Club near Houston and the Pete Dye-designed Lost Canyons Golf Club in Simi Valley, Calif.
It's 6,885 yards with a slope rating of 131, putting it among the more challenging courses along the Mississippi Golf Coast, that strip of coastal land from Ocean Springs to the east to Bay St. Louis to the west. The fairways are relatively narrow, averaging about 40 yards in width, and there are a number of water hazards to contend with. There are also 44 bunkers in the fairways and in the approaches to the greens to contend with.
"There's no room here," Gutierrez said. "No margin for error."
The par-3s over water are particularly scenic and a number of holes are among the best on the Mississippi coast. No. 6 is a 552-yard par-5 with a small creek in front of the green and a large oak in back. No. 10 is a 500-yard par-5 with a waste area right and water all the way down the right side, seeping into the right fairway. There's also two deep pot bunkers front right - stay left for your approach.
The verdict
When they get the greens right, this will be one of the better plays along the coast. However, until they do, officials should consider giving golfers a price break - they're playing on damaged goods.
The course has been given some recognition: it was voted the best course on the coast by readers of Coast Magazine in 1999 and Golf Digest named it one of the top-10 golf courses in Mississippi in 2003. It has hosted a Nike Tour event as well as the Mississippi Gulf Coast Open.
With its relatively short yardage, this is a good course for women to play, though they should be aware of the narrow fairways and abundance of water and bunkers.
Places to Eat
There are two non-casino restaurants you must try while on the Mississippi coast: Roosters, and the Shed, a ramshackle barbecue joint off Interstate-10 that has some of the best barbecue this side of Memphis. So good in fact it has won national barbecue awards - bet you didn't know they had that sort of thing.
Casino Magic has five restaurants: the Jourdan River Grille - the snapper almondine is magnifico - Bienville's Bay Buffet and Tuscany Steaks and Seafood are the three main eateries. Jackpot Java is a small place where you can get a bite to sustain you through epic gambling binges and the clubhouse has a grill.
The Isle of Capri's Calypso Restaurant has breakfast buffets and dinners with Dungeness crab, baked salmon, fresh-baked bread and pizza. Tradewinds Marketplace has 24-hour service with six different eateries, including muffeletas and po' boys. Farraddays has coconut shrimp, Angus steaks, sautéed salmon and Tuscan Chicken Rimini and fried strawberries, among other exotic stuff.
Places to Stay
The Casino Magic Casino and Golf Resort is a stationary boat casino, but don't worry, you'll never feel the wakes of passing boats. It has nearly 40,000 square feet of gambling space - more than 1,000 slots and 38 game tables for your gambling habit.
The Bay Tower Hotel, a 14-story, 291-room hotel, is the Mississippi Gulf's newest casino resort hotel. It has more than 30,000-square feet of meeting space. There is a private boardroom, pool, jacuzzi, spa, salon and fitness center.
The Isle of Capri is one of the bigger casino resorts in Biloxi, built on a floating foundation that ebbs and flows with the Gulf of Mexico tides. It's the first legal gaming operation to open in the South, a $90 million, 45,000-square foot, multi-level facility with three full-service restaurants and a lounge.
There's 24-hour gambling with more than 1,100 slot machines, video poker and 28 game tables offering craps, roulette, blackjack and mini-baccarat, among other games of chance.
U.S. 90 from Gautier north to Bay St. Louis is chock full of every kind of accommodation, from small mom-and-pop motels to big resorts. Some are right on the beach, others are across the busy street. For an affordable place right on the beach and near golf and nightlife, try the Quality Inn Emerald Beach and its hot breakfast buffet.
Fast Fact
To avoid denunciation, be aware Pass Christian is pronounced Pass "Chis-chon," emphasis on the second syllable. One of those French pronunciation deals.
More photos
«
»
May 2, 2005
Veteran golf writer Tim McDonald keeps one eye on the PGA Tour and another watching golf vacation hotspots and letting travelers in on the best place to vacation.