True North Golf Club in Harbor Springs, Michigan: Private club offers public play, and you should take them up on it

By
Brandon Tucker
,
Managing Editor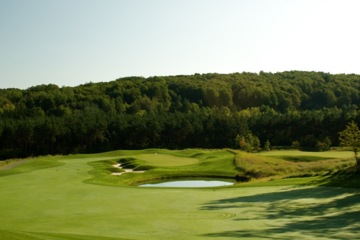 View large image | More photos
Once intended to go fully private, True North Golf Club in northern Michigan is opening its doors more and more to public play. (Brandon Tucker/WorldGolf.com)
HARBOR SPRINGS, Mich - The secret continues to spread about True North Golf Club, one of the newest upscale northern Michigan golf courses.
True North opened in 2004 as a private golf club, but the ownership has gradually loosened the restrictions, allowing more and more public play. The club formerly allowed only one round per year to any given public player.
Today, public playing privileges are pretty easy to get, as long as you're willing to foot the green fee. And golfers should take the club up on the offer, because True North deserves to be included among northern Michigan's upscale must-plays.
As the club's name implies, When you think about the most enviable assets in the upper part of the state, you think of secluded golf up and down through heavily forested hillsides. This is the case at True North, where few shots are played to the same level, and you often feel like the only group on the course.
In fact, you very well may be the only group on the golf course, especially if you head out early in the morning. There are only a handful of full-time resident members at True North, so play is well below the average in the area.
Another benefit to the limited play is that conditions here are phenomenal it's hard to beat the smooth, fast greens. Club officials actually admit that they have never had to aerate the greens at True North, assumed to be a necessity in the Midwest.
True North is Colorado-based architect Jim Engh's second design in Michigan, following his success at Tullymore Golf Club, part of the St. Ives Resort about an hour north of Grand Rapids.
Engh seems to have Michigan golf figured out. He used the wealth of acreage at his disposal to lay his imaginative shaping to get the best aesthetic value out of it, and strategically incorporated trees along certain points of the course. Like Tullymore, True North's greens are a bright spot - well defended and, in most places, more rolling than steeply tiered.
The main difference between Tullymore and True North is that True North is hardly ever flat, which means a handful of uphill holes must be conquered by the golfer. But Engh built these smartly, so less guesswork is needed to overcome blind shots.
"It was really smart how Engh designed the fairways," said True North Director of Golf Kevin Whitmore. "It's especially true with the holes that play uphill, because you can still see the fairway all the way up to the green." That kind of clever design is particularly evident on the par-5 8th hole, which trudges uphill from tee to green with a dogleg right, but the lay up shot is surprisingly clear from your vantage point at your tee ball.
The exception to this is the one hole that is a dead giveaway the course was intended to be private: the par-5 18th. There's the option of an elevated, narrow left fairway shortcut (difficult to see from the tee, so consult your stroke saver), otherwise you're stuck playing all the way around to the right, up to 572 yards slightly uphill, which, even if two shots are played perfectly, you'll have a blind shot into the green.
For golfers who have a 250-yard tee ball or better that doesn't leak right, you'll be well served to take the hidden left fairway rather than face a testy lay up and a delicate, blind wedge into the green.
It's one of the most member-friendly finishers out there, so guests should be wary of the final hole press bet.
True North Golf Club: Open to the public for the foreseeable future
When nearby Bay Harbor Golf Club originally opened back in 1997, the goal was to eventually go private when memberships sold out. To this day, Bay Harbor still offers public play, and it's hard to believe any golf course in Michigan (or for that matter, most spots in North America) will have memberships flying off the shelves to the point they'll be willing to turn away non-member cash.
So until that day, semi-private True North offers peak season green fees for $145, which also grants you access to the driving range, short game area and clubhouse facilities. As is the case with many private golf clubs, it's recommended that you call in advance to set up a tee time, though walk-ins are allowed.
One-year trial memberships are available for $4,500.
True North Golf Club: Where to stay
Just a couple minutes away from True North is the Boyne Highlands Resort, home to comfortable alpine-themed lodging at the base of the ski hill and four championship golf courses of their own. Guests of Boyne Highlands get golfing discounts on any of the four courses, which include the Robert Trent Jones-designed Heather course, as well as the Hills Course, which heads up into the hills on the back nine and offers one of the north's great elevated tee shots on the par-5 13th hole.
True North also offers stay-and-play packages with the nearby Odawa Casino Resort in Petoskey, about a half hour's drive away, which includes shuttle service to and from the golf club.
More photos
«
»
October 28, 2009
Brandon Tucker is the Managing Editor for Golf Advisor. To date, his golf travels have taken him to over two dozen countries and over 500 golf courses worldwide. While he's played some of the most prestigious courses in the world, Tucker's favorite way to play the game is on a great muni in under three hours. Follow Brandon on Twitter at @BrandonTucker and on Instagram at BrandonTuckerGC.