Renovation, new attitude has revived Flamingos Golf near Puerto Vallarta, Mexico

By Mike Bailey,
Senior Staff Writer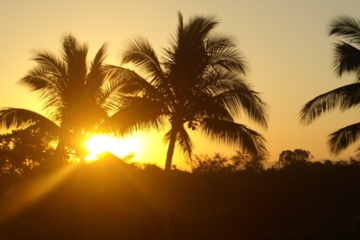 View large image | More photos
The first hole of Flamingos Golf, a 399-yard par 4, can play long, especially as the sun rises over the morning dew. (Mike Bailey/WorldGolf.com)
After a recent renovation, Flamingos Golf, the first golf course in the Puerto Vallarta area, is better than ever.
BUCERIAS, Nayarit, Mexico - Sometimes you're just plain pleasantly surprised.
Which was the case when I played the Flamingos Golf, the first golf course in the Puerto Vallarta area, way back in 1978.
There were a few lean times for this public access golf club. According to locals and some who have been coming here for many winters, course conditions had deteriorated as newer facilities such as the Jack Nicklaus course at Vista Vallarta Club de Golf and Tom Weiskopf at Vista Vallarta, El Tigre Golf Course at Paradise Village Beach Resort & Spa, and Punta Mita Golf Club came on the scene. Flamingos had become less relevant.
But the Flamingos owners, who bought the club in 2000, spent $3 million on a recent renovation - which includes a new clubhouse, golf shop, restaurant and driving range - that has brought the club back to its former glory and then some. Director of Golf Claudia Staines has made sure maintenance and course conditions are a top priority, and it shows.
The course meanders up and down hills with elevated tees and greens, plenty of wildlife and lots of colorful flora, which makes it different from its competition. Contrary to reports I had heard, the golf course was in terrific shape when I played it, and it was a nice contrast to the other great golf venues in the area.
Flamingos Golf: A Percy Clifford gem
Playing 6,892 yards with a par of 72, Flamingos was designed by Percy Clifford, an English architect who is known for his good work in Mexico, including the Golf Club of Mexico and the Club de Golf Chapultepec in Mexico City.
Clifford preserved the natural tropical greenery, which includes more than 1,800 palm trees, as he wound the holes around a series of natural lagoons and estuaries that are home to deer, rabbits, turtles, 100 species of birds and, of course, crocodiles.
"I advise anyone who hits a ball into the water to leave it there," Staines said with a laugh.
Flamingos is one of the few golf courses in which the front nine is considerably harder than the back the nine. At first glance, you're thinking that a course that's less than 6,900 yards can't play that long. Think again.
The front nine, which is a par 37, is nearly 3,600 yards long from the back tee. Because of some of the elevation changes and soft, plush Bermuda fairways, drives generally don't roll out, leaving some long approach shots into holes like the 611-yard, par-5 third and 426-yard, par-4 fourth. There's also a 202-yard par 3, the sixth, on the front nine.
The key to scoring on this course is surviving the front nine. Because while the back nine is no pushover, it is easier - and more fun.
There's the 402-yard, par-4 11th, the course's No. 2 handicap hole. It's a dogleg left that tempts players hitting driver to cut the corner over the jungle. That's followed by the par-4 12th, a medium-length, sharp, dogleg-left par 4 in which you have to avoid the water that comes into play off the tee left and possibly on the approach.
The 15th is a terrific risk-reward par 5 at 540 yards with water in play on the second and third shot. It's followed by a picturesque par 3 that plays 158 yards over water. The 17th is a nice, short, uphill par 4 and a birdie opportunity. The 18th, with water off the tee right, can also be birdied if you find the right part of this green that slopes back to front.
Range, lessons and caddies at Flamingos Golf
There's a large practice green behind the newly renovated clubhouse and an ample driving range to warm up before your round.
Lessons are also available from Staines, a member of the U.S. LPGA.
Forecaddies are not only available but also required for groups of four. But unlike the U.S., a group can hire a forecaddie for less than $10 U.S. per player, including tip, and they really do add a lot to the round.
Don't expect them to read your putts, Staines said, but they will get you around the course in good fashion, take care of your clubs and generally encourage you.
Flamingos Golf: The verdict
Priced less than much of the local competition, Flamingos is a good value and a challenging, fun golf experience. Now they just need to figure out how to get the word out to visitors.
"I don't have much of a marketing budget," Staines said. "We're choosing to put that money into the golf course."
Which is always good.
After your round, try the new open Papago restaurant behind the 18th green for drinks or a quick bite to eat. The menu includes burgers, sandwiches and salads as well as the catch of the day, which comes straight from the nearby Pacific Ocean.
More photos
«
»
March 12, 2009
Mike Bailey is a senior staff writer based in Houston. Focusing primarily on golf in the United States, Canada, the Caribbean and Latin America with an occasional trio to Europe and beyond, he contributes course reviews, travel stories and features as well as the occasional equipment review. An award-winning writer and past president of Texas Golf Writers Association, he has more than 25 years in the golf industry. Before accepting his current position in 2008, he was on staff at PGA Magazine, The Golfweek Group and AvidGolfer Magazine. Follow Mike on Twitter at @MikeBaileyGA and Instagram at @MikeStefanBailey.