Sugarloaf Golf Club in Maine: Play Robert Trent Jones Jr.'s 'String of Pearls'

By
Jeffrey White
,
Contributor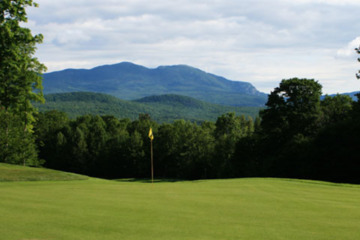 View large image | More photos
Sugarloaf Golf Club is a stunningly beautiful golf course, both in its conditioning and mountain surroundings. (Courtesy of sugarloaf.com)
CARABASSETT VALLEY, Maine - The promise of Sugarloaf Golf Club's back-nine dangles in front of you the moment you arrive at this Robert Trent Jones Jr.-designed golf course in western Maine.
People tell you to be patient. Just wait. It'll come.
"Wait to you see the back," says John Day, a retired newspaper reporter for the Bangor Daily News who's a member here. "The back side makes the front side seem like purgatory."
The story goes that Jones, who designed Sugarloaf about 20 years ago, felt a special connection with a continuous piece of land that ran along the rocky southern branch of the Carabasset River. He built six holes along it and called them his "string of pearls." The string consists of holes Nos. 10 through 15, and they are breathtaking.
But first you got to get there.
Located on the same property as Sugarloaf/USA ski resort, Sugarloaf Golf Club is considered far and wide as the best public round of golf in Maine, and it can certainly lay claim to be the state's hardest. Though not unreasonably long at 6,910 yards from the tips, it plays more difficult than its 122 slope rating. The 400-acre golf course throws a lot of terrain changes at you: double dog-legs, blind tee shots, uphill approaches, elevated tees, forced carries - all amid a beautiful setting, a valley winding through the Bigelow Mountains.
It's a golf course that high-handicappers are likely to find too difficult. Mid-handicappers have their work cut out for them, too.
"On this golf course, you can hit a good shot and still get penalized," says Mark Yellis, who's been playing the course for 20 years.
Penalties include dense woodland that swallow balls alive, and penal rough that on a recent visit looked as if it hadn't been trimmed this season. Fly too far off the mark on a hole like No. 2, a 563-yard par 5 double-dog leg, which is fenced in by forest and a hidden brook, and a nine or 10 is likely.
The wind plays a factor at Sugarloaf Golf Club. Depending on which way it's blowing, holes like No. 3 - a 168-yard par 3 from the regular tees - can play considerably shorter (or longer). But sometimes that wind is subtle, and there are enough elevation changes here that it's easy to guess wrong on the wind's impact and come up a club or two short or long.
But by far Sugarloaf Golf Club's biggest difficulties are its greens: huge, undulating things that are hard to read and even harder to score on if you misread your approach. Pins are tucked into corners and on top of slopes. Most greens funnel down in one direction, so it's important to get a player's guide before your round so you can see where you do and don't want to target your approaches (the course's yardage book is exceptional).
All of this tends to fade away, though, once you step up to No. 10, a 255-yard par 4 (from the regular tees) that begins the so-called �String of Pearls'. The course's easiest hole, it's also its most scenic, a massive elevated tee that looks down at a fairway 100 feet below that resembles a jigsaw piece. No. 11, a 166-yard par 3, is another elevated tee, and the drive amounts to a guessing game in terms of which way the wind will take your ball. No. 12 is a 495-yard par 4 that gives you a shot at the green if you position your drive well (and long) enough.
The string includes two holes that hit into essentially island greens (though surrounded by rocky creek rather than deep water). No. 14 is a short par 4 (333 yards) that sets up a short iron to a surrounded green. No. 15, which ends the string (and is the hole Jones considered the course's signature) is a 170-yard par 3 that must carry a long section of riverbed to a surrounded green.
My only complaint with Sugarloaf Golf Club is the par-4 18th hole, a perplexing finish. There's nothing special about it - a drive and a medium iron to the green - and it finishes deep in the woods, near nothing. You have to ride almost five minutes back to the clubhouse.
Sugarloaf Golf Club: The verdict
This is a demanding golf course that will challenge mid- to low-handicappers, and give high-handicappers fits.
Greens are extremely tricky at Sugarloaf Golf Club, with few giving flat lines to the hole. Most holes require precision off the tee and an ability to place the ball according to the terrain. Mistakes are punished, and scores can skyrocket in some of the course's thick rough.
But it's a stunningly beautiful golf course, both in its conditioning and mountain surroundings. And the layout equates to one of the quietest rounds of golf imaginable: Not one hole is in sight of another, so you truly feel like you're on a walk in the woods.
Golf Digest this year ranked Sugarloaf Golf Club 45th in its list of the country's best public golf courses. Greens fees are an exceptional value: $43 on weekends, including carts.
Sugarloaf Golf Club: Stay and play
The Sugarloaf Resort Hotel has 119 spacious rooms, many with master bedrooms, a fold-out second bed and full kitchen.
The resort also manages about 200 condominiums so that it can lodge a total of 2,000 guests at a time. There are stay-and-play golf packages available, and the resort offers a full array of spa and fitness services.
More photos
«
»
October 16, 2007