Laughlin Ranch Golf Club in Bullhead City, Arizona: Prepare to strike it rich 90 minutes from Vegas

By
Bill Bowman
,
Contributor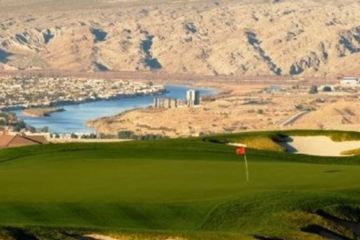 View large image | More photos
Could Laughlin Ranch Golf Club be worth the 90-minute drive from Vegas? You bet! (Courtesy of Laughlin Ranch G.C.)
BULLHEAD CITY, Ariz. -- The term hidden gem is used a lot when talking about golf courses. But in the case of Laughlin Ranch Golf Club, it's more. A whole lot more. This one's like striking gold.
Laughlin Ranch, located about 90 minutes south of Las Vegas, is a David Druzisky design that weaves its way over and around desert landscaping. The par-72 course features dramatic elevation changes, more than 70 bunkers and just enough water features to whet (or wet) the appetite.
"It's definitely a course you have to think your way around," said Tad Holloway, head professional. "Once you play it, you'll want to play it again. All of our holes are different and provide different challenges. You won't get tired of playing it."
Well, what are you waiting for. Let's tee it up.
Laughlin Ranch: On the course
Laughlin Ranch's elevation changes (and they are on just about every hole -- some much more severe than others), will test shot-making skills along with yardage judgments. (Is it a one-club elevation change or two club?)
If you're looking for a signature hole, look no further than the 10th hole. This one used to be the opening hole but is now the 10th as they have flipped the nines. At 616 yards from the tips, it's a monster in length alone. Add in a severe dogleg left off the tee, and you've got a tough driving hole. Then comes the real challenge: Do you go for the green in two or lay up? An arroyo slices through the fairway about 60 yards short of the green, and there's also a false front on the elevated green. Think carefully before making your decision.
Then there's the 11th, another risk/reward hole. At 288 yards from the tips, it's certainly driveable from all the tees. It's a dogleg right with desert to the right and a bunker that sits invitingly in front of the green.
"The 10th hole and 11th holes have everything you want," Holloway said. "They are easy holes to make pars on if you play them the way they were meant to be played. But there are those that think they should go birdie-birdie and try to get too aggressive and then walk away with par-bogey or bogey-bogey. Just play them smart."
Overall, the greens are huge and undulating. If you're not on the proper level with that first putt, well, beware, because three putts are definitely possible. Not because of the greens themselves -- they are immaculate -- but because of the length of putts players may face.
And while the course can play as long as players want, on some holes there are as many as six sets of tees to let players of every ability enjoy the course.
Also, make sure to take in the views. Sure, you're here to play golf. But the views are almost as impressive as the course. You'll see the Colorado River, the casinos in Laughlin and dramatic mountain views.
Laughlin Ranch G.C.: In the clubhouse
And what a clubhouse it is.
Spa? Yep. Swimming pool? You bet. Hot tubs? Of course. Fine dining? Yes.
At The Grill, players will find an Old West-type atmosphere where they can relax and enjoy a meal (everything from wings to burgers to chicken to wraps to pizza -- and so much more) or just grab a drink (the beer and wine selections are wide-ranging and will satisfy any taste).
The spa features 11 treatment rooms. Whether it's a full spa treatment, a facial or just a mani/pedi, you'll find it.
Laughlin Ranch Golf Club: The verdict
Laughlin Ranch Golf Club is worth the drive, even if you're driving from Las Vegas. It will challenge everyone's game. (One tip here: Make sure to play the proper set of tees for your game. This isn't a course to feed your ego.)
It's a long course, but it's not a grip-it-and-rip-it course. You've got to think your way around the course. And if the thought process didn't work out so well this time, there's always the next round -- and, oh yes, there will be a next round.
More photos
«
»
March 31, 2014
Bill Bowman is a Las Vegas-based writer who has more than 40 years in the sports-writing business. He's spent the past 16-plus years covering the golf scene in Vegas and has teed it up for magazine profiles with celebrities including comedian Bill Engvall, actor Jeffrey Donovan (USA's Burn Notice), ESPN personality Colin Cowherd, NASCAR's Kurt Busch, Collective Soul's Ed Roland, the Baltimore Ravens' Jonathan Ogden and many others.