Pete Dye's Ocean Course one of five reasons to visit South Carolina's Kiawah Island Golf Resort

By
Erik Peterson
,
Contributor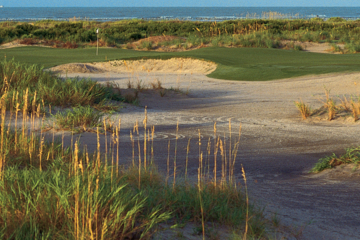 View large image | More photos
The Ocean Course at Kiawah Island Golf Resort will host the PGA Championship in 2012. (Courtesy of Kiawah Island Golf Resort)
Given that it offers five golf courses from big-name designers, plus world-class amenities, Pete Dye's Ocean Course is just one reason to visit South Carolina's Kiawah Island Golf Resort. But oh what a reason!
KIAWAH ISLAND, S.C. – If there's one thing that makes the traveling golfer giddy it's playing a golf course with championship pedigree.
Sure, if you give a golfer a spacious hotel room with lots of pillows they're comfy. If you give them a golf course designed by a "name" they're impressed. And if you give them plenty of off-the-course activities you've won over their spouse and kids. But for a golfer to be able to walk the same fairways that champions have walked is like hitting a 1-iron on the sweet spot –- a rare treat not experienced by most golfers every day.
If your golf travels take you to the South, you needn't look further than Kiawah Island for one of the finest golf resorts in the world that's also steeped in championship tradition.
Situated on a barrier island along South Carolina's coast, Kiawah Island Golf Resort spans 10 miles along the Atlantic coast and features five courses -- each designed by a different world-renowned architect.
Kiawah's Ocean Course, designed by Pete and Alice Dye, is the resort's crown jewel, having hosted the 1991 Ryder Cup and 2007 Senior PGA Championship. In 2012 the PGA of America returns to Kiawah to host the PGA Championship.
"With five top-notch golf courses we believe Kiawah is one of the finest golf resorts in the world," said Kiawah President Roger Warren, who also served as PGA of America president from 2004-2006. "We have a longstanding relationship with the PGA of America and we believe our commitment to excellence reflects theirs."
As the PGA of America works to further distinguish the PGA Championship as one of golf's most important events, the Ocean Course is a great fit on paper –- long, blustery, scenic, with a closing stretch as tough as nails. Add to it the fact that the Ocean Course has championship history and it's a no-brainer.
The Ocean Course is indeed unique. In fact, you'd have to visit Scotland or Ireland to find a course where wind plays a factor like it does at Kiawah. During practice rounds for the 1991 Ryder Cup, players attacked the treacherous par-3 17th hole with 7 and 8-irons. By Sunday, the hole was playing directly into the wind and players were hitting 3-woods and 2-irons.
There are two design characteristics that cause the wind to play such a factor: First, there are more oceanside holes at the Ocean Course (10) than any other course in the northern hemisphere. And with the remaining eight holes sitting parallel to the 10 oceanside ones, literally every hole is impacted by the ocean breeze.
Alice Dye's input elevated Kiawah's Ocean Course
The second characteristic exists because of a suggestion Pete's wife, Alice made before construction of the course began. Although the course was originally designed to sit behind the dunes, she suggested elevating the entire course to allow players unobstructed views of the Atlantic from every hole. Mrs. Dye is known for speaking her mind, and her idea became the defining design characteristic of the Ocean Course.
In consideration of the unrelenting ocean breezes, "Team Dye" designed wide fairways and large greens that can be held with low-trajectory shots. In addition, they built as many as six tee boxes on each hole to allow flexibility in setting hole lengths. This move also proves the course is open to players of all skill-levels. After all, the saying, "If you build it, they will come" doesn't necessarily ring true in golf; a truly great resort golf course has to be playable for all skill-levels.
What makes the course stand out in the resort golf genre is its requirement of every club in the bag. Gone with the wind is the notion of driver, 8-iron on all par 4s and driver, 3-wood, wedge into par-5 holes. At the Ocean Course, long-iron play is required.
If you ask the staff which hole is the Ocean Course's signature, you'll get a smile and cheerful reply: "All 18!" And because the wind causes each hole to play so differently day in and day out, it's actually true. These three holes stand out:
The par-5 second is the best risk-reward hole. Two cross-cutting marshes divide the hole into three sections. Better players can take advantage of the wide fairway and have the opportunity to go for the green in two while shorter hitters have to be strategic in placing their second shot. "This is the biggest diabolical thing on the whole golf course," said Pete Dye. "You can't touch the wetlands here."
At the par-4 12th you'll find one of the widest fairways, but it gives way to a narrow approach shot. "Miss it right or left, and it's disaster," Dye said. He's right. It might be the scariest driver you hit all day.
The par-3 17th might be the most intimidating hole because it requires a carry over water not found anywhere else on the course. Players can bail out left, but treachery abounds there as well. "It's my favorite hole out here," Dye said. It's placement in the round makes it an excellent match play hole. Make a confident swing here, or you're toast.
The closing stretch of holes will take you back to 1991 when the Ryder Cup was knotted at 13½. With the weight of his country on his shoulders, Hale Irwin scored the deciding point for the Americans despite making bogeys coming down the stretch. His resiliency was the difference, and he proved you don't even need to make pars to score points at the Ocean Course.
Just hang on and enjoy the ride. It'll make you feel like you're playing golf in Scotland, even though you're in the heart of the South.
More photos
«
»
March 30, 2010
Erik Peterson is a former editor for GolfChannel.com, specializing in courses and travel content. He earned his bachelor's degree at University of Oregon's award-winning school of journalism and communication. He enjoys playing competitive golf and carries a 2 handicap, but appreciates strolling the fairways with people from all walks of life.