Link to the past: Ireland's "historic" Doonbeg keeps links golf alive and well

By
Clive Agran
,
Contributor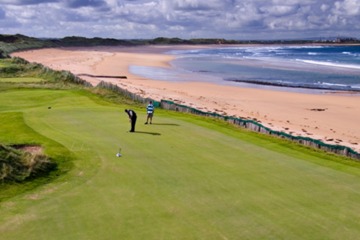 View large image | More photos
It's easy to get distracted by your surroundings on the ninth green at Doonbeg Golf Club. (Courtesy of Doonbeg)
CO. CLARE, Ireland -- Those with feelings for the game's historic origins love links golf. For it was upon these narrow strips of inhospitable terrain that the game's pioneers started knocking balls into holes for fun.
Although they could never have possibly foreseen what was to develop from their innocent exploits, we can acknowledge their contribution by maintaining the glorious tradition of playing the game in the authentic time-honored way ... among the dunes alongside the sea.
Genuine links are a rare and protected species. To remark that suitable land is in short supply is as gross an understatement as to say golfers don't like missing short putts. The right mix of topography and climate needed to create the appropriate terrain is not often found.
Add legitimate environmental concerns, logistical considerations and financial constraints, and you can understand why new links courses are as rare as back-to-back double eagles. So the creation of a spectacularly beautiful new links course is a genuine cause for celebration.
Located on the craggy coastline of southwest Ireland just an hour from Shannon Airport, Doonbeg Golf Club bears comparison with nearby Ballybunion Golf Club and Lahinch Golf Club. To feel comfortable in such exalted company is testimony to its undoubted quality.
Doonbeg Golf Club: The origin
Being Ireland, where a good story is appreciated as much as an outstanding golf course, there is an appealing tale that recounts how, in 1891, a spectacular stretch of mountainous dunes at Doonbeg was nearly requisitioned for golf.
Sir Alexander Shaw, an enthusiastic player, recognized its potential, but the lack of a decent road or railway link obliged him to opt for another site 20 miles up the coast. Thus he became the founding father of Lahinch.
And so it was left to Kiawah Development Partners to unlock the spectacular potential of this extraordinary site. Local planning concerns had to be met, and fears about disturbing indigenous and invisible snails had to be allayed.
Of no culinary interest, Vertigo angustior are just 2 millimeters high and 1 millimeter wide. However, like the rest of God's creatures, these snails have a right to exist and are now flourishing in protected areas.
Finding the right architect to design the course was critical. A noted lover of links golf, Greg Norman, was an inspired choice. In an age where megastars are often content to do no more than lend their famous names in return for a fat fee, rarely has an architect become so involved in a project.
Norman adopted a "least disturbance" policy and sought to discover the best natural holes provided by the elements rather than create artificial ones by shifting thousands of cubic yards of earth and sand. No fewer than 14 of the greens and 12 of the fairways were simply mown. And sticking with statistics, you can see the mighty Atlantic at some point on 16 of the holes, which leaves two where you must contend yourself with simply listening to it.
Doonbeg Golf Club: The verdict
The secret to playing the golf course is not to be overawed by the towering dunes or attempt to fight the ocean breeze.
Brian Shaw, the head golf professional, said, "Don't be intimidated by what you see on the tee. There's a lot more space out there. If you get into trouble, take your medicine, smile and get on with it. You will not overpower the course!"
Follow that advice, and you will love every minute of your round from the inviting downhill drive at one of the most scenic opening holes in the world until you putt out on the massive 18th green sandwiched between the sea and the Lodge.
Staying at Doonbeg
As we've just stepped off the 18th green, now would be a good time to explore the adjoining Lodge. The first thing you notice is how comfortably this striking stone building occupies such a prominent perch.
"Like the course itself, we've designed the Lodge to appear as though it's been woven within the fabric of the local community for years," remarked Buddy Darby, the CEO of Kiawah Development Partners, when the Lodge opened in May 2006. "Our plan is to combine a friendly, relaxed country house atmosphere with an unparalleled level of service."
The Lodge exudes confidence and comfort. Perhaps the greatest compliment you can pay a new building is that it fits in perfectly with the surroundings. In the case of the Lodge, it looks so appropriate that you could be forgiven for thinking that it's been around for centuries. It hasn't, but it will.
Even an internal inspection fails to reveal the building's modernity. Old wooden beams, traditional fireplaces, classic mantel pieces, reclaimed oak and pine hardwood flooring, elegant light fixtures, antique flagstones and fabulous old furniture create a cozy country-house ambiance.
To help further foster a feeling of intimacy, the main rooms are somewhat smaller than you might have imagined. Most look out over the Atlantic, which provides an ever changing backdrop regardless of whether the waves are gently breaking or thunderously pounding the beach.
For a lively venue in which to conduct your golfing post-mortem, try Darby's, which overlooks the first tee. A quick tip: Whereas it's entertaining to look through the picture windows at others teeing off, when it's your turn, it's as well to forget that people inside are watching.
There are 15 suites in the Lodge itself, all remarkably luxurious and blessed with spectacular views. From one to four bedrooms, each is beautifully furnished, tastefully decorated and sumptuously fitted. They also have both a living room and kitchen.
Although the Lodge is immensely popular, there's a lot more quality accommodation elsewhere within the complex. Abutting the main Lodge are 41 suites furnished to the same outrageously high specification with polished stone floors, beamed ceilings and wonderful old fireplaces. And just a well-struck drive away (opposite the 17th hole), the Links Cottages are equally splendid and even more spacious.
Overall, the place has the appearance and feel of a village that has grown up around a manor house; the role of the manor house being played by the Lodge. Like the mighty dunes themselves, Doonbeg is both magnificent and magical.
[EDITOR'S NOTE: It was announced Feb. 11, 2014 that the Trump Organization purchased the Lodge at Doonbeg and Doonbeg Golf Club. The course's new name will be Trump International Golf Links Ireland. Click here for more.]
More photos
«
»
September 30, 2009
Although in his 60s, with a handicap of 15 and lifetime earnings comfortably below $100, Clive Agran nevertheless still believes he can win a major. Arguably England's most gifted golf writer, when not dreaming of glory he's scouring the globe simultaneously searching for lost balls and great golf courses. Follow Clive on Twitter at @cliveagran.