Forget the chocolate high! Go golf crazy at Hershey Country Club West in Pennsylvania

By
Chris Baldwin
,
Contributor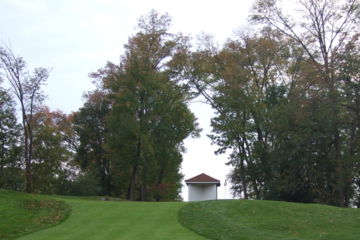 View large image | More photos
It's uphill, downhill and all inventive on Hershey Country Club's West Course. (Chris Baldwin/WorldGolf.com)
HERSHEY, Pa. - Standing on the fourth tee at Hershey Country Club's West Course, you cannot help but pity the fools on the Chocolate World tour.
That's why people come to Hershey, a town founded on candy bars about an hour and 40 minutes from both Philadelphia and Baltimore, of course. To smell the famous American chocolate in the air. To see how the candy bars are made - even if it's in a "simulated" factory tour with singing cows (picture Chuck E. Cheese characters).
It turns out they should come to play Hershey C.C. West, a rollicking old time ride of a golf course that delivers more unforgettable sights and sounds from its first six holes alone than you could get in a year spent perusing the special edition Hershey Kisses at the town's top tourist magnet.
You'll probably have played an old course or three by the time you tee it up on Hershey C.C. West. Maybe, you thought you liked these experiences in throwback golf course architecture. Then you play a few holes here and suddenly realize it can go to a whole other level.
Hershey C.C. West is old time American course design enthused with the inventiveness of a Tim Burton movie.
Throw any thoughts of staid out the window. Staid? This place is as staid as a naked Angelina Jolie. Hershey C.C. West is the 77-year-old that twenty somethings should be begging to hang out with. It's fun from start to finish. How many golf courses can you really say that about with a straight face?
"It throws so many different looks at you," visiting golfer Ryan Beckett said. "I felt like I was on the ropes a few times out there, but it always gives you a chance to come back and make a shot. It's hard to imagine it's not from a big-name designer."
Many golfers dismiss any course that's not been designed by a Fazio, a Dye, a Nicklaus. Hershey C.C. West shows this is a mistake. Its designer, Maurice McCarthy, was actually a well-regarded Scottish course architect in the late 1920s, but he's mostly faded into forgotten golf history.
Play McCarthy's three through six hole stretch at Hershey West though and you'll be wishing for a revival.
No. 3 is a short par 4 from a high tee that gives all us mere mortals the chance to live all those monster driver fantasies modern courses rarely let anyone experience. It's 354 yards from the back tees, only 305 yards from the middle tees, and even the plateau green isn't going to slow you down.
A hole like this makes one wonder if golfers didn't have a whole lot more fun back in the day.
From there, it's on to the even shorter 307-yard par-4 fourth with a gully fairway that's more crammed than a New York subway commuter. You're shooting down from a high tee to an opening with trees leaning in and a rock wall near the green.
The most impressive part of this hole, though, is the view of the chocolate factory behind it. This is the real Hershey's factory, where the chocolate actually gets produced - as opposed to the "simulated" tour tourists get. That's right, you see more authentic Hershey sights golfing than you do anywhere else.
Not convinced? Step up to the fifth tee and take aim at the front lawn of Milton Hershey's mansion. Yes, this is a par 3 with a green outside the front door of a big old historic mansion. To get there, you only take a shot from the highest tee yet; the hole also has a cargo train running alongside it.
You know, just in case the hole didn't have enough already.
"I swear the train driver waited for me to hit my tee shot before going on," golfer Harold Lewis said, shaking his head. "Train driver ... is that what you call them?"
Trains, mansions, chocolate smokestacks: Is this a golf course or a Charles Dickens novel? What else could Hershey Country Club West possibly deliver?
How about a chance to clip a speeding SUV. That's what you get on the 345-yard par-4 sixth. This hole has you shooting from a near mountain tee, down across a road and hopefully flying over the two streams of water cutting through the fairway. Duff one and the guy coming home from the office won't know what's rattling off his hood (this golfer was guilty).
And you thought Willy Wonka knew drama?
The Verdict on Hershey Country Club West
Going to Hershey and not playing Hershey Country Club West is even worse than coming here and not sampling some of the Hershey candy bars that you'll never find in an everyday store. This is a real country club, complete with a dedicated membership, huge plush locker rooms and lockers with gold-plated nameplates.
It's open to guests of the very expensive Hotel Hershey and really, on anything but the busiest days, anyone who says they're a guest at the hotel. The pro shop guys aren't going to call and check up on you. Not that you're supposed to know this.
If there's one drawback to Hershey C.C., it's the fact the country club attitude sometimes comes out. Members and even a few of the marshals/cart attendants/beer cart girls can make a visitor feel like they're a class below.
Still, even with the country club aura, the greens fees for outsiders are extremely reasonable.
For that you get this quirky jewel of an old-time course - one that hosted the 1940 PGA Championship - and some of the straightest-rolling greens you'll ever play.
Forget the chocolate high. This golf rush will beat it every time.
Hershey hotels in chocolate country
The Hotel Hershey is the hotel in Hershey, and there's no close second, third or fourth. This is a AAA Four Diamond hotel in an area that still carries a lot of Pennsylvania farm country spirit. There's a huge courtyard with shooting fountains, a tourist-attraction garden next door that kids will love and a chocolate spa.
Of course, the staff at Hotel Hershey makes you feel like you should feel privileged to be staying there. That and the routine $300 standard room rates make it a debatable stay.
Hershey dining
Hotel Hershey has an ultra high-end restaurant. On the night of this visit, everyone eating there was in suits, an extreme rarity in today's world. If you're looking for something more casual and familiar, a number of chain restaurants and fast food places are nearby.
Fast Fact
There is no messing with five, six sets of tees at the old school Hershey Country Club West. It's back, middle and forward tees - that's it.
More photos
«
»
May 6, 2008
Chris Baldwin keeps one eye on the PGA Tour and another watching golf vacation hotspots and letting travelers in on the best place to vacation.