Haggin Oaks Golf Complex: Visiting Dr. MacKenzie in Sacramento, California

By Ted Johnson,
Contributor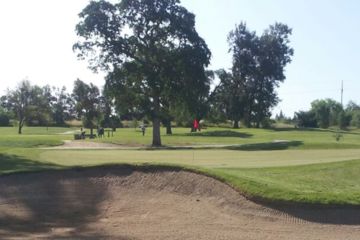 View large image | More photos
Haggin Oaks is California's only public 18-hole Alister MacKenzie-designed golf course. (Ted Johnson/TravelGolf)
SACRAMENTO, Calif. -- Sacramento has developed a strong municipal golf presence.
The city has grown a great deal in the past 20 years and has approximately 470,000 residents, and the greater metro area consists of well more than 1.5 million, with much of the growth found in the eastern suburbs.
The development has brought new daily-fee and private courses to the region, giving local golfers plenty of options. But the epicenter of this active golf culture remains the Haggin Oaks Golf Complex in the eastern part of the city.
The 36-hole facility includes its Alister MacKenzie-designed namesake course, the Arcade Creek Course, a large driving range and huge practice putting green as well as a "Tech Center" geared for lessons and fitting sessions. The Haggin Oaks pro shop regularly wins industry awards for its selection and service, including club repair.
Haggin Oaks is one of eight Alister MacKenzie-designed courses in California, and only it and the nine-hole Northwood course are public. Pasatiempo is semi-private and the others -- Cypress Point, Green Hills, Valley Club, Meadow Club and Claremont -- are all private. The Meadow Club in Marin County in 1928 ranks as his first design in America.
Haggin Oaks opened in 1932 but has since undergone some changes, including re-routing some holes for the construction of nearby Highway 80. In 2001, the city spent $6.5 million to renovate the course with improved drainage and restoration of 11 greens to their original specs.
Haggin Oaks Golf Complex: The verdict
MacKenzie's best designs include plenty of elevation changes, which the architect uses to increase the tactical nature of the second shot. Haggin Oaks is flat and thus the greens don't have the slopes you see in other MacKenzie designs.
MacKenzie created the slopes in the putting surfaces by building up the green complexes. Errant approach shots tend to kick off the side slopes or into bunkers, leaving tougher recovery shots.
His penchant for expansive greens with large bunkers remains the courses outstanding feature. This also is a course that, with back tees measuring nearly 7,000 yards, allows you to bomb away off the tee. But scoring well means precise approach shots to proper sections of the greens.
There is an expansive nature to Haggin Oaks, with wide fairways and plenty of grass between holes. Large oaks and maples and mature pines are scattered throughout the course to give certain holes more definition. The 600-yard-plus 12th hole is a good example. A grove of trees immediately in front of the green creates a bisected fairway. The second shot has to choose a left or right option.
This course closes with back-to-back adjacent par 5s, but the difference in their features is rather clear. The bunkering in front of the 17th green is definitely Dr. MacKenzie-like, whereas the flat cross bunkers in front of the 18th green are definitely something else.
Locals have noted that a recent shift to Morton Golf for course maintenance has improved course conditions. Greens that tended to be sticky now are firmer and faster. Fast green speeds coupled with MacKenzie's devilish slopes add up to a challenging round and ranks as Haggin Oaks' best feature.
"The greens are faster now," said regular customer Lance Berquist of Roseville, who added that he likes to play among the first Saturday morning groups. "It can get busy out here, which is why we play early on Saturdays. But it's a good place. It's a good deal."
The lack of elevation changes along with it being a core course makes it an easy walk. However, note that summer temps in Sacramento often climb into three digits.
The astute golfer will notice that this course, which is one of the busiest in the state, is more than just another muni. The par-3 third really brings it home. At 193 yards from the back tees, shots that don't find the right section of green will require deft touch and insightful reading of the slopes to get a putt to stop close to the hole.
The fourth, at 545 yards, is meant to induce a bold second shot over the water pond. Those faint of heart will find that the layup left of the water requires more depth than appearances indicate. The long, narrow green sits perpendicular to the direction of the hole, creating angles that reduce the short third-shot approach to a very small target.
But that's MacKenzie. The Good Doctor's designs are a give-and-take decision on every hole. His designs like Augusta National and Cypress Point rank among the world's best, and it's a good thing for northern California to say that this public track allows the public to sample some of his work.
Stay and play in Sacramento
Haggin Oaks lies about 10 minutes by freeway from the central business district and the state capitol and supporting buildings. "Downtown Sac" is laden with first-rate restaurants and clubs, and of course there are plenty of accommodations to be had.
More photos
«
»
May 18, 2012
Ted Johnson has been writing about golf for more than 25 years. Having traveled the world with his clubs, he counts himself lucky to have played Cypress Point, but Turnberry's Ailsa, Royal Melbourne and Kingston Heath in Australia and Ireland's Royal County Down tend to rotate as favorites. And then there was the trip to Vietnam, where he found himself in Vung Tao and his luggage in Ho Chi Minh City. That's why to this day he carries a toothbrush in his golf bag.