Dinosaur Mountain: Hang on for one wild ride at Gold Canyon Golf Resort east of Scottsdale, Arizona

By
Bill Bowman
,
Contributor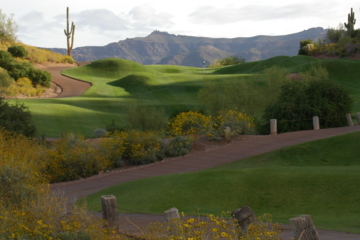 View large image | More photos
No. 3 on the Dinosaur Mountain course at Gold Canyon plays through elevation changes and a narrow fairway to a small green. (Courtesy of Gold Canyon Golf Resort)
GOLD CANYON, Ariz. -- Question: When is a 150-yard shot on a golf course not 150 yards?
Answer: When you're playing the Dinosaur Mountain course at Gold Canyon Golf Resort.
Severe elevation changes on nearly every hole at this Ken Kavanaugh design will leave golfers scratching their heads. Is a 7-iron the right club? Is it too much, or not enough?
This predicament arises on no shortage of holes. The 18-hole design literally rolls up and down mountainsides with ease and beauty at the base of the Superstition Mountains. Add its sister course, the Sidewinder at Gold Canyon, and you've got a 36-hole golf resort as challenging as it is beautiful.
"The huge elevation changes really make the Dinosaur course a nice test for players," said Scott Scherger, director of golf at Gold Canyon Golf Resort. "That and the small greens make players really think before they grab a club."
There's more. Mounds and deep bunkers surround those small greens. Miss the putting surface, and it's difficult to get up and down for par -– or worse.
Take the third hole. The par 5 measures a mere 514 yards from the tips. No problem, right? Think again. The hole doglegs severely left with a bunker at the corner to stop tee shots from biting off too much of the corner.
The second shot to an elevated green requires precision. A false-front green allows golf balls to release some 30 yards downhill, setting up a tough chip -- or chips, if golfers don't play it safe and target the center of the green.
The undulating green rates as tough to read if there's a front pin placement. Hit a putt too hard, and you'll find that wedge back in your hands. And this all comes on the third hole. There's plenty more.
The par 3s rate as more than memorable on Dinosaur Mountain. They are picture-postcard perfect, especially the 236-yard fifth and the 226-yard 14th. Both play dramatically downhill with impressive views of the surrounding area. It's a great feeling to watch a tee shot fly seemingly forever before landing on the green.
The golf course, Scherger said, while off the beaten path, draws its share of repeat players.
"It's on everyone's list to come back and play," he said. "Residents will have guests in town who want to play a memorable course, and they will bring them out here. It's such a unique golfing experience with the great course conditions, the setting, the wildlife -- deer, bobcats, javelinas.
"It's a lot more than people expect. It all adds up to a memorable experience."
Gold Canyon Golf Resort's Dinosaur Mountain: On the Scorecard
A look at the scorecard does not raise many eyebrows. And that's for a reason. It measures just 6,653 yards from the tips, but before you head to the back to tee it up, listen to Scherger.
"A lot of people will look at the scorecard, see the distance and think it's a short course and no problem," he said. "And many players can certainly play from all the way back. But the average player is looking to have a great experience, and they need to know that moving up a tee box will probably make for a better round."
In other words, park your ego at the door and have fun.
Dinosaur Mountain: You'll be back
If you've played only the Dinosaur course, schedule the Sidewinder layout for your next trip. It's a little shorter but two or three strokes tougher. "The elevation changes aren't as severe," Scherger said. "But the fairways are a little tighter, and there are smaller greens still. It all adds up to putting a premium on shot selection on every hole."
Lodging at Gold Canyon Golf Resort
Everything you need is on property. From spacious casitas and villas to fine dining at Kokopelli's Restaurant or a relaxing day at the spa, Gold Canyon Golf Resort offers a world-class retreat that caters to your every desire. You won't want to leave.
In the grill
The Bar and Grill at Gold Canyon offers great food and great views, all in a comfortable atmosphere. It's just what the doctor ordered before or after the round. Whether you lit it up on the golf course or need a drink to heal your wounds, this place has it all. Catch up with the latest PGA Tour action on TV or kick back and listen to the music with a cold one. You deserve it.
Gold Canyon Golf Resort: The verdict
Gold Canyon Golf Resort is a must-play from top to bottom. The staff and the golf course are first rate. If you're looking for a getaway, this is the place. The motto says it all: "An extraordinary escape from the ordinary." Gold Canyon Golf Resort lives up to all the hype -- and more.
More photos
«
»
July 1, 2010
Bill Bowman is a Las Vegas-based writer who has more than 40 years in the sports-writing business. He's spent the past 16-plus years covering the golf scene in Vegas and has teed it up for magazine profiles with celebrities including comedian Bill Engvall, actor Jeffrey Donovan (USA's Burn Notice), ESPN personality Colin Cowherd, NASCAR's Kurt Busch, Collective Soul's Ed Roland, the Baltimore Ravens' Jonathan Ogden and many others.