Mountain View golf course reflects bold renewal at Callaway Gardens resort in Pine Mountain, Georgia

By
Tom Spousta
,
Contributor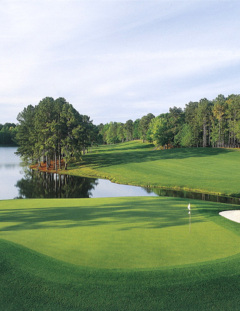 View large image | More photos
The risk/reward par-5 15th at the Mountain View Course at Callaway Gardens tempts you from tee to green. (Courtesy of Callaway Gardens)
PINE MOUNTAIN, Ga. - It doesn't take long to feel the vibe on the Mountain View Course at Callaway Gardens, about an hour south of Atlanta.
Bunkers are bigger, their faces steeper, and penalties from a bad shot are just plain meaner than on its counterpart resort layout, the Lake View Course.
The slopes are stronger and angles bolder, too, than on Lake View. Indeed, from 1991 to 2002 Mountain View hosted the Buick Challenge, a full-field PGA Tour event, and you can see why the pros enjoyed coming here. (The second stage of PGA Tour qualifying school also played here last November.)
The pros don't like hidden tricks or agendas on golf courses where they are trying to cash a check. Except for a couple key spots on the back nine, water doesn't really come into play on Mountain View, and you might get some uneven stances, what with the hilly terrain.
But you learn quickly that this Dick Wilson design was made with advanced players in mind. Mountain View won't kill lesser golfers, but there's a risk/reward element that closely follows you around both nines.
Callaway Gardens' golf courses will play a prominent role in the rebirth of this property as a vacation destination.
A golf membership program was launched in January. New golf cottages and home sites - all scheduled to be built as EarthCraft premium certified, the highest criteria for a green program - are in various stages of development. A gleaming rustic lodge and spa opened less than two years ago.
Known for its wide range of attractions and activities, Callaway Gardens has numerous combinations in which to market golf and vacation packages. That should help the resort weather economic challenges and thrive down the road.
"I worked in Palm Springs and other places, and people who retired, after they played four or five days a week, would get bored," says Bob Sykora, general manager of Callaway Gardens Golf Resort. "That's what I like about what we've got here. After playing golf, there are so many other things to do. You can always find something."
Mountain View Course at Callaway Gardens: The verdict
It's pretty simple to figure what you can and can't do on Mountain View. Get greedy, and you get hurt.
That's especially evident at its signature hole, the par-5 15th, which doesn't even need to dogleg in any direction to make you think about every shot.
Instead, a lake runs straight along the entire right side, and water cuts in at the landing area and at about 100 yards before the green. A couple mounds guard the left side, and a couple trees pop up on the right. At 520 yards, you can get home in two shots, but the green hangs out over the water, making even a short wedge a tense proposition.
Nothing fancy. Just a good hole, like No. 2, a par 5 you feel you should tear up, only your approach shot must stick on a small green that drops off in all directions. Nearly all of Mountain View's greens are raised up and force you to hit at least one extra club.
The 12th hole is the best par 3, giving you a 175-yard shot downhill to a green tucked in a valley among pine and oak trees with a lake on the left.
Fittingly, Mountain View has a strong finish, starting with No. 15. The 16th is a long par 3; No. 17 is a long par 4 to a green hidden behind two large pine trees and a front bunker; and No. 18 is a 402-yard par 4, long but straightforward and honest to your eye and game.
A good, balanced look - just like all of Mountain View.
Golf instruction at Callaway Gardens
Mountain View and Lake View share the same clubhouse and full practice facilities, including a seven-target range. Lessons and clinics are available, including a Golf Lesson for Two package. Plans for a golf academy and new clubhouse are in the works as the resort looks to expand its facilities.
More photos
«
»
February 17, 2009
Veteran golf writer Tom Spousta keeps one eye on the PGA Tour and another watching golf vacation hotspots and letting travelers in on the best place to vacation. He has covered golf and other sports for USA Today and The New York Times. Tom lives on a Donald Ross-designed golf course in Sarasota, Fla.