After battering by hurricanes, rebuilt Tiger Point Golf & Country Club looking to help challenge the Robert Trent Jones Trail

By
Tim McDonald
,
Contributor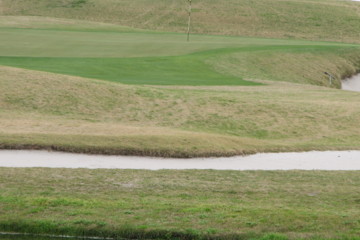 View large image | More photos
No. 2 at Tiger Point Golf & Country Club has water and sand to be carried to reach the green. (Tim McDonald/WorldGolf.com)
Tiger Point Golf & Country Club is a Pensacola-area golf course with great views of the Santa Rosa Sound, a solid design by Jerry Pate and excellent green complexes.
GULF BREEZE, Fla. - The Meadowbrook Golf Group isn't biting off too much, you think? It's challenging the most successful golf trail in the country, that little grouping in Alabama known as the Robert Trent Jones Trail.
The RTJ, financed by the state's retirement system, is the crème de la crème for those traveling golfers wanting to play a "themed" trail, in this case, obviously, the courses of the elegant designer scattered around Alabama.
Meadowbrook has formed its four golf courses in the Pensacola area into the "Emerald Coast Trail." There's a Web site, and it's part of a larger effort to market Pensacola as a golf destination.
"Once we hit 50,000 rounds a year per course, who knows what will happen?" said Jason Young, head professional at Tiger Point Golf & Country Club. "It's going to take some time, but we really feel like it can happen."
There is no official flagship course for the Emerald Course trail, but if there were, it would probably be Tiger Point. It's an excellent design by hometown hero Jerry Pate that has wide, expansive views of Santa Rosa Sound.
The course was a 36-hole facility before it was hit fore and aft by successive hurricanes, Ivan and Dennis. Together, they knocked out the back nine of the West course, which was unfortunate, because that nine was exceedingly scenic. There are currently four or five plans to rebuild the destroyed nine, according to course officials.
What's left ain't bad: The front nine of Tiger Point's East course also plays along the Sound, as well as some of the back. It may sound a bit cynical to say the hurricanes helped the views, but it is true that with the destruction of all the trees on the course, along with many homes and the clubhouse, the views of the water could be called unfettered. Gazing at a large body of water is always soothing, unless it contains a giant storm.
Pate also handled the redesign after the hurricanes, but that was largely fiddling here and there: The basic routing stayed the same. One quirk that stayed the same was that neither nine ends up back at the clubhouse, which is currently being rebuilt. When you get to No. 10 on the East, you're 3 1/2 miles from the clubhouse.
Pate used his bulldozers to create movement on the flat terrain, especially around the greens. Most of the TidDwarf greens are slightly elevated, and nearly all feature good slope and undulation, more so than, say, Hidden Creek, though Hidden Creek is faster. There are quite a few multi-break putts to deal with at Tiger Point, and some of the up-and-downs are challenging to say the least.
Nos. 3, 14 16 and 18 stand out in that respect. No. 18 is a looker - framed by the emerging clubhouse, the green is set in an amphitheater - and it's a great closing hole. No. 5 features an island green.
Tiger Point Golf & Country Club: The Verdict
Tiger Point is a tad more than 7,000 yards from the back tees, and there are a number of very clever and demanding holes. No. 3 is a par 5 that plays toward the Sound, with a two-tiered green. No. 6 is a very long 470-yard par 4, the No. 1 handicap hole on the course. No. 13 is another, risk/reward par 5.
Nothing risky about No. 16: This is definitely a three-shot par 5 for anyone other than Bubba Watson.
The conditioning at Tiger Point is excellent, and when the clubhouse is finished sometime this spring, it will be an excellent facility - more so if they can get the last nine holes in shape.
Pensacola resorts
Portofino Island Resort & Spa looms above the waters surrounding Pensacola Beach, with far away, dazzling views of the Gulf of Mexico and Santa Rosa Sound.
It's a huge, $250 million resort spread out over 28 acres, bordering the Gulf Islands National Seashore nature preserve. The resort has 300 luxury accommodations, including two- and three-bedroom "sky homes." All have beautiful views, wrap-around verandas, floor-to-ceiling views of the Sound and Gulf, domed entryways, arched ceilings and whirlpool baths.
The resort has all sorts of amenities including my favorite, free movies, and each of the five towers has its own underground parking garage.
There is an eight-mile stretch of open beach, away from the crowded development at the other end of the island. There are also eight pools and spas, including a heated, Olympic-size pool overlooking the bay.
The resort has its own "outdoors adventure" company that offers kayaking, fishing, surfing, sailing, dolphin excursions and banana boat rides.
More photos
«
»
February 21, 2008
Veteran golf writer Tim McDonald keeps one eye on the PGA Tour and another watching golf vacation hotspots and letting travelers in on the best place to vacation.