Mystic Dunes Golf Club near Orlando offers a magical golf experience

By
Tim McDonald
,
Contributor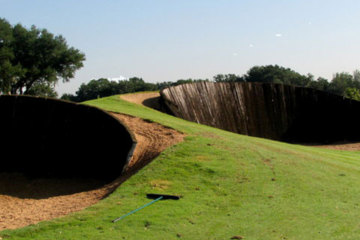 View large image | More photos
Railroad-tie bunkers spice up the aesthetics and challenge at Mystic Dunes Golf Club. (Tim McDonald/WorldGolf.com)
CELEBRATION, Fla. -- With the early-morning fog over its hollows and bushes, Mystic Dunes Golf Club does indeed seem mystical, like something out of a sword-and-sorcery epic.
Then the rising sun breaks through, the fog lifts, and it's time to face reality. Good luck, and may your three-putts be fewer than mine.
Mystic Dunes is one of the top-tier golf courses in Orlando. The greens are huge and wildly sloped and undulating. The approach shots are hazardous, the tee shots tricky and the conditioning pristine throughout.
"This is a tough course," said New York state golfer Robert Menchaca. "It's a ton of fun, but it isn't easy. It's a good place to have a regional qualifier. Separate the wheat from the chaff."
Among the course's numerous attributes, the greens stand out. Many emulate Augusta National, crowned shapes dropping off to mammoth, closely mown collection areas.
Just hitting these greens, difficult as that can be, isn't enough -- you have to hit specific segments, lest you find yourself in impossible situations.
Take No. 6. After a long water carry off the tee, you face a tree-studded approach to a green that juts out at a left angle to the fairway, dangerously close to marsh.
Made it? Hold that sigh of relief. The two-tiered putting ground slopes so fiercely, you could stand at the top and not see a six-footer on the bottom. Phil Mickelson and Houdini would three-putt this green.
"I think that's one of the toughest holes I've played in a long time," Menchaca said.
Mystic Dunes is 7,012 yards from the back tees, reserved for pros and those with single-digit handicaps. Even from the middle tees, you'll be in A-Game Land, just a few miles from Fantasy Land.
The design is by Gary Koch, the Champions Tour player and television commentator. He doesn't have the name of some of his architectural contemporaries, but if Mystic Dunes is any barometer, he should.
The course slashes through protected wetlands and the rolling hills of a former orange grove. The fairways bend, twist, shake, rattle and roll. Railroad-tie bunkers, some of them in the middle of the fairways, can swallow even well-struck drives.
Some tee and approach shots are blind, and many of those you can see look downright dangerous. There are a couple of PGA Tour-length par-4s and uphill par-5s for good measure.
All that being said, you can still go low if you pick your spots and hit to them, both fairways and greens.
"It's a hard course, but you can score here if you hit the right shots," said Gary Hugaboom, a fellow New Yorker playing with Menchaca.
Mystic Dunes Golf Club in Celebration, Florida: The verdict
One of the marks of a good course is memorable holes, and Mystic Dunes has more than its share. Playing the course recently for the first time in three years, half a dozen holes came back with crystal clarity, as if played yesterday.
Course officials have made some enhancements and modifications in recent years, and the USGA upped the slope rating from 137 to a deserved 145. Vast waste areas and high grasses give Mystic Dunes a wild, natural look despite the periodic looming condos.
The club has an excellent practice facility and a nice putting green, though the chipping area is small. The pro shop stands out in a world full of bland pro shops.
You'll pay for all the beauty, challenge and amenities, of course. Still, this is a must-play in Orlando.
More photos
«
»
May 25, 2007
Veteran golf writer Tim McDonald keeps one eye on the PGA Tour and another watching golf vacation hotspots and letting travelers in on the best place to vacation.