Highlands Reserve Golf Club near Lakeland: Swamp golfing in the hills of central Florida

By
Tim McDonald
,
Contributor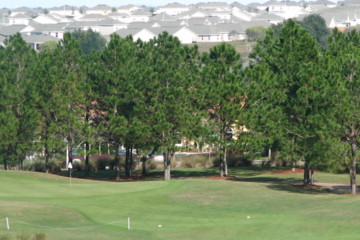 View large image | More photos
Highlands Reserve is built on a high, sandy ridge, with good views of surrounding area. (Tim McDonald/WorldGolf.com)
DAVENPORT, Fla. -- Despite the gazillions of tourists who head south to golf in Florida each year, quite a few courses down here market themselves as being "atypical" Florida golf courses.
That's probably because the peninsula is flat as a pancake, for the most part, and much of it is swamp; courses here can have a sameness to them. Then, of course, it's a state as friendly to developers as any state in the country, and thus is sometimes nicknamed "condo golf."
So, there's a need to stand out from the crowd. Highlands Reserve Golf Club, like several Sunshine State courses lucky enough to be above the fray, literally, likes to highlight its elevation.
The course, which is some 45 minutes southwest of Orlando, sits high atop what is essentially a big sand hill, more than 100 feet from top to bottom, and from many of the elevated tees, you have good views of the Orlando-area tract housing developments that have replaced the orange groves and, beyond that, what locals call the Green Swamp.
The Green Swamp is the dominant feature of the course, even though it never actually comes into play. But its presence draws putts like magnets. The course is tilted toward the swamp, and so putts that look like they might break right will break left, if that's where the swamp is.
Don't believe me? Go ahead, play that putt to break to the right. See? Why don't you listen?
The greens are full of subtle undulation -- sometimes not so subtle -- and contours, so that what you think as slight misses will slide 10 feet past the hole.
"There's three famous words here: 'stop' and 'please stop,'" said Paul Lovizio, who plays the course frequently.
It's a Mike Dasher design, opened in 1998, and he made good use of the existing elevation, as well as the waste areas that fan out across the course. Actually, he simply left them there, and they provide some nice visual elements, as well as strategic obstacles and dividing lines between holes.
He did move some earth to push up the greens and tees, providing the golfer with those views. But for the most part, the layout meanders through the natural hilly terrain and, it must be said, a housing development.
The course is relatively short at 6,673 yards from the back tees, and is very playable from there.
"What you see here is what you get," Lovizio said. "The only water is on No. 10, and if you hit it there, you deserve it."
Only one hole with water? This is definitely not typical Florida golf.
Highlands Reserve Golf Club: The verdict
Highlands Reserve is about 10-15 minutes outside Disney World, and well worth the trip if you want to play an atypical Florida course with reasonable green fees. It's also a very walkable course, situated on only 150 acres.
The fairways have excellent movement to them; many are sloped, usually toward one of the waste areas, and you're frequently hitting downhill off the tee, then back uphill on your approach. Some of the fairways are lined with pine trees, while other sections, particularly the middle, play high up on the hill and are very open. There is little rough to speak of; only the pine needles.
There are some very nice holes. No. 5 has the only blind tee shot, and Nos. 8 and 9 are back-to-back par 5s.
Locals call Nos. 14, 15 and 16 their version of "Amen Corner," and they are indeed some of the more enjoyable holes on the course. They all throw waste areas at you and No. 16 has a two-foot deep gulley that cuts across the green.
Lakeland-area hotels
The Holiday Inn on Florida Ave. is a good place to base a visit to golf in Lakeland, if you want to explore Polk County. It's a central location, with easy access to Interstate 4 and other main arteries.
If you happen to come during spring training time, expect to see a lot of Michigan plates; Lakeland is the spring training home of the Detroit Tigers, and the motel isn't far from Joker Marchant Stadium.
It's a two-story hotel, with 171 rooms with a free continental breakfast and an Italian restaurant, La Dolce Vita.
There is a bar, fitness center, outdoor pool and whirlpool. With its central location, there are a variety of restaurants nearby, and downtown is only a few blocks away.
More photos
«
»
October 8, 2007
Veteran golf writer Tim McDonald keeps one eye on the PGA Tour and another watching golf vacation hotspots and letting travelers in on the best place to vacation.