Hawk's Landing Golf Club in Orlando a near-perfect resort golf course

By
Tim McDonald
,
Contributor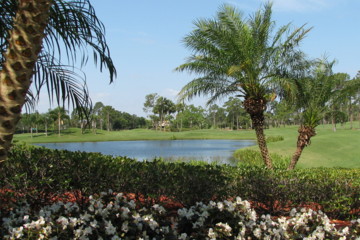 View large image | More photos
Hawk's Landing is an immaculately-groomed resort course owned by Marriott. (Tim McDonald/GolfPublisher.com)
ORLANDO, Fla. - You reach Hawk's Landing Golf Club by foot -- as soon as you step out of earshot of the oh-so-soothing resort music playing from the lobby loudspeakers of the majestically-named Orlando World Center Marriott Resort.
No long rides in Interstate-4 traffic. No shuttle buses. You walk out of the lobby, take a right and there's the golf course. Your three-putts can begin.
The resort makes a big deal out of the golf course's close proximity, and it is indeed quite a convenience if you're staying at the Marriott.
The course takes up 220 acres of resort property and plays around the resort grounds and not through them, so that a great deal of the time - excepting the handful of holes close to ear-splitting I-4, you're in a little, green oasis, with queen palms, sand pines and magnolias lining the fairways and grounds.
Not to mention the flowering azaleas and jasmine that could be in Better Homes and Gardens. All this nature is tied up in a well-groomed package befitting a well-heeled resort.
"I played a tournament recently at an exclusive country club," said Mike Belew of San Francisco, playing with partner Travis Watts. "It was groomed beautifully, like this, but it wasn't nearly as scenic as this course."
Belew agreed: "It's not overly challenging, but the views are nice and the maintenance is awesome."
Hawk's Landing is a Robert Cupp III design, and it is very nearly a perfect Orlando resort golf course, combining immaculate conditioning with a very friendly layout. Have a Mai-Tai for lunch, hack away in the afternoon.
It's only 6,600 yards from the back tees so that even mid-handicappers can boldly step back and not take a drubbing. Oddly, the intermediate tees drop drastically to 6,165 yards.
The fairways are wide and inviting with gentle mounding and there is very little rough to speak of. Many of the tree-lined fairways have pine straw to hit out of, so that you'll nearly always have a shot at the green.
The greens are in good shape, and even have a little speed to them, and are surrounded by chipping areas that are closely mown so that you can putt on them. There are almost always bail-out areas around the greens on the more difficult holes, as well as mounding.
Where the course is not so forgiving, however, is in the water obstacles. This is where the course bares its teeth: a full 15 of the holes have water in play, and some nervous little carries.
No. 4, for example, has two water carries if you want to reach the par-5 in two. It's a sharp dogleg right and you can either lay up on your second shot over the first creek safely to the right, or go straight across to the promised land, but you'll need both power and accuracy.
The closing hole, another par-5, features a fairway that dwindles to almost nothing, squeezed by a pond on the right. It's another, excellent, risk/reward par-5. In fact, the par-5s are probably the strength of this course; they're all fun.
Hawk's Landing World Center Marriott: The Verdict
Hawk's Landing is an excellent resort course with resort green fees, ranging from $85 to $155.
You'll get excellent service on a playable, picturesque course and let's face it, that's the sort of experience most resort guests are after.
The course needs another set of tees, though; the drop from 6,600 to 6,165 is a sharp one. Despite all the water, women should enjoy the course; the forward women's tees are 4,746, a good distance for the distaff.
The carts have nice, color GPS, though I was a little surprised they didn't offer tips, like many resort GPS systems do.
The Bill Madonna Golf Academy is on the grounds.
More photos
«
»
June 8, 2007
Veteran golf writer Tim McDonald keeps one eye on the PGA Tour and another watching golf vacation hotspots and letting travelers in on the best place to vacation.