Ocean Links course one of four golf gems at Amelia Island Plantation in northeast Florida

By
Tom Spousta
,
Contributor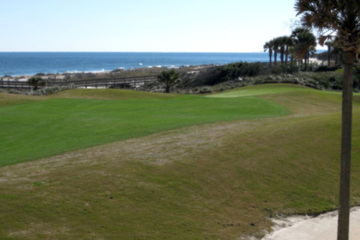 View large image | More photos
The green nestles among the dunes on the 16th hole of Amelia Island Plantation's Ocean Links course. (Tom Spousta/WorldGolf.com)
AMELIA ISLAND, Fla. - The trek to the 16th tee box at Amelia Island Plantation's Ocean Links course takes you, well, toward the ocean. You'll literally disappear into the dunes, and all you will have to guide you - beside a driver - are your senses.
A glorious blue sky above Amelia Island Plantation, crashing surf less than 100 yards away, a blustery wind blowing off the white sands piled high with tropical vegetation ... if this were a credit card commercial, the next line would be "priceless." This 430-yard par 4, though, transcends any marketing slogan and stands alone on its golf merits and scenic beauty.
A thin ribbon of grass exposes itself in the distance, filling you with anticipation. Not to mention dread.
"Where's the fairway?" I asked Kevin Lindsey, a teaching professional at Amelia Island Plantation Golf Schools.
He laughed. Lindsey also teaches at the ESPN Golf Schools based here. Suddenly, I felt caught in one of those hyperkinetic video loops leading into SportsCenter.
"That's what everybody asks," he says, before busting his best drive of the day down the left side of a rolling fairway that doglegs slightly left toward the Atlantic.
It's truly a blind tee shot, so of course I basically closed my eyes, pulled the trigger and launched a drive at the Ocean Club Villas, a condo building off to the right and the only perceivable target on the 16th hole.
Hey, it's pretty cool when you nearly blast one by a pro, and in my euphoria, I thought of how this true "Ocean Links" style hole could be plopped down and fit perfectly at Whistling Straits along Lake Michigan in Wisconsin or anywhere on the coast of northern California's Monterrey Peninsula.
Sergio Garcia filmed a TaylorMade golf commercial here a few years ago. A collaboration between Pete Dye and Bobby Weed, Ocean Links measures only 6,108 yards from the tips, but this destination resort gem isn't just a photo op.
Sure, it's designed to be playable for the resort guest. But Ocean Links is not a pushover. What the golf course lacks in toughness, it makes up for with a demand for accuracy, especially on approach shots to its tiny greens.
"Most people see 6,100 yards and think, oh, we're gonna eat this course up," Lindsey says. "Then you realize how hard it is to hit some of these greens, especially the ones along the ocean. They confuse short with easy. But it's easy to find a lot of bogeys out here."
Amelia Island Plantation, Ocean Links: The verdict
Lindsey makes a good point. Due to its layout and land limitations so close to the water, Ocean Links has six par 3s, which take away at least 400 yards from what you'd see at standard courses.
But Weed and Dye - remember, the latter built TPC Sawgrass and its diabolical par-3 17th hole - make these par 3s the star of the show. In order of scenery and difficulty, they'd rank like this: No. 15, No. 5, No. 6 - all cut by the ocean - No. 13, No. 8 and No. 18.
Yes, Amelia Island Plantation's Ocean Links course ends with a par 3. Kinda anticlimactic, although it's framed nicely by trees and water.
The three holes adjacent to the Atlantic demand the spotlight, led by No. 15, which could easily be a distant (and longer) cousin of the famed Postage Stamp hole, No. 8 at Royal Troon in Scotland.
Slightly uphill, it's all carry (about 190 yards) over waste bunkers and vegetation to a green perched at the top of a ridge, framed between two large dunes and with the ocean as its backdrop.
At No. 5, the green is tucked against a large dune and perched on the right edge of the ridge. The green extends out toward the beach and messes with your eyes. Only 150 yards, you're aiming at a putting surface that's 15 feet deep and about 40 feet wide.
The sixth tee sits atop perhaps the highest dune on the property and looks down 178 yards to a green square with the back of the hotel. You can sit on the balcony of your room and watch shots from the moment they leave the clubface.
No. 4, a short par 4, also runs along the ocean. Overall, Ocean Links breaks down into par 4s that are fairly short and tight; par 3s that are fairly demanding and tricky to hit; and par 5s that are roomy by comparison. A couple par 4s could be lengthened and widened, but this is truly a seaside links course, and with the ocean breezes always a factor, Ocean Links can stand proud on its own golf merits.
More photos
«
»
January 26, 2009
Veteran golf writer Tom Spousta keeps one eye on the PGA Tour and another watching golf vacation hotspots and letting travelers in on the best place to vacation. He has covered golf and other sports for USA Today and The New York Times. Tom lives on a Donald Ross-designed golf course in Sarasota, Fla.