Monte Rei Golf & Country Club in Portugal's eastern Algarve is classy all the way through

By
Clive Agran
,
Contributor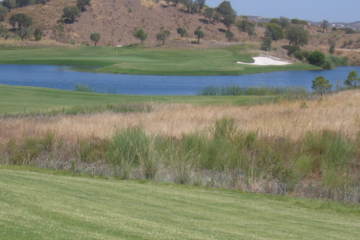 View large image | More photos
Longer hitters might take on the green from the 12th tee at Monte Rei North when conditions are favorable. (Clive Agran/WorldGolf.com)
FARO, Portugal - Monte Rei Golf & Country Club is one of that rare breed of golf courses that simply reek of class.
Located in the hills just a few miles to the northeast of the pretty town of Tavira in Portugal's eastern Algarve, the place lets you know that you have arrived somewhere special the very moment you pass through the impressive entrance.
Everything at Monte Rei smacks of quality, and the remarkable attention to detail verges on the obsessive. The only thing it appears to lack is much in the way of visitors, which is certainly not a bad thing for the privileged few who can afford the rather steep green fees.
But it's vulgar to worry about the cost when you're enjoying somewhere truly exceptional, and so just let the attendant strap your bag onto the mandatory cart while you soak up the opulent atmosphere, relax and enjoy a truly outstanding experience.
Before you whiz down to the first tee on the North Course at Monte Rei Golf & Country Club, however, be sure to thump a few balls on the splendid range. As well as quality Callaways stacked up in neat little pyramids, you'll find a beautifully elevated, perfectly flat, grassed surface from which to hit shots over an enormous area that can comfortably accommodate both a huge slice and prodigious hook.
Monte Rei Golf & Country Club: Bigger than a earthquake
The whole development has generated the biggest stir in the area since the Great Earthquake of 1755. Although not quite as much earth was moved to make the much vaunted North Course as was shifted all those years ago, it's probably a close run thing. It's such a wonderful layout that God will almost certainly have forgiven course designer Jack Nicklaus for being so presumptuous as to attempt to improve upon what He had created.
The stark truth is that Jack has undoubtedly succeeded.
Allegedly armed with a massive budget, the Golden Bear has produced something that is nothing short of stunning. Always presented in pristine condition, it rolls around the hills and valleys in breathtakingly beautiful fashion.
Each hole on the North Course at Monte Rei is delightfully self-contained, and even knowing that the Serra do Caldeirao mountains are to the north and the Atlantic Ocean is to the south doesn't help you maintain your bearings as you weave your way around. Fortunately, the massive clubhouse looms reassuringly as you play up the ninth and 18th.
Since it's rarely busy, and the tee times are 12 minutes apart, it's quite likely that you will play the whole round without spotting another group, let alone be held up. And so you won't feel rushed as you take on the eight par 4s, five par 3s and five par 5s.
Although Monte Rei North measures significantly more than 7,000 yards off the "tournament" tees (for those with a handicap of 7 or better), the course is progressively less daunting off the "championship" (8-15), "signature" (16-23) and "forward" (24+) tees. Whichever tee you play off, you will notice the extensive bunkering that is a real feature of the golf course.
Of some comfort is the knowledge that balls don't plug in the bunkers. Club Professional David Shepherd explains, "The 'sand' is actually crushed limestone, which is compacted around the edges so that when the ball lands, it doesn't plug but rolls back onto the level."
The water that is a factor on 11 of the holes at Monte Rei North is altogether less forgiving, and rarely do balls that are hit into the numerous ponds, streams and lakes ever reappear. What does make a welcome appearance from time to time, however, is the drinks' cart, which administers deliciously iced towels as well as beverages. Both are absolute lifesavers when, as is often the case, it's hot.
North Course at Monte Rei Golf & C.C.: The verdict
Like so many other projects on the Iberian Peninsula, the success of Monte Rei is dependent on property sales. Having opened in June 2007, it will have enjoyed a period of comparative prosperity and buoyant sales before the recession took hold. Thankfully, what villas have been built don't intrude at all or spoil the wonderful, all pervading sense of tranquility that is felt right through from the first tee to the 18th green.
As you come off the last, you will be presented with a commemorative Monte Rei bag tag with your name engraved on it, which is another nice touch. The pleasure, however, is far from over as you haven't yet explored the spectacular marble-floored clubhouse that, to mix metaphors, is the icing on the hill.
Despite the frustration of not being allowed into the areas reserved for members, there are nevertheless plenty of plush rooms to admire. Sitting on the panoramic terrace with a cool drink is probably the most favored option. Whether the combination of altitude and alcohol is strong enough to persuade you to purchase a property is less certain than the undoubted appeal of living in such a beautiful environment.
And it promises to get even better as there are plans for a luxury hotel with an extensive spa complex, an equestrian center, stylish shops and, wait for it, a second Jack Nicklaus signature golf course.
If it isn't already, another one as good or half as good as the existing North Course would make Monte Rei absolutely irresistible.
More photos
«
»
September 21, 2009
Although in his 60s, with a handicap of 15 and lifetime earnings comfortably below $100, Clive Agran nevertheless still believes he can win a major. Arguably England's most gifted golf writer, when not dreaming of glory he's scouring the globe simultaneously searching for lost balls and great golf courses. Follow Clive on Twitter at @cliveagran.