Eastwood Golf Club: The newly expanded centerpiece of Rochester's muni golf courses

By
Kiel Christianson
,
Equipment Editor and Senior Writer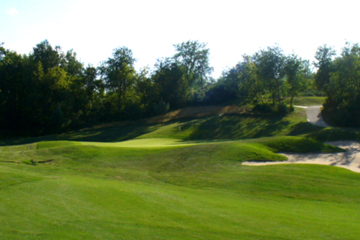 View large image | More photos
The 607-yard 14th hole sports a nearly "perfect" green complex to cap off the best hole at Eastwood Golf Club. (Kiel Christianson/WorldGolf.com)
The newly opened back nine at Eastwood Golf Club in Rochester, Minnesota, is helping to refocus golfing attention on the city's nice collection of municipal golf courses.
The golf course building boom that swept the nation in the 1990s gave rise to a paradoxical situation in many locales across the nation: Even though more new courses were opening up, accessibility to golf was for many people growing scarcer. How could this be?
For one thing, most of the courses that were being built were up-scale, daily fee or semi-private tracks, whose ambitious designs and often big-name designers required owners to push green fees ever higher to turn a profit. Then, as more and more affluent players flocked to the new verdant fairways, the backbone of American golf - municipal courses - lost business, and slim operating budgets even in the best of times grew positively anorexic.
Many municipalities ended up closing their courses or, worse yet, allowing them to linger on as rock-hard, weed-strewn goat tracks, where beginning golfers and loyal seniors were left to put up with poor facilities or simply quit the game.
Savvy municipalities, however, took a different route. Recognizing the value of munis as community resources and integral components to quality of life and property values, some cities invested in their munis, creating affordable, accessible and fun golf courses to compete with privately owned layouts.
A prime example of this proactive approach to public golf is Eastwood Golf Club in Rochester, Minn., where a newly opened back nine is helping to refocus local golf attention on the city's fine collection of municipal courses.
How Eastwood Golf Club plays
In May 2008, Eastwood unveiled a brand new back nine, designed both to complement and contrast with the original nine, which dates to 1965. Whereas the greens on the front nine are small and round, the greens on the new back are large and undulating.
While the holes on the front generally run downhill from the tee and then back uphill to elevated greens protected by blind putting surfaces, the back features a mix of elevated tees with great views and a few uphill shots that hark back to the old-school design of the front.
According to Jeff Minske, the long-hitting superintendent at Eastwood, "It's like two different courses." And the estimation feels accurate. Whereas the front nine feels every bit like a muni, the back feels - and plays - more like a high-end daily fee course.
How does this pronounced difference between the nines affect play? Well, it is a bit jarring, to be quite honest. I, for one, took seven more strokes on the back than the front. If my game can be taken as even remotely average, then average golfers might find themselves getting a bit frustrated on the back. At least the first time or two they play here.
This being said, the back nine is a truly lovely, memorable collection of holes - the most memorable of all the municipal courses in Rochester. And the experience of playing them is well worth some temporary frustration.
Every single hole on the new back nine is solid, but perhaps the best is the 607-yard, par-5 14th. This is a gorgeous left to right dogleg off elevated tees. The fairway winds through jackpines to a perfect green complex, seated at an angle behind a low rock wall. This hole is in many ways reminiscent of some of the excellent holes found in Northern Michigan or upstate New York.
The 203-yard 17th is arguably the most fun hole on the course. The long par 3 is all uphill, to a blind, bowl-shaped green that collects well-struck shots and, if the pin is in the right location, funnels them to the hole. In the coming years, more than one golfer is going to get the surprise of his or her life upon reaching the top of that hill.
The 347-yard 18th is a bit short for a classic closer, but it's a drivable (from more forward tees) risk-reward hole that lets you chose between an easy par or a hard birdie. If you're pressing your back-nine bet, it could make or break you.
The verdict on Eastwood Golf Course
Considering the back nine at Eastwood just opened a few months before I visited, it was in remarkably good condition. The fairways are seeded with a new strain of low-mow bluegrass, which is not only hardy and pretty, it also holds your ball up almost like it is teed up on the fairway.
A few holes still show signs of youth, mostly due to drainage issues resulting from water coursing between the horizontal layers of limestone from which many fairways were hewn. Maintenance under the hand of Minske and his crew is outstanding, though, and the superb green complexes are growing in beautifully.
And true to the heritage of municipal golf, even Eastwood's new back nine, which is nearly 500 yards longer than the front nine, is suitable for players of all levels. There are four sets of tee boxes (more on some holes), lending a variety of looks and strategies to each and every hole.
Leif Erickson, the new director of golf for the Rochester City Parks District, sums up the potential and the challenge for Eastwood and all of the city's fine munis: "We're pretty proud of these facilities. We just need to get the word out."
With excellent upgrades to the city courses like this, and green fees of $25, it should only be a matter of time before word gets out that some of the best golf in the area can be found practically around the corner from home, in the city parks.
Rochester accommodation and dining
Eastwood, and all of Rochester's municipal and public courses, are only a few minutes drive from the city's growing downtown. The Rochester Marriott (507-280-6000) is linked to the Mayo Clinic and other downtown hotels via an underground shopping mall. It is also right next door to the Peace Plaza, a lovely pedestrian mall running through blocks of restaurants and shops, many of which feature outdoor seating in the warm summer months.
McMurphy's Sports Café is just down the road from Eastwood. The pub food is hearty, and there is never a cover charge. For something a bit trendier, Chester's Kitchen & Bar (507-424-1211) is the newest addition to the Peace Plaza downtown and arguably the best place in town to enjoy a cocktail and some contemporary American cuisine.
Eastwood Golf Course tee times
For more information on Eastwood Golf Course, call (507) 281-6173 or visit www.rochestermn.gov.
More photos
«
»
October 3, 2008
Kiel Christianson has lived, worked, traveled and golfed extensively on three continents. As senior writer and equipment editor for WorldGolf.com, he has reviewed courses, resorts, and golf academies from California to Ireland, including his home course, Lake of the Woods G.C. in Mahomet, Illinois. Read his golf blog here.