Dunmaglas Golf Club in Charlevoix, Michigan: Better than the original

By
Mike Bailey
,
Senior Staff Writer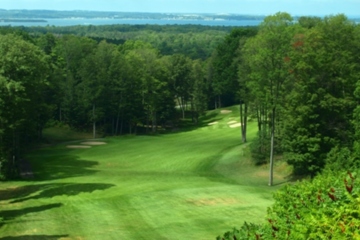 View large image | More photos
From the tee on the par-4 14th at Dunmaglas Golf Club, you can see Lake Charlevoix. (Mike Bailey/TravelGolf)
CHARLEVOIX, Mich. -- Dunmaglas Golf Club opened in 1993 to rave reviews. The original owner, Chuck MacGillivray, inspired by the Scottish links courses overseas, named it for his ancestral home in Scotland.
He hired course designers Larry Mancour and Dean Refram to paint his vision on an 886-acre Northern Michigan setting that overlooked Lake Michigan and Charlevoix. It would be a mixture of holes cut through the forest and Scottish highlands-style holes that showcased panoramic views. It opened to favorable reviews, ranking highly on Golf Digest's list in its first couple of years. It was also difficult.
Apparently, it was too difficult.
Sure enough, golfers flocked to play it once, maybe even twice, but as they left with their drivers tucked between their legs they came to the conclusion most of us do when we shoot lousy scores: Golf is no fun.
Over the years, the tee sheets at Dunmaglas Golf Club suffered as this difficult track fell out of favor. Nobody likes losing golf balls on every hole, and the mid- to high-handicappers were doing exactly that. Something had to change.
A new direction for Dunmaglas Golf Club
"It was so hard that people would play it once, and they didn't come back," said Dunmaglas Golf Club General Manager Darin Philport, who came on board in 2007.
In 1995, the club was purchased by Mike Pung, who knew changes would be needed if he were to bring back players. Trees were removed, brush was cut back, some 50 bunkers were filled in or taken out and two additional sets of tee boxes were created. This opened up new sightlines, making the golf course a lot more forgiving and a little more playable.
It did nothing, of course, to detract from the magnificent landscape, and over the last few years, management has made a concerted effort to up the level of service.
Dunmaglas Golf Club, a par 72 that plays to 6,776 yards from the tips, is really a tale of two golf courses. From an elevated tee, it starts with a relatively tight par 4, guarded by a thick stand of trees and a stream. The course maintains that look until the sixth hole, when suddenly the forest opens up to high meadows and the clouds in the sky. Instead of trees catching errant shots, it was fescue. The golf course introduces wind as a new element, and the surrounding countryside and lakes come into view.
It's not until the par-4 14th that the initial topography comes back in vogue. But that doesn't happen until the second shot, because the 15th tee is the highest point on the course, playing down to a fairway a couple of hundred feet below. Back into the trees, the golf course winds through several imaginative holes before opening up again for the 18th.
Dunmaglas Golf Club: The verdict
Having not played Dunmaglas Golf Club before the renovations, I can only guess how difficult it used to be, because it's no pushover in its present condition.
The golf course is, however, very playable now, and if you bring a reasonable game, you will have fun. The holes are entirely memorable as well with no two playing alike.
Expect excellent service both on the course and in the clubhouse. Speaking of the clubhouse, there's talk of moving it to a location that was planned years ago, near the 14th and fifth tees. When that happens, the holes would be renumbered and provide better views from the clubhouse.
Practice facilities at the golf course are more than adequate. And lessons are available at the Northern Michigan Golf Academy at Dunmaglas Golf Club. The academy is headed by veteran PGA Professional Kevin Whitmore, an excellent teacher who works to find techniques that are suitable for each individual.
Lodging near Dunmaglas
Plans are to offer stay-and-play packages at townhomes near the course beginning in the fall of 2010 with packages starting as low as around $75 per night, including golf.
But there are plenty of other options for visitors as well, with Dunmaglas Golf Club located less than 20 minutes from Bay Harbor, Petoskey and Charlevoix.
One attractive option is the historic Stafford's Perry Hotel in Petoskey. Opened in 1899, the three-story hotel is a landmark in Petoskey's historic Gaslight District. The Perry Hotel's guest rooms hearken back to the early 1900s but are fully equipped with 21st century amenities like Internet access and flat-panel high definition TVs.
When you check in, it might take you a little while to find your room on this split-level layout, but that just adds to the charm. Highlights include dining in the H.O. Rose Room, which offers panoramic views of Little Traverse Bay.
The hotel's lower level also offers casual dining, drinks and live entertainment in the Noggin Room.
More photos
«
»
August 2, 2010
Mike Bailey is a senior staff writer based in the Houston area. Focusing primarily on golf in the United States, Canada, the Caribbean and Latin America, he contributes course reviews, travel stories and features as well as the occasional equipment review. An award-winning writer and past president of Texas Golf Writers Association, he has more than 20 years in the golf industry. Before accepting his current position in 2008, he was on staff at PGA Magazine, The Golfweek Group and AvidGolfer Magazine. Follow Mike on Twitter at @Accidentlgolfer.