Desert Pines Golf Club: Welcome to the Carolinas, Las Vegas style

By
Bill Bowman
,
Contributor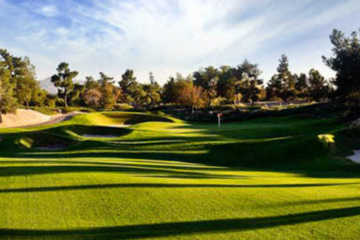 View large image | More photos
At Desert Pines G.C., bunkers, water and thousands of pine trees provide challenges from start to finish. (Courtesy of Desert Pines G.C.)
LAS VEGAS -- Welcome to Carolina-style golf, right in the heart of Sin City.
Desert Pines Golf Club, just 10 minutes from the Las Vegas Strip, is an 18-hole layout that will impress players with its design as well as challenge their shot-making ability.
This Dye Designs layout plays 6,810 yards from the tips. The course underwent major renovations in 2007. Every green was rebuilt with bent grass surfaces that are smooth and true, patterned after the greens at Augusta National.
Desert Pines -- ranked among the top 50 public golf courses in the country by GolfWorld in 2009 -- is a public course with a country club feel, including locker rooms, showers, top-flight customer service and all the other amenities you get at your country club back home.
"Desert Pines is one of Las Vegas' best-kept secrets nestled in the historic part of town," said Josh Hill, director of marketing for Walters Golf.
Desert Pines Golf Club: The course
Bunkers (more than 60 as well as desert outcroppings), water (four ponds and streams bring water into play on nine holes) and trees (thousands of pines line the fairways) provide challenges from start to finish.
But Desert Pines is also a fair course -- whether you're a beginner or a scratch player -- with many scoring chances. It's everything players expect from a championship golf course -- and a lot more.
The scoring chances start with the opening tee shot on each nine. The first and 10th holes both play less than 375 yards and are straightaway par 4s, so birdie chances should be plentiful. Take advantage of these two scoring chances because there are definitely some tough golf holes along the way.
One of those is the par-4 sixth, a 435-yard hole with a very narrow landing area, waste areas left and right and bunkers scattered along the way. Hitting driver may not be the right choice on No. 6. Pick a club that you control well and find the fairway or you'll have a tough chance getting home in two.
Another major test is the par-4 12th. Aptly named "Tunnel Vision," this 425-yard hole is a challenge from start to finish. Players need to thread their tee shot from a tree-lined tee box to a narrow fairway with desert waste areas left and right. A huge bunker left guards this deep, undulating green.
"Desert Pines is a very special course that requires crafty iron play and offers multiple risk/reward opportunities throughout your round," Hill said.
The finishing holes on each nine are two of Vegas' finest closing holes. Both are very long par 4s (467 yards on the ninth and 466 yards on the 18th) with water lapping up to the greens (to the right on the ninth and the left on the 18th). Drives on both holes need to avoid perfectly placed fairway bunkers to give players long-to-mid irons into a pair of large greens. Two putts are not a given, so par on both is a good score. But if players put up a birdie on the scorecard for one or both of these holes, you'll definitely win a few skins from your buddies.
Desert Pines Golf Club: The golf shop
Duffers Bar & Grill awaits players before or after the round. It's a cozy spot to check out the latest sports scores. Or grab your food and a brew and head out to the patio to catch the action as players finish up on the ninth and 18th holes. There are a wide variety of choices on the menu to satisfy any appetite. And players can use the call box on the ninth tee to order food and have it ready for them as they make the turn.
In the stylish clubhouse, players will find the latest apparel and can pick up those last-minute needs they may have left back at the hotel (sunscreen, golf balls, gloves, etc.). There's also a champions room that holds up to 140 people, large enough to host a wedding reception or other special occasion.
Desert Pines Golf Club: The practice facility
The impressive two-tiered, climate-controlled experience will keep those working on their game cool in the summer and warm in the winter -- a great touch. The greens here are also replicas of some of the best-known par 3s around -- TPC Sawgrass, Pinehurst No. 2, Pebble Beach and others -- so take your best shots.
Desert Pines Golf Club: The verdict
You'll come to Desert Pines for the golf challenge. Add in tranquility and beautiful surroundings, and you have a golf experience that will definitely bring you back for more.
"Desert Pines is only minutes from the Strip but miles from ordinary," Hill said. "It's not a course you would expect to find in Las Vegas."
EDITOR'S NOTE: As of Aug. 1, 2014, Walters Golf no longer owns Desert Pines G.C.
More photos
«
»
June 27, 2011
Bill Bowman is a Las Vegas-based writer who has more than 40 years in the sports-writing business. He's spent the past 16-plus years covering the golf scene in Vegas and has teed it up for magazine profiles with celebrities including comedian Bill Engvall, actor Jeffrey Donovan (USA's Burn Notice), ESPN personality Colin Cowherd, NASCAR's Kurt Busch, Collective Soul's Ed Roland, the Baltimore Ravens' Jonathan Ogden and many others.