Pebble Beach bound? Don't overlook old Del Monte Golf Course in Monterey, California

By Mike Bailey,
Senior Staff Writer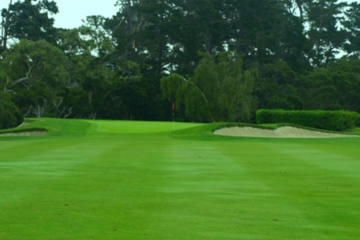 View large image | More photos
You can always expect great conditions and an enjoyable experience at Pebble Beach's original, Del Monte Golf Course. (Mike Bailey/TravelGolf)
MONTEREY, Calif. -- Think of the golf courses at Pebble Beach, and the resort's oldest, Del Monte Golf Course, probably doesn't come to mind.
Del Monte Golf Course ranks, in fact, as the longest continuously operating golf course west of the Mississippi, opening in 1897 as a nine-hole facility. It expanded to 18 holes a little more than two decades later. Golfers once actually compared Pebble Beach Golf Links to Del Monte -- not the other way around. Of course, that was then.
The history of the golf course goes back to the grand Del Monte Hotel, which opened in 1880. The golf course was built off-site on land leased from David Jacks. The hotel has since become the Naval Postgraduate School, but the golf course remains at the foot of Jacks Peak.
In the past 100 years, of course, the Pebble Beach family added three pretty good golf courses, including Spyglass Hill and the Links at Spanish Bay. The big three, no doubt, overshadow Del Monte Golf Course. But Del Monte, tweaked and caressed over the years, remains as good as ever.
Del Monte Golf Course: Not exactly a pushover
At just less than 6,400 yards, the par-72 Del Monte Golf Course isn't about to host any majors, but it boasts a great tournament history. In fact, it's among the sites for the Champions Tour's First Tee Open at Pebble Beach, and it has staged the Pacific Coast Open, men's and women's state amateurs and the old Del Monte Championship -- once the most important tournament in the state.
Designed by Charles Maud, the golf course includes no water hazards, but it features plenty of challenging bunkers and tricky greens.
"It's a course that you think you should be able to post a really low score on, but then you get to the end of your round and wonder what happened," said Eric Lippert, tournament coordinator at Del Monte. "Really, it's the greens, because there's so much slope in them, and some of them can be pretty hard to read."
Indeed, a couple times during our round, Lippert set up hypothetical putts after we finished a hole, asking me to figure the slope and break. In each instance, the unexpected occurred: Putts were faster than they appeared or broke in the seemingly wrong direction.
The Poa annua putting surfaces, in excellent shape, definitely create a strong defense.
Lippert, who played in the 2009 PGA Championship, holds the course record at 61. He broke the old mark of 62 held by two players, including former U.S. Open champ Ken Venturi, who set the original record in 1954 while stationed in nearby Fort Ord.
Solid holes at Del Monte Golf Course
Fairly straightforward throughout, Del Monte starts with a birdie hole -- a 505-yard par 5 at which strong players should be able take aim in two. From there, you'll find a few doglegs, some medium-length par 3s and one of the most discussed holes, the 379-yard, uphill seventh, with its three-tiered green.
The back nine begins with two short par 4s, including the 10th, driveable at 293 yards. The 512-yard, par-5 13th presents a difficult tee shot through a grove of trees and over a ravine. With an out-of-bounds area to the left, players often hook their tee shots because of the visual off the tee.
The 16th, at 421 yards, rates as the no. 2 handicap hole. Not only does it play somewhat long, but if you hit the ball above the hole, putting gets treacherous.
The finishing hole, not long at 369 yards, requires negotiation of a large oak tree on the left side, which can play havoc with approach shots.
Del Monte Golf Course: The verdict
There aren't many places on the Monterey Peninsula where you can play an well-conditioned golf course for a rack rate of $110, far less than the other layouts that complete the Pebble Beach resort.
Of course, you'll find nothing else with Del Monte's history. Over the years, movie stars, politicians and other celebrities have enjoyed this golf course. It's challenging and enjoyable at the same time, one of its most appealing aspects. And you want to walk, whether you use a caddie or tote your own bag. Tees and greens sit close together, and you'll enjoy strolling down the middle of the fairways over the view from the cart path.
Also, Del Monte Golf Course remains in excellent condition, from the tees to the fairways and greens. Putting provides as much fun as hitting drives and approaches. And while the golf course is certainly driver-friendly, it certainly pays dividends to think your way through a few holes.
The golf course offers good practice facilities. Lessons are available through the Del Monte golf academy or individually from the professional staff.
Stay and play at Pebble Beach
Consider a Pebble Beach stay, either at the Lodge at Pebble Beach or the Inn at Spanish Bay. Certainly, if doing so, you're taking in one or two of the other golf courses. A round at Del Monte probably just completes the experience.
But if you're playing other golf courses on the Monterey Peninsula, plenty of options exist, including the nearby Hyatt Regency Monterey.
A little further -- but still just minutes away -- sits the Monterey Bay Inn on Cannery Row. This charming hotel on the water gets you close to all the tourist attractions, including the famous Monterey Aquarium, Fisherman's Wharf and San Carlos Beach. Ocean rooms perch above the rocks and the surf, and the personable hotel also features a jacuzzi with a great view of the Pacific Ocean.
Another nice property to consider, the Portola Plaza Hotel and Spa, also near Monterey's best restaurants and tourist attractions, offers 50,000 square feet of meeting space and two restaurants, including Peter B's Brewpub, Monterey's only microbrewery.

More photos
«
»
June 8, 2010
Mike Bailey is a senior staff writer based in Houston. Focusing primarily on golf in the United States, Canada, the Caribbean and Latin America with an occasional trio to Europe and beyond, he contributes course reviews, travel stories and features as well as the occasional equipment review. An award-winning writer and past president of Texas Golf Writers Association, he has more than 25 years in the golf industry. Before accepting his current position in 2008, he was on staff at PGA Magazine, The Golfweek Group and AvidGolfer Magazine. Follow Mike on Twitter at @MikeBaileyGA and Instagram at @MikeStefanBailey.