Arnold Palmer's Deacon's Lodge golf course at Breezy Point Resort: One of northern Minnesota's best

By Judd Spicer,
Contributor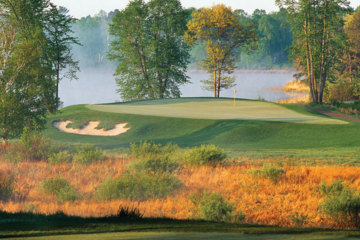 View large image | More photos
Don't overlook the 17th hole on Deacon's Lodge, a 200-yarder that plays harder than it looks. (Courtesy of Peter Wong)
BREEZY POINT, Minn. -- Coined in title as an homage to his father, the Arnold Palmer-designed Deacon's Lodge in Minnesota's "Up North" Brainerd Lakes golf nexus plays as further tribute to the golfer fond of placid, forested seclusion.
Deacon's Lodge opened in 1999 and added as the modern gemstone to neighboring Breezy Point Resort's golf offerings, which also includes the Traditional Course and the Whitebirch Course.
Situated amid nearly 500 acres of natural tree-lining, lakes and wetlands, Deacon's is annually recognized among the top public golf courses in Minnesota.
"The course will challenge the best, while remaining playable to the rest," Deacon's Lodge Head Professional Mark Neva said.
Having been at the course since its 1999 debut, Neva's off-course intent has been to craft a Northwoods' welcome that puts city life deep in the rear view. A modest cabin clubhouse greets players, along with an intimate cart staging area and no GPS -- all of which are designed, even on the busiest day, to provide a guest a sense of serenity.
"There are too many beautiful things to look at than to be distracted by a 'television' in your cart," Neva said of GPS.
On course, per many Palmer designs, a test is at the ready, though mid-to-high handicappers are still provided options for bail-out with low-cut, bentgrass greenside aprons.
"I classify it as a 'Broad Shouldered Golf Course,'" Neva said. "There are wide fairways, and the greens are expansive; the green sites, generally, give a Green Light, Yellow and Red Light pin scenario. Then, you've got ample chipping areas flanking at least one side of the green, but then the other side is generally flanked with danger. So, you're kind of tempted throughout the round with risk-reward. There's the opportunity to play conservative, and plot your way around without too much collateral damage. But you can get yourself into predicaments that make the course more troublesome than it actually is."
Deacon's Lodge: A rustic "King"-dom
Enjoying the true beauty is one thing, navigating it is another -- and first-timers may well want to manage a few expectations and take in the inspired scenery. Playing to yardages and avoiding greed proves crucial in an attempt to match a pretty card with the taut demands.
"As the flow of the course goes, you try to get to the eighth tee in a respectable manner," Neva said. "From 8-12, there are four or five birdie holes. And I feel like the heart and soul of the course begins on the 13th tee, as the course becomes fairly straightforward and a little longer; it's probably difficult to make birdies on that home stretch, but you're probably not going to make that big number either."
Getting out of the gate intact puts some pressure on your number, and the nascent will want to invest in a yardage book to navigate through the beauty.
"A lot of times, courses start with a benign hole to let players get on the course. Our no. 1 isn't one of those. If you play it like a par 5, you'll get to that second tee fairly unscathed," Neva said of the 419-yard first. "And then the par-5 second has something of an island fairway, with trouble lurking on all sides. I feel like it's the one hole where you make par or even bogey and just kinda' feel good that you didn't make a seven."
A choice par-4 fourth asks for mid-iron to a landing area with a fairway snaking right, before a terrific fifth ensues.
"It's a cool hole with a great vista from the top of the fairway," Neva said of the 433-yard fifth. "The biggest motivator in hitting a good tee ball there is knowing it's such a fun approach, looking down into a bowl of a green site with all this wilderness on the right side. Just a very fun shot."
A tough, top-handicap seventh with tee carry over marshland further states the front before Deacon's starts to soften toward the turn.
Rounding the corner, the exceptional, 340-yard 12th boasts an elevated box, ample tree-lining, wetlands and waste bunkering. "A really, really good par 4 that allows for birdie," Neva said. "But you have to be mindful and careful."
Deacon's penultimate play is a view-laden test.
"When Mr. Palmer came out with his favorite holes, his 'Dream 18' on each side of the Mississippi, the 17th was included," Neva said of the 200-yard par 3. "So, we're super proud of that, coming from Mr. Palmer."
Deacon's Lodge golf course at Breezy Point Resort: The verdict
With an open-armed attitude and laid-back lake lifestyle, Minnesota's "Up North" region has evolved into one of the country's premier golf getaways.
But don't think the tests too mellow: Along with the area's dual plays at Cragun's Resort (Dutch Legacy and Bobby's Legacy) and the Classic at Madden's on Gull Lake, Deacon's Lodge proves a must-play during a visit, and a round in which the newcomer will probably lose a few balls to the woods along the way.
Generous bail-out and chipping areas will keep higher handicaps in play, though the bounty will no doubt route a test for most.
Best advice: Appreciate the sweet solitude of myriad stand-alone holes, and observe how impressively blended the course is with the natural environs.
More photos
«
»
July 29, 2016
Judd Spicer is an award-winning, veteran freelance writer hailing from St. Paul, Minn. After 12 years of covering MLB, NBA, NCAA and the active golf landscape of the Twin Cities, he relocated to the Palm Spring, Calif. region to further pursue his golf work and Champions Tour dream. Sporting measured distance off the tee, Spicer refers to his pitching wedge as his "magic wand." Follow Judd on Twitter at @juddspicer.