Colorado Golf Club near Denver: Proof that young courses have a shot at a major event

By
David R. Holland
,
Contributor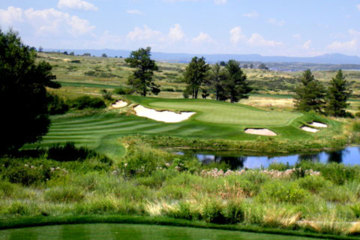 View large image | More photos
Colorado Golf Club's par-3 11th plays over a pond to a green with three segments. (David R. Holland/WorldGolf.com)
PARKER, Colo. - Colorado Golf Club, a new, private award-winner just south of Denver, is 1,700 acres of rugged foothills, ponderosa pines, open meadows and dry washes where Arabian horses once strutted on the Circle C Ranch.
But next May 24-30, the "stallions" of senior pro golf will be playing here in the 2010 Senior PGA Championship.
But that's not all. The Solheim Cup just announced it will compete on the same golf course in 2013. How did that happen - that such a young track has already garnered two world-class golf events?
Jeromy Manser, Senior PGA Championship director, said several ingredients come together to make a championship setting.
"The main reason that Colorado Golf Club was selected is the quality of the golf course," he said. "In addition, the site offers a lot of space to be able to accommodate the necessary infrastructure required to host such an event.
"Colorado Golf Club is also very supportive of hosting the event, and the city and communities of Denver and Colorado have already shown a great commitment and willingness to support it."
Juli Inkster, LPGA Tour and World Golf Halls of Fame member, said: "It's a very good match-play golf course and will make for a great Solheim Cup venue. There are so many strategies and options out there. Anything can happen on almost any hole, and then you have the risk-reward par 5s at 15 and 16 and a fantastic par 3 at 17. It will be a good test for all players. And to combine it with a huge sports town like Denver, I know the event will be fabulous."
Colorado Golf Club: True to the traditions of the game
Designed by Ben Crenshaw and Bill Coore, Colorado Golf Club is a 7,604-yard, par 72 that is "elastic" - it can be adjusted for the big hitters of the Senior PGA Tour.
"I think the players will love the shot variety - playing it close to the ground a lot around the greens and with long putts from the fringes and bumps and runs," Graham Cliff, Colorado Golf Club head golf professional, said. "It will play firm and fast, and it's not about who can fly the ball on the green every time, it's about who can maneuver the ball around the golf course to get it on the green."
Crenshaw, one of the game's true historians, saw a raw topography in the land.
"That was interesting to us," Crenshaw said. "We tried very hard to wed the holes to the ground, and in that respect, the holes will come out differently with interesting green shapes and bunkers. We decided to just let the golf course roll across the landscape."
Stewards of Colorado Golf Club, such as principles Dwight Bainbridge and Mike McGetrick, founder of McGetrick Golf Academy and a former National PGA Teacher of the Year award-winner, think temptation and risk-reward is a persistent theme at Colorado Golf Club.
Coore and Crenshaw walked the land and integrated native features into their design and construction methods with the goal of simply finding the best golf. Their courses are interesting, stimulating, challenging and fun for golfers of all skill levels. But they can also be brain numbing.
Senior PGA Tour player Mark Wiebe, a resident of nearby Castle Rock, just returned from the Senior U.S. Open at Crooked Stick in Carmel, Indiana. "You know how majors are draining, physically and mentally?" Wiebe asked. "Well, that's the kind of golf course this is. Every time I play it I find I'm playing just about every club in the bag, and when I walk off 18 I'm drained."
Colorado Golf Club: The verdict
Play it from the correct tee and Colorado Golf Club, named the top new private course in America in 2007 by GOLF Magazine and Sports Illustrated, can be playable for the high-handicapper.
Two short par 4s stand out - No. 8 is a 311 yarder. McGetrick is partial to this hole and said, "Big hitters can go for the green off the tee, but if they fail, they'll face an awkward pitch to a small putting surface with dramatic internal contours. There may be some twos here, but there will be some sixes as well."
And No. 14, a 329-yarder, "appears downhill from the tee, tempting long hitters. The boomerang green wraps around a bunker. It will be a tricky pitch from the opposite side," McGetrick said.
One story the Crenshaw crew likes to tell was seeing a glow from that bunker one late evening, near dusk. Crenshaw was smoking a cigarette and shaping the bunker with a shovel.
But this is a course, named No. 23 on Golfweek's list of Top 100 Modern courses in 2009, that you could name memorable holes one after the other.
Members have a multitude of amenities, including concierge and a stunning nine-hole short course located steps from its 11 cottages for national members such as Davis Love III.
He can spend the night in a four bedroom, four bath cottage that opens to a patio and outdoor fireplace overlooking that view of the front range and the five-acre practice facility. It includes five 5,000-square-foot target greens maintained to course specifications with bunkering. There's also a 7,000-square-foot short game green with bunkers, rough, collars and runoff areas.
Colorado Golf Club is offering 377 memberships, by invitation only. No doubt the founders and members are letting the golf course, its awards and two major golf events speak louder than advertisements could.
More photos
«
»
August 25, 2009
David R. Holland is an award-winning former sportswriter for The Dallas Morning News, football magazine publisher, and author of The Colorado Golf Bible. Before launching a career as a travel/golf writer, he achieved the rank of Lieutenant Colonel in the Air Force reserve, serving during the Vietnam and Desert Storm eras. Follow Dave on Twitter @David_R_Holland.