Westwood Plateau Golf & CC in Vancouver makes you feel like Donald Trump

By
Chris Baldwin
,
Contributor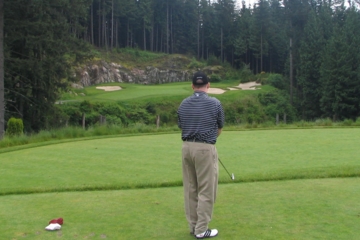 View large image | More photos
Westwood Plateau No. 12 hits you with an intimidating clear & forest theater. (Chris Baldwin/GolfPublisher.com)
You want to golf in Vancouver? Get ready for take off: Westwood Plateau Golf & Country Club gives golfers the option of arriving by helicopter. It's a nice, Donald Trump-like touch, but this golf course is a must-play regardless.
COQUITLAM, British Columbia - Donald Trump arrives at golf courses by helicopter. Maybe George Clooney and Michael Jordan swoop in from the heavens too.
Regular guys cannot experience this though. Like munching on caviar while Beyonce rubs your feet, it's out of the reach of almost everyone. Right?
Not exactly. If you're in Vancouver, Canada's most cosmopolitan West Coast city, helicoptering in to play golf is very much an option. It's the most convenient way - not to mention certainly the coolest - to get to Westwood Plateau Golf & Country Club.
This course out in a well-heeled suburb is a good 40 minutes by car from downtown Vancouver. By helicopter, it's 12-15 minutes. The view's a little nicer too.
And it just so happens that Westwood Plateau has its own helipad. It was put in the early, heady days of the golf course in the 1990s when the main street leading into the residential community got dubbed "The Street of Dreams." The name came because it's full of million-dollar homes.
The helipad always remained, but some years it receives less traffic than the house of a lady who hands out carrot sticks on Halloween.
"We figure if we have a helipad, we might as well use it," Westwood general manager James Cronk said.
The golf course, a standout in Canada golf, teamed up with the Fairmont Waterfront hotel to offer packages dubbed Heli-va-View that include a two-night hotel stay, a helicopter ride to and from Westwood Plateau and a round of golf for two. It's no cheap splurge, running almost $1,800. But if you're looking for your most memorable golf experience ever, this is definitely a contender.
It helps that Westwood Plateau is in the kind of forest/mountain setting you expect to find in British Columbia nature wonderland Whistler rather than Vancouver. It's a course that looks great from the air or from the tee boxes.
"Sometimes business executives will rent a helicopter to impress clients and bring them in for a round," Cronk said.
Golf by helicopter is a great hook, but in truth Westwood Plateau does not need it. This is a course you'll enjoy whether you arrive by helicopter, limo, SUV, muffler-missing Pinto or mule.
Course designers Dana Fry and Michael Hurdzan crafted a course among the slopes of Eagle Mountain that's full of drops, rises, towering Douglas Firs and sweeping views. It will also make you think so hard that you might start asking those big trees how you should play another in an array of risk-reward holes.
By the time you get to the third hole, you'll be convinced Westwood Plateau is anything but a design by rote. This is an uphill, curving left par 3 that can send shots short of the green tumbling down an embankment of gnarly grasses.
Swing two extra clubs and pray to the woods fairies. You'll need something supernatural to help you return with all the golf balls you spray at Westwood.
No. 3 starts a four-hole stretch that's been dubbed The Gauntlet by regulars. If you get through this run with only a few bogeys, you're in good shape. Don't expect to be in good shape.
There are two par 5s over 530 yards in The Gauntlet and one has a forced water clear and the other plenty of chances to get familiar with the Douglas Firs. Quick tip: Bark beats ball every time.
"These trees are great to look at," local golfer Burt Wong said. "But you might not love them so much after your round."
Unless you're soaring over them in a helicopter, leaving all the traffic - and any memory of your double-bogeys - behind.
Westwood Plateau: The Verdict
Westwood Plateau is the best course in Vancouver. And it's not really that close. The scenery's good, the design's better and the service can make you feel like a Trump. Whether you arrived by helicopter or not.
It's also one of the most expensive courses in Vancouver. Banish any thoughts of $300 greens fees or second mortgages handed over to a Pebble Beach starter though. This is Canada remember, and up North they look at golf pricing different than you or I.
Westwood Plateau maxes out at a $169 greens fee and you can get on for as low as $99. That's not throwaway cash for many people by any means. But if you're into golf and you're in Vancouver, it's worth it.
With the Vancouver Grizzles long gone, it's not like you're going to spend the money on sports tickets anyways. Unless you're here for the 2010 Winter Olympics.
Staring across the steep ravine on Westwood's No. 12 can make you feel like you're in an Olympic event. Tree tops peak up through the chasm, all the better to snare any low-flying stinger off the tee. One hundred and sixty-two yards never seemed farther away. Especially with that rock wall behind the green.
You can keep your island greens. This is drama on a whole other scale. At least when you go splash you don't hear your ball continuing to crash through tree branches until it finally thuds to the bottom of the ravine.
Thankfully, Westwood Plateau has a nice outdoor patio where you can relive the glory or the horrors after the round. Chances are you'll be talking about No. 15, a par 4 that starts with a 150-foot drop to the fairway, includes a stream on a dogleg and ends up back high.
Or if you're lucky, maybe you'll be wondering how quick the pilot of your helicopter will be on takeoff.
More photos
«
»
September 11, 2007
Chris Baldwin keeps one eye on the PGA Tour and another watching golf vacation hotspots and letting travelers in on the best place to vacation.