Olympic View Golf Club gives golfers a front-row seat to Vancouver Island's scenery

By
Chris Baldwin
,
Contributor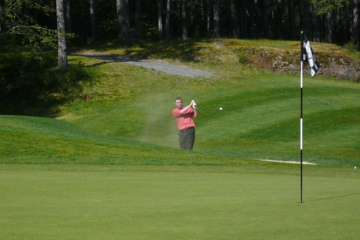 View large image | More photos
Olympic View Golf Club gives average golfers a chance to hit dramatic shots. (Chris Baldwin/WorldGolf.com)
Olympic View Golf Club in Victoria, the only western Canadian course Tiger Woods has played in competition, gets golfers up close and personal to one of the most scenic areas in British Columbia.
VICTORIA, B.C. - Natural rock outcroppings are scattered throughout the land, providing both great shot backdrops and a sense of the strength of man's desire to build a golf course.
"They literally moved mountains to build this golf course here," said Ken Langdon, regional sales manager at Olympic View Golf Club.
This is no hollow salesman's pitch either. Olympic View is not Michelle Wie, it's no myth creation of guys in designer suits sitting around expensive public relations offices. No, this is a golf course that's been blasted right into nature, giving you a front row seat to one of the most scenic areas in British Columbia, which is to mountain scenery what Babe Ruth is to home run legends.
Forget the 417-yard par-4 17th with the 40-foot waterfall cascading behind the green. OK, you won't be able to forget this hole, it's too darn fun to play and just stare at. But focusing solely on 17 vastly underrates the rest of an Olympic View day.
This is a course where you can walk right into nature off the first tee and not walk out of it until you're putting out on 18. This need not be metaphorical walking either.
Olympic View is an extremely walkable course. In fact, that's how almost all its members and local regulars play it.
One hearty member is known for playing all year round in shorts, no matter the temperature or wind chill. And while you can play almost year round on Vancouver Island, it does drop down into the low 40s.
On a beautiful spring or summer day (Vancouver Island does not do oppressively hot, to the extend that it doesn't even believe in air conditioning), Olympic View is one of the best golf deals you can find on this continent though. Greens fees max out at $80 on weekends in high season (April 26-Oct 6).
A course this scenic would cost you twice that easy in golf hot spots like Scottsdale and Phoenix.
"It's probably the least expensive expensive course you can play if you know what I mean," regular Vancouver Island visitor Peter Ronart said.
You will after a day at Olympic View. The vibe manages to be low-key at Olympic View even while the mountains soar into view and your shot options mount. This is a golf course that would be best played with a pair of binoculars and a thinking cap.
From the first hole, when you can see the snow-capped tops of the Olympic Mountain range from the high tee - as well as the trees you'll have to curve your shot around at the dogleg turn - Olympic View becomes a molding of arresting scenes and befuddling shot selections.
You don't overpower Olympic View. There are too many tall, tall trees - try 140 feet tall in some cases - that your monster drives can crash into for that. Too many holes with more curve than Salma Hayek.
Instead, you sometimes need to shelve that space-aged driver you took out a second mortgage to purchase and employ some golfing smarts. Olympic View is a think and walk course rather than a grip it and rip it one.
You will have some unusual company contemplating the day. Bald eagles soar around the trees, drawing your attention with some unique screeches.
"They're American Eagles," Langdon cracked. "But we still let them stay around."
You may wish that someone had removed the little pine tree in the middle of the fairway just off the green on No. 7 - or the big rock in play on the very same hole. These obstacles can play with your mind like a deranged psychotherapist, turning a 333-yard par 4 into an unexpected scorecard crasher.
On No. 9, you're just wondering how to get around the rock walls - with one protruding into the right of the fairway on the short par 5 like a rent-a-cop security guard delivering an unnecessary elbow. The answer? Try and bend it like Beckham.
Or at least try and flare one around the imposing edge of this rock outcropping.
Canadians have a phrase for this kind of foolhardy but fun and often essential bullishness.
"Going to try and get cheeky here and bend one around the corner," Langdon announced.
Hey, when you build a golf course in the middle of a mountain, no one said it was going to be easy.
The Verdict on Olympic View Golf Club
One of 11 courses currently on the Vancouver Island Golf Trail, Olympic View Golf Club definitely qualifies as a can't-miss play in this temperate island region. It turned out to be the favorite course of this golf writer's trip, combining the nature and convenience of the well-known Bear Mountain (Olympic View is also only about a half hour from downtown Victoria) with a fun design that's not geared to pummel your average bogey golfer.
This is a place that just gets golfers too.
Take the two courtesy carts that are left at No. 10 each day, so walking golfers can use them to get up the big hill without huffing and puffing their clubs the whole way.
It's fun to have a golf course that gives you so many options. With holes like No. 13 - a double dogleg par 5 that twists left, then twists back right, all set up below you from the high tee that starts it all - you'll always be wondering what's around the next bend at Olympic View.
Often literally.
One of the best things about Olympic View is that there's a real sense of seclusion out here (even if some big box stores are only a short drive away). You don't have houses or even other groups in your face all day.
You do have the chance for a Tiger Woods moment. Olympic View is the only course in western Canada that Tiger's ever played in competition. In a junior tournament, he bogeyed the little par-3 16th hole, which looks easy.
Until you bogey it too. Welcome to Olympic View. Don't assume anything.
Hotels in Victoria
Westin Bear Mountain resort (with its own Nicklaus golf course - and soon two) is at the same exit as Olympic View, only the other direction. Bear Mountain's spa might have the best view of any spa - that's right, you can stare at the mountains while getting massaged.
If you want to stay in Victoria, Vancouver Island's largest and most hip city (and you want to stay in Victoria at some point), it's hard to beat the Victoria Regent. This place is more upscale, exclusive condos than hotel and puts you right over one of the most beautiful harbors in the world.
Right over. You can get some spray from floatplanes takeoff while eating your breakfast on the huge balconies.
Fast Facts
Olympic View has a 14-acre practice facility and plans for a nine-hole par-3 course.
More photos
«
»
May 27, 2008
Chris Baldwin keeps one eye on the PGA Tour and another watching golf vacation hotspots and letting travelers in on the best place to vacation.