With red-sand bunkers and the Brudenell River, Dundarave Golf Course is a rave on Canada's PEI

By
Tim McDonald
,
Contributor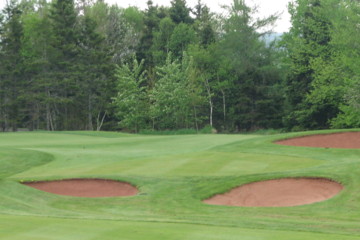 View large image | More photos
Dundarave Golf Course has 120 red-sand bunkers, many of which guard the excellent greens. (Tim McDonald/WorldGolf.com)
Dundarave Golf Course at the Rodd Brudenell River Resort doesn't have the sea views of some golf courses on Prince Edward Island, but it more than makes up for it with other strengths.
BRUDENELL, Prince Edward Island, Canada -- Prince Edward Island is a piece of natural, volcanic art that sits atop a bedrock canvas of soft sandstone.
The bedrock produces a fertile soil high in iron oxide - a fancy way of saying "rust" - which is why it's so strikingly red. You see this red as you drive all over the island, contrasted so nicely with the green fields.
You'll also see a ton of it in the 120 bunkers at Dundarave Golf Course. Only in this case, the contrast is even more dramatic because of the velvety smooth, lush green fairways.
Dundarave is reminiscent of another golf course at the opposite end of the continent, Southern Dunes Golf & Country Club in Orlando, Fla. Southern Dunes has 180 red-sand bunkers, the difference being that they had to ship in the sand. Here on the island, all you have to do is dig for it.
Also, Southern Dunes is surrounded by homes, whereas Dundarave is blissfully free of manmade structures.
You won't find yourself cursing the bunkers at Dundarave - much - because they're such an integral part of the course, defining both strategy and the overall aesthetic.
"He must have been good out of the bunkers," Intern Denver MacLeod said of the architect.
Actually, there were two designers, Michael Hurdzan and Dana Fry.
And whereas the Steve Smyers-designed Southern Dunes is pretty much old-school, Hurdzan and Fry drew up a blend of the traditional and modern.
The bunkering throughout the course is interesting, but there's more to the course than red sand. The fairways are wide and inviting, bordered by pines, fir and beech trees, and the architects slyly used the Brundenell River that slithers through the terrain and is frequently in view.
Dundarave doesn't have the sea views other island courses do. It's a parkland course located in a pristine area close to a provincial park.
Once you get into the course and away from the resort, you enter some deep, Canadian woods with only the cries of wild, island birds. The routing takes you into some silent, isolated coves.
Dundarave Golf Course: The verdict
Dundarave opened in 1999 at the Rodd Brudenell River Resort (Tel. 902-652-2332), which has 45 holes of golf overall. Dundarave is considered the more challenging of the resort's two 18-hole courses, the other being Brudenell River Golf Course.
Both courses were in super condition, at least they were in early June, despite a very wet spring.
Dundarave isn't overly long from the back tees at 6,606 yards, but neither is it a pushover with a slope rating of 135.
Every green is guarded by bunkers of some size or shape, and the greens themselves are large and undulating. The greens have large, well-kept surrounds and some false fronts.
The season is May through October, and green fees range from $56-$80. This is an excellent public course, every bit as good as the more expensive Links at Crowbush Cove on the island.
The resort has the Canadian Golf Academy on the grounds.
Prince Edward Island hotels
The Pictou Lodge Resort (Tel. 800-495-6343) is a gorgeous resort right on the sea, with views as far as you can see and multi-colored beach chairs to sit in and listen to the waves roll on shore.
It's an open, oceanside resort with log cottages and private beaches, close to the PEI ferry. Some of the rooms come with large, whirlpool tubs or stone fireplaces.
Despite having a rustic appeal, it's popular for conferences and meetings, and the resort's Sunday brunch in the fireside dining room - fresh-caught local fish and lobster - and Oceanview Lounge is a treat.
Pictou has a heated, outdoor pool, wooded nature trails and a large freshwater pond with canoes or pedal boats available. Or, you can try sea kayaks.
There is also a mini golf driving range and a practice putting green.
Getting to Nova Scotia
"The Cat" (www.catferry.com) is a sleek, high-speed catamaran ferry that's more like a cruise ship. If you want to get to the picturesque Nova Scotia golf courses from the U.S. mainland, it's a great alternative to the long drive.
The seats are wide and plush, with plenty of leg room, and quite a few of the seating arrangements have tables, perfect for meals or playing cards.
Discovery Channel called it one of the world's top-10 super ships. The Cat has movie screens, restaurants and even a casino - slot machines only. It holds cars, motorcycles, bicycles, RVs or you can just walk aboard.
The huge windows make sightseeing easy on the six-hour crossing between Portland, Maine, and Yarmouth, Nova Scotia.
The ferry is used by a lot of American tourists on the way to the Celtic and Acadian cultures of the Canadian Maritime provinces, like spectacular Cape Breton, Prince Edward Island.
The ship travels up to 40 knots, and rates range from $64 to $99 for passengers, with the shorter Bar Harbor to Yarmouth route being cheaper. Vehicle rates are $115 to $164 for cars, with varying rates for trucks and smaller vehicles. There is a port and security fee of $10 each way.
More photos
«
»
August 5, 2008
Veteran golf writer Tim McDonald keeps one eye on the PGA Tour and another watching golf vacation hotspots and letting travelers in on the best place to vacation.