Revamped Pelican Hill Golf Club combines luxury, spectacular ocean views and Fazio golf

By
Chris Baldwin
,
Contributor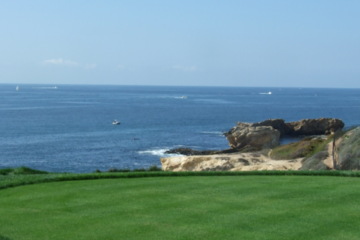 View large image | More photos
Tom Fazio pumped up the ocean views in his Pelican Hill Golf Club revamp. (Chris Baldwin/GolfPublisher.com)
The newly revamped Pelican Hill Golf Club in Newport Beach, Calif., features two Tom Fazio-designed golf courses with stunning ocean views and first class amenities.
NEWPORT BEACH, Calif. - Golf carts are about as sexy as the image of Rosie O'Donnell in a string bikini chasing after Donald Trump trying to grab his hair. The only time you really notice a golf cart is if you get stuck with one of those wheezing models that can only go as fast as an 80 year old in the left lane in Florida.
Range balls are about as interesting as No. 2 pencils. They're utilitarian, good enough to get you ready for a round and not much else.
Only at the newly revamped, reopened Pelican Hill Golf Club, the golf carts and range balls are hard to ignore. They're part of the show at a club with two Tom Fazio golf courses with pumped up ocean views, just another little way in which everything is geared to be first class.
The golf carts boast full seat backs (no half seat holes to mess with your back) that are more cushiony than many people's couches. The range balls are Nike One Platinums (which means there's a good chance you'll be hitting with better balls on the range than you do on the actual course).
This isn't a golf course, it's golf theatre, with no chance to turn heads ignored.
When the Irvine Company (a major force in Orange County) decided to close down Pelican Hill's two already highly-rated courses for nearly two years to make them even better and more showy, all leading up to an ultra ambitious new luxury Pelican Resort set to open in late fall 2008, it seems they spared no over-the-top extravagance.
The entrance even received a redo, to make everyone pass under a high bridge/archway as they came up the drive. To get to the first tee of both Pelican Hill Ocean South Course and Ocean North Course, you drive one of those fancy golf carts right over it too.
If it all sounds like the golf version of Liberace bursting out in feathers in white furs, it's not.
Truth is, I didn't even notice going over the bridge the first time my playing group did it and I'd been briefed to expect it. It's easy to miss the ancillary details - even when they're this painstakingly obsessed over - when the golf is this good.
That's the best thing about the new Pelican Hill. In the end, the golf still trumps all. Despite the fancy carts, the snazzy range balls, the showy bridge, Pelican Hill is not a gimmicky golf experience.
Some high-dollar courses do those type of things to distract you from the actual golf, which is mediocre.
Pelican Hill throws the extras on top of two ocean golf courses that alternate between making you do a double take at the next view of Pacific blue and kicking your butt with the ruthless swagger of an Ultimate Fighting champion.
"We hope that the golf speaks for itself," said Steve Friedlander, Pelican Hill's general manger in its second life.
It does. With the Ocean South Course the soundtrack tends to be a mixture of admiring low whistles and full volume curses. The 11th through 13 stretch on Pelican South has you dancing with the ocean like no other single run in the 36 holes. The rest of the course will leave you shaking your head at the thick, thick rough, which doesn't look all that intimidating until you've landed a few balls in it and lost them like UFOs disappearing from a radar screen even though you're positive you know exactly where they entered the grass.
Pelican North is more wide open, with more consistent looks at the Pacific. Your mistakes aren't as severely punished, but it's hardly your average knock back five beers and don't worry resort course. Fazio throws a number of risk-reward situations at you, but if you're not paying attention they can go right over your head.
"North is a course where it really helps to think your way around it," said Glenn Deck, director of instruction at Pelican Hill and one of the longest-tenured employees at the club. "If you step back and look at your options, you'll find that the best way to get to the green isn't always the first one you see."
The Verdict on Pelican Hill
Deck isn't lying. Fazio - that celebrity golf course architect who often produces courses as over the top as Al Pacino playing off Robert DeNiro - largely lets subtlety reign at Pelican Hill. The ocean was the star when the courses first opened in the early 90s, and in his second chance retooling, if anything Fazio only expanded the ocean's role even further. This is especially true on Pelican South, the course that clearly benefited most from the re-crafting.
Tons of shrubs were moved and cut on South to provide much better ocean looks. Specially selected acacia shrub that naturally never grows taller than three feet was put in, the better to keep those views from being obscured.
There's one of those little Pelican Hill details again. You might also hear how laser-leveling blades were used to insure that the tee boxes were all uniformly flat topped to provide a consistent platform on all 36 holes.
That has as much chance of sticking in your mind as the grocery list does if Angelina Jolie comes waltzing by in a strapless dress on aisle six.
For before long you're playing Pelican North's 17th, shooting straight at the blue, trying to navigate a 558-yard par 5 with some hidden tricks all the way. Or Pelican South's back-to-back par 3s high over the ocean.
At those moments, the details disappear. You're just golfing. You're into the courses, not the golf carts.
These times are why you pay the $235 every time, no twilight exceptions greens fee, why you fight through Southern California traffic to get to Orange County to tee it up. Nike One Platinum range balls are nice. Ocean breezes whipping against your golf shirt are better.
The revamped Pelican Hill succeeds because the actual golf is even more satisfying than it was before.
More photos
«
»
January 4, 2008
Chris Baldwin keeps one eye on the PGA Tour and another watching golf vacation hotspots and letting travelers in on the best place to vacation.