Hesperia Golf & Country Club in California will have you playing where the greats once roamed

By William K. Wolfrum,
Contributor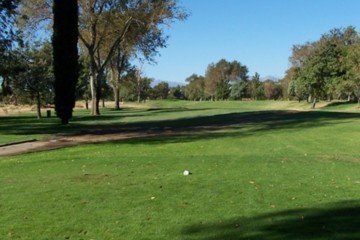 View large image | More photos
Tight, tree-lined fairways make for an interesting round at Hesperia Golf & Country Club. (William K. Wolfrum/WorldGolf.com)
HESPERIA, Calif. -- The average traveler that goes past the High Desert region of California knows little about the area aside that it's a good place to stop to eat and fuel up while driving between Las Vegas and southern California.
Half a century ago, however, PGA Tour members knew the area well due to its annual stop at Hesperia Golf & Country Club in the desert town of Hesperia. It's something they haven't forgotten at the course, either.
"Gene Littler holds the course record of 62, which was in 1959," said course manager Earl Meredith. "Not every course has a PGA star like that holding their course record."
The Hesperia Open was a stop on the PGA Tour during the late 1950s and early '60s, with Billy Casper one of the champions that prowled the fairways. And it appears highly unlikely that the PGA will be making Hesperia a stop again, there is still plenty of golf left to be played at this course that Golf Digest has ranked as the 20th-toughest run in California.
Playing to a sturdy 7,006 yards from the tips, Hesperia Golf & Country Club is as long a course as you'll find in the High Desert area.
The William Bell design has only gotten better over the years, as the Joshua, Pine, Oak, Sycamore and Cottonwood trees have aged gracefully, creating tree-lined fairways that are both scenic and challenging.
"The tree-lined fairways are really what give this course its personality," said Meredith. "I'd say it's a cross between Las Vegas golf and an Orange County city course."
A change of management in 2003 saw some needed changes at the course, including adjusting tees to create diverse looks from more forward tees to help benefit a clientele that edges into the older side. Still the course presents challenges, like at the Par-5 No. 3 hole, a 519-yard battle that will have you dealing with a overhanging tree to your left, but out-of-bounds desert to the right, creating an extremely tricky tee shot.
Hesperia Golf & Country Club: The verdict
Hesperia Golf & Country Club has had its ups and downs in recent years, particularly struggling with flooding affecting some of its holes, but that Meredith said the city has helped in that regard and they are hoping the heavy water damage the course took in 2004 will now be a thing of the past.
"They built a lot of homes around here and it changed the natural run offs," said Bob Tainish of Hesperia.
With a 131-slope rating and overall rating of 73.4 from the tips, management wisely changed things up to benefit its older players, and did a fine job in doing so. The white tees play to 6,214 yards, and the women's tees come measure out at 5,419 yards. With the trees, each setting creates a very different tee shot.
The golf course had just finished overseeding in October, preparing for the winter season, and the conditioning is looking quite solid. The service is friendly, making it well worth the green fees.
The course is one of the tougher challenges in the area, and continues to get tougher as the trees continue to grow and create more opportunities for havoc. Throw in the desert and even some water, and you have yourself a course that will require you to keep on your toes. Littler's record will likely stand for some time, but feel free to drop by and take your shot at it.
More photos
«
»
November 15, 2006
William K. Wolfrum keeps one eye on the PGA Tour and another watching golf vacation hotspots and letting travelers in on the best place to vacation. You can follow him on Twitter @Wolfrum.