Green Tree Golf Course has a great Victorville location

By
William K. Wolfrum
,
Contributor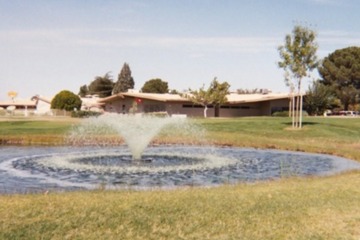 View large image | More photos
William Bell's layout is friendly but not fancy at Green Tree Golf Course in Victorville, Calif. (GolfPublisher.com)
VICTORVILLE, CALIF. -- If the first three things needed for a successful business are location, Green Tree Golf Course in Victorville, Calif., has them all, and probably even the fourth and fifth things, as well -- location and location.
Located directly off Interstate 15 on your way to Las Vegas from Southern California, Green Tree is a municipal course that has been around long enough to see the High Desert region grow from a dusty desert retreat to a growing and popular area that continually attracts new residents from "down the hill" -- through the San Bernardino Mountains through Cajon Pass to the much more heavily populated San Bernardino, Riverside and Los Angeles areas.
With plenty of traffic passing the course, which is viewable from the freeway, Green Tree certainly gets its share of visitors from "down the hill," as well.
"I had a court date in Barstow that got cancelled," said Rodney Harris of Moreno Valley. "I'd seen this course before and figured, 'why not stop and give it a try?' "
Director of Golf Janey Lynch agreed that Green Tree's location was helpful in getting some of 35,000 rounds played at the course per year.
"We have a ton of traffic of people going to Vegas so we get a lot of people stopping here to make this part of their trip," said Lynch.
Once players get to the course, they won't be disappointed. While the William Bell design won't throw any complicated looks at you, the tree-lined fairways will make accuracy a must, particularly on the shorter back nine. Overall, the course plays to 6,643 yards from the tips with a 71.3 rating and 123 slope rating.
"It's supposed to be rated as an easy course," said Darryl Christopher of Apple Valley. "But there's just something about it. It can jump up and bite you."
The course's condition is truly the high spot of Green Tree, which Lynch somewhat hyperbolically claims to be "the best municipal course this side of Torrey Pines." Greens run true and consistent, and what was a difficult watering challenge to the maintenance team will be rectified as Green Tree is currently installing a new irrigation system.
"The greens are some of the best in the state," said Lynch. "We pride ourselves on the conditioning here."
The Verdict
Green Tree is definitely an exceedingly playable municipal course that will challenge the vast majority of golfers. Not overly long, the course will really present a good play for seniors and women looking for a good challenge. The work being done on the new irrigation system is taking up one hole at a time and should be coming to a conclusion soon.
One of the checks against Green Tree will soon become a positive, as the city of Victorville has agreed to build a new clubhouse to replace the current, extremely outdated one currently in operation. Lynch said ground should be broken on it by the end of 2006.
The course was built to be a vacation course, but housing developments took over, making Green Tree a course lined with homes throughout. One of the few negative things you could say about the course is that between every single hole, you will be required to drive across a residential street, which may or may not be a bother to golfers. Just be sure to check both ways.
Overall, however, Green Tree will give you a very solid round of golf for a bargain -- green fees top out at $35 on the weekend, cart included. Great conditioning and friendly service put it over the top, making its location work for it. If you've driven by Green Tree on the I-15 and debated stopping by for a round, go ahead, it won't disappoint.
More photos
«
»
November 6, 2006
William K. Wolfrum keeps one eye on the PGA Tour and another watching golf vacation hotspots and letting travelers in on the best place to vacation. You can follow him on Twitter @Wolfrum.