Sneak peek: Cabot Links in Nova Scotia sure to be eastern Canada's newest must-play golf course

By Tom Bedell,
Contributor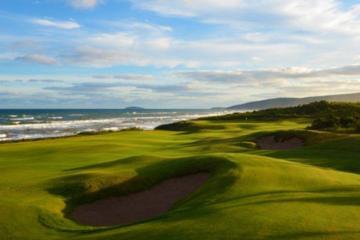 View large image | More photos
In Nova Scotia, Cabot Links is the newest pure links to debut in North America. (Courtesy of Cabot Links)
INVERNESS, Nova Scotia, Canada -- Cabot Links is still so spanking new -- 10 holes opened in July 2011, and the full 18 debut July 2012 -- one wonders how frequently asked, really, are the Frequently Asked Questions on the course's website?
Regardless, they sure nailed this exchange:
Q: What is the cancellation policy?

A: You won't want to cancel.
No, you won't. Now that the golf course is built, you'll want to come. It's not in heaven or Iowa, but on the west coast of Cape Breton, the vast island in northern Nova Scotia.
For comparison purposes, welcome to the eastern version of Bandon Dunes, circa 1999. Like early Bandon, there will be rustically elegant accommodations limited to 48 rooms, a compact pro shop and a sophisticated restaurant with killer views over the course and out to sea (aptly called Panorama).
And, yes, one brilliant true links course that characteristically starts out from the former mining town of Inverness, heads down to the sea and latterly makes the return trip toward town. It will be walking-only, with a local caddy crew on hand to reveal idiosyncrasies.
Cabot Links: The golf course
Jack Nicklaus and Graham Cooke made early routings of the area for projects that never made it off the ground. Managing partner Ben Cowan-Dewar had his own difficulties after first seeing the land in late 2004. But he wisely called up Canadian designer Rod Whitman and said, "Rod, we need to go and have a look at this together."
This they did in early 2005, and then set about the long process of acquiring the land. "It took two years to put it all together -- 13 separate parcels," said Cowan-Dewar, "and during that time Mike Keiser came aboard."
Keiser, the numen of Bandon Dunes, displayed his own bit of wisdom in keeping Whitman on the case. The designer of Blackhawk Golf Club in Edmonton and Wolf Creek Golf Course in Ponoka, Alberta, has surely produced his masterwork in Inverness.
Players will find a pure, classic, ground-game links experience hard by the ocean, complete with double greens, pot bunkers, holes dropping off to the beach and scarcely a tree in sight. It's tempting to say the very sea air is tinged with a Scottish brogue -- but a musical Arcadian lilt would be more appropriate.
The Gulf of St. Lawrence is never out of sight during play. It may be slightly out of mind as the par-3 eighth and Cape-hole ninth take a slight detour across a beach access trail toward a postcard-worthy MacIsaac's Pond. More importantly, the two holes may be slightly out of the winds potentially lashing the rest of the layout.
Though some of the course routing was still being tinkered with as late as mid-December, there will be an inherent sense of variety and challenge no matter how one comes at it.
Cabot Links: The verdict
There's been plenty of hype already about Cabot; it's a relief to say it lives up to it. When Keiser came on board he had the Bandon playbook at his side -- the model for seaside golf in a remote location. This includes more land acquired for a second course that will likely be a Coore-Crenshaw design.
There's no question that, also like early Bandon, Cabot Links is a bit hellish to get to. Private jets that zip into the Port Hawkesbury airport have but a 50-mile trip to the course; flights to Sydney or Halifax leave drives of 105 and 197 miles respectively.
For lovers of links golf, the trip would be worth it if there was nothing else here but the course. But it's nice to report that there's plenty more in terms of natural beauty, maritime endeavors and more golf, including five other solid picks that make up the Golf Cape Breton association (golfcapebreton.com).
A 2011 Travel & Leisure poll named Cape Breton the Best Island Destination in the continental U.S. and Canada, and even a partial sampling of the Cabot Trail suggests why: This splendid 185 mile roadway loops over the northern tip of the island, consistently offering scenic wow moments.
More photos
«
»
February 21, 2012
Tom Bedell has written about golf and golf travel for American Airlines' luxury magazine Celebrated Living since 1999, and has contributed to Travel & Leisure Golf, Golf Connoisseur, Virtuoso Life, Lexus Magazine, Acura Style, Tee It Up, American Way, The Met Golfer and many others. He is currently the travel editor at Troon Golf & Travel.