Burning Ridge Golf Club near Myrtle Beach, South Carolina takes the subtle approach to challenging golf

By
Lisa Allen
,
Contributor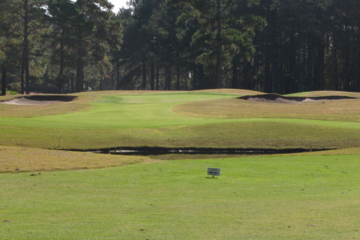 View large image | More photos
The first hole at Burning Ridge Golf Club, a par 5, has a shaved-sided ditch to imperil a miscalculated distance. (Lisa Allen/TravelGolf)
CONWAY, S.C. - Burning Ridge Golf Club near Myrtle Beach is all about great golf at a reasonable price for all levels of players.
Designed by Gene Hamm in 1988, it earned the billing of best Myrtle Beach golf course in 2006, then the best in all of South Carolina.
The course follows a classic design with trees that close in on some fairways, elevated greens and lots of doglegs, most over mounds and bunkers at the inside corners.
"It's a typical Myrtle Beach course," said Burning Ridge Golf Club Assistant Professional Jake Fandrich. "It's tree-lined and challenging, but it's fair."
The course was renovated in 2004, during which 40 to 50 sand bunkers were removed. Not to worry, though. They left dozens behind to await errant drives or less-than-perfect approach shots.
Water comes into play on a couple of holes, cutting off easy access to the greens. In most cases, though, there is a way to the greens via the ground, making the course welcoming to all players.
That's not to say getting to the green is a cakewalk. Several fairways are pinched right in the landing area by trees, rough or bunkers. Accuracy is key to this course.
Most greens are guarded by deep and sharply lipped bunkers, forming a one-two punch. Get over the corner bunker on your drive or approach shot, then square off against the bunkers at the green, predominately at the front or side. Few holes punish those whose adrenaline took them a little too far.
Burning Ridge offers four tee boxes, from 4,724 yards at the front to 6,780 from the tips. It's not an overly long course, but it demands calculation.
The key is to avoid the deep, sharply edged bunkers. Leave the driver in the bag if hitting off a tree hemmed-in tee, or choose a long iron into a well guarded green.
The golf course mixes it up. Once you think all of the hazards at the green are on the left, they switch to the right. Once you think doglegs all bend right, they turn left. But one given is that the greens are elevated. Go for that extra club.
Burning Ridge Golf Club has a few tricky holes
On the par-4 fourth hole, the marsh will taunt you the whole way. Don't stray too far left, though. There's a bunker. No surprise there. The 10th hole, another par 4, plops a bunker-laden patch of rough across the fairway in front of the green, making a bump-and-run attempt futile. No. 15 is a bear, with water across the front of the green and a bunker ready and waiting for any shots that cleared the water but didn't make it up to the green. It can be a heartbreaker. Seventeen is a par 3 over water with bunkers all over the place.
Burning Ridge isn't brain surgery, but sometimes that's just what we need. A straightforward course that requires us to plot our shots, from tee to green, and then execute, with some wiggle room. It's like an intermediate ski run. It gets our blood pressure up to the pleasant stage, not the black diamond, oh-my-god-I'm-gonna-die level.
"The price was perfect, and I like the GPS in the carts," said Stan Hackett of northern Pennsylvania. "The course was in great shape and for the price, it's one of the nicer clubs in Myrtle Beach."
As for the course itself, he added, "You have to have course management. It was a fun course. I have no complaints."
Burning Ridge Golf Club: The verdict
Burning Ridge Golf Club is an accessible course, both in price and design. There are plenty of challenges on the course to keep you on your toes, but the pace is moderate. Another attribute not to be overlooked is the huge deck overlooking the 18th green on which to enjoy a post-round cocktail. A relaxing day at Burning Ridge is exactly what will provoke envy among your friends in Pennsylvania, Ohio or Michigan.
More photos
«
»
December 2, 2010
Lisa Allen is a golf, travel and business writer based in Beaufort, S.C. She has edited newspapers, magazines and books in Michigan, Indiana and South Carolina. Follow her on Twitter @LAllenSC.