The Love Course at Barefoot Resort: A run of luck amid greatness in Myrtle Beach, South Carolina

By
Lisa Allen
,
Contributor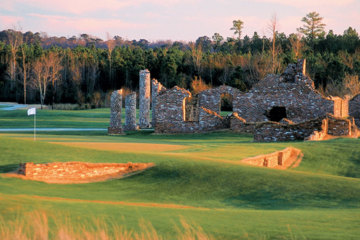 View large image | More photos
No matter what, golfers come off of the Love Course remembering the ruins, Head Professional Mike Ross says. (Courtesy of Barefoot Resort)
NORTH MYRTLE BEACH, S.C. -- The Love Course at Barefoot Resort has earned rave reviews as one of the best on the Grand Strand -- and for good reason.
It challenges every golfer who dares stand at the first and look over a marsh carry to a narrow fairway threaded between two bunkers.
And it only gets more difficult, like at No. 4, with its fairway split by a river and a dose of risk-reward for every shot.
Barefoot Resort's Love Course: The perils of reaching the green
Course designer Davis Love III likes wide fairways for drives from elevated tees, but look for risks -- bunkers, drop-offs or marsh -- on the edges. Then Love turns up the heat in front of the greens, often with communities of bunkers. The heat gets bumped another notch on the putting surfaces, mixing the poison with crowned, tiered or undulating greens and wicked pin placements.
Adding to the discomfort, most sides are shaved to draw shots into collection areas. No, this golf course isn't always fair. Good shots might get punished. Bad shots might get a lucky bounce or deflect into the fairway, like my approach shot on No. 6, which collided with an angled brick wall and left me with a great chip opportunity.
Some hazards aren't even real -- like bunkers that appear to sit near greens but don't, or plateaus that provide false-fronted putting surfaces.
Love puts bunkers in your face on No. 7. The eighth hole features a blind layup shot. And watch out for waste bunkers and and a tricky, left-sloping fairway on No. 14. Most attempts at escape will be thwarted. It's almost like Love wanted to raise your dander, so you'd return to show this golf course a thing or two. Not a bad marketing plan.
Barefoot Resort's Love Course's front side finishes with long par 3 into the wind, playing 187 yards from the white tees with a stair-step to the green. If you're short, it's a tough chip.
Just when you've had enough, though, Love backs off, throwing in a few holes on which you can really score. The par-4 10th and par-3 11th are straightforward and provide a return to normalcy. Of course, a little Love flair remains with a waste bunker in front of the 10th green and the small putting surface on the 11th.
He created other ways to remember this golf course, too, like the faux Scottish-like ruins near Nos. 4 and 6. According to Head Professional Mike Ross, people call to play the golf course with the ruins. "They don't even remember the name of the course, but they remember that."
Love offers another split fairway on No. 13, but the stakes are raised. The short route is thin and perilous; the other longer and safer. But the safe side slopes toward the more difficult route, so you're damned if you do, damned if you don't, and the margin for error after the tee shot is razor thin.
The characteristics remain similar for the next hole, differing only in that the trouble appears instead on the left. Again, the green is elevated, huge, tiered and undulating.
By comparison, the split fairway on No. 16 is kind, but a bigger obstacle arrives with a blind shot to the green if your drive lands behind the little jungle in the middle of the two fairways.
Then, it's off through a tunnel for the last two holes, Love's last ditch attempt at niceness. Pick a spot on the 17tth between two bunkers and hope for the best. Unleash a long second shot, and another mess of bunkers awaits before a false-fronted green with a ball-sucking collection area to the front and left.
The Barefoot Resort's Love Course's last hole, a par 5, features a fairway that narrows to a slit and an intimidating approach to a green sided by water to the left.
"The course is wide off the tee," Ross said. "It goes in line with Love being a big hitter."
And it's well known for its crowned greens.
Ross' advice? "Don't go pin-hunting. Go for the center of the green, take your two putts and move on.
Barefoot Resort's Love Course: The logistics
Three Barefoot golf courses, Greg Norman, Tom Fazio and the Love course, start from the same tiny spot of real estate.
"In April, we're booked from 7 a.m. to 2 p.m., with 12 golfers teeing off every eight minutes," Ross said. "We work with the space we have."
Over the years, they've perfected a system to keep golfers moving. Each golf cart includes GPS, though it doesn't help that the driving range requires a shuttle ride, complicating golfers' ability to get ready in time.
In peak season, starters stationed at each golf course gently discourage players from taking 10 practice swings before teeing off. Once on the golf course, if a foursome falls behind, the pro shop sends a message via the GPS system. And if that doesn't work, expect a visit from a ranger, who offers to rake traps to tend the pin to accelerate play.
A third warning usually isn't so benign.
Michael Shaw of Raleigh, N.C., a 9-handicap player, played Barefoot Resort's Love course for the first time, picking it because of its favorable reviews and other accolades. All of it was well deserved, he said.
Aaron White, also of Raleigh, loved the greens.
"Even wet," White said, "the greens were playing pretty true. It's a beautiful course."
 
The Love Course at Barefoot Resort: The verdict
This is a tough, tough golf course that relies, in some instances, on luck -- good and bad. The first time you play it, you might get frustrated, but you'll want to return. Regardless, after just one round, you'll replay it in your head. When it comes to the many golf courses in Myrtle Beach, Love's gem will remain fresh in your memory. That's the mark of greatness.
More photos
«
»
August 11, 2010
Lisa Allen is a golf, travel and business writer based in Beaufort, S.C. She has edited newspapers, magazines and books in Michigan, Indiana and South Carolina. Follow her on Twitter @LAllenSC.