Arrowhead Golf Club in Littleton: Breathtaking golf on Colorado's awesome red rocks

By
David R. Holland
,
Contributor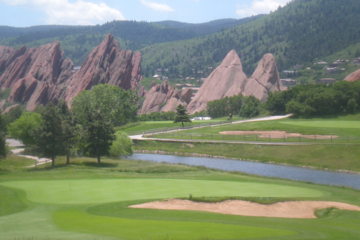 View large image | More photos
Arrowhead Golf Club's ninth hole is a handsome par 3 that plays 175 yards downhill with a series of jagged boulders lined up for viewing. (David R. Holland/TravelGolf)
LITTLETON, Colo. -- Arrowhead Golf Club, a godly garden for nature-loving golfers, resembles a kind of Land of the Lost -- a place where ancient sienna, razor-edged protrusions rise toward a perfect Colorado summer cobalt sky.
Blink twice and you'd think you were in Sedona.
You could wander the planet for 100 years and perhaps not find a setting any better for a golf course than this site in Roxborough State Park just south of Denver. Geologists say it took 300 million years for the slanted, jagged cerise rocks to form.
Robert Trent Jones Jr. required a small fraction of that time to design Arrowhead, one of the most photographed golf courses in the world and ranked as one of the best golf experiences in the state. Jones said the cathedral-like conglomerate rocks and the rolling terrain make it a must-play.
This 6,636-yard, par 70 opened in 1972, but a vision for it existed years before.
Arrowhead Golf Club: Historic, amazing site
Between 1860 and 1870, Henry Persse, an Irishman who immigrated to New York, visited Colorado and the area now known as Roxborough State Park 26 times. He wrote about its beauty for various New York newspapers.
Eventually, he bought the land, built a home in 1903, invited Denver's elite to visit and began to dream of a resort with a hotel, gardens, fishing, outdoor sports and a golf course. Sadly, Persse met a tragic end in a 1918 streetcar accident and never completed the story.
The land's history after Persse is also interesting. Early settlers plowed the meadows between the rocks, built irrigation ditches and planted crops. During prohibition, its remoteness made the land a whiskey-running area because of the hiding places among the rocks.
There even sat a house where ladies of the evening were available. Man, princesses of the pavement and a golf course -- what a combination.
Arrowhead Golf Club: The layout
Opened in 1972, Arrowhead Golf Club features profound elevation changes, quick greens, abundant wildlife and one of the most picturesque par-3 holes you'll ever experience. No. 13 measures 174 yards downhill, Red rock formations frame the shot. There's a lake behind the hole, and two bunkers protect it in the front.
View the Denver skyline from the par-3, 199-yard third hole. Be sure to check out the left side of the green, nestled among the rocks. The ninth is another handsome par-3 that plays 175 yards downhill with a series of jagged boulders lined up for viewing. Huge bunkers rest in front of the green and to the left, with a pond on the right.
The best birdie chance comes at the par-5 18th. At 543 yards, it's reachable in two shots, with a somewhat flat green. Another par-5, the 454-yard sixth, is also reachable in two shots.
Arrowhead Golf Club: The verdict
This land and the golf course are a photographer's palette.
Examine the words of a recent player:
"After watching the U.S. Open in June and admiring Pebble Beach, it gave me a greater appreciation for Arrowhead," said Jason Dorfman of Denver. "Pebble Beach is unique because of the coastal presence and how it represents California, whereas Arrowhead characterizes Colorado with its foothills, using natural boulders and the elevation of the Rockies.
"Being in the foothills also allows you to view wildlife. While we were playing the par-3 ninth, two deer trotted on the green and through the bunker. On the 12th tee box, we saw a red-tailed fox scurry around the rough. I think Arrowhead represents Colorado the way Pebble Beach characterizes California. I was impressed and would offer the experience to any friends or family who visit Colorado on vacation."
Water comes into play on eight holes, and 62 bunkers dot the golf course, emphasizing placement on drives and approaches. Fairways are generous but some slope, and the greens can be undulating and quick.
Arrowhead Golf Club's driving range allows irons only, but it does offer instruction from Joe Herbert, who has more than 30 years of experience as a PGA professional. In 1997, Herbert was nominated for PGA Teacher of the Year. He serves as the teaching professional for Crystal Cruise Lines and formerly worked as a junior golf leader for the PGA and golf coach for the Colorado School of Mines.
Corporate events heavily book Arrowhead Golf Club, so call before making the drive. The clubhouse, popular for events, replaced one lost in a fire. The Roxborough Room, accommodating up to 150 people, includes floor-to-ceiling windows on three sides and features panoramic views of the golf course and the red rocks, which get their color from oxidation of iron minerals.
On the Rocks Bar and Grill makes for an ideal setting to enjoy a meal and gaze at the flatiron monuments, which project an even deeper glow of red as the sun sinks over the spires and monoliths.
Where to Stay
The Doubletree Hotel Denver Tech Center, located in Greenwood Village, offers an easy commute to Denver's business center and downtown. You will appreciate the warm chocolate chip cookie at check-in after an invigorating round of golf at Arrowhead.
For more information, visit www.DoubletreeDenverTech.com or call (303) 779-6161.
More photos
«
»
June 29, 2010
David R. Holland is an award-winning former sportswriter for The Dallas Morning News, football magazine publisher, and author of The Colorado Golf Bible. Before launching a career as a travel/golf writer, he achieved the rank of Lieutenant Colonel in the Air Force reserve, serving during the Vietnam and Desert Storm eras. Follow Dave on Twitter @David_R_Holland.