Pinnacle Course at Troon North Golf Club in Scottsdale: Good before, even better now

By
Mike Bailey
,
Senior Staff Writer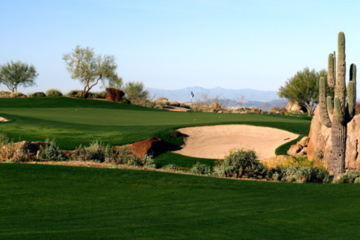 View large image | More photos
The second hole on Troon North Golf Club's Pinnacle Course is classic desert target golf. (Mike Bailey/WorldGolf.com)
SCOTTSDALE, Ariz. - Even if you're not a fan of desert golf courses, it's difficult to find much wrong with the Pinnacle Course at Troon North Golf Club.
You could scoff at the green fees (more than two bills during peak season). Beyond that, the Pinnacle Course, one of two 18-hole layouts at this 19-year-old resort facility, has pretty much everything you look for in a premier golf course.
The Pinnacle can be difficult if you're not on your game, but it's playable at all levels. The fairways are wide, greens are large for the most part, and there's plenty of terrific scenery. Even with the addition of multi-million dollar homes around the course now, they're set back far enough that they don't interfere with the vistas of the high Sonoran Desert and the course's namesake, Pinnacle Peak, in the background.
In fairness, though, to lump the Pinnacle Course with most desert golf courses probably isn't accurate. While it is target golf to some degree, a multi-faceted renovation completed in 2007 gives the Pinnacle Course a little more links feel.
Now, the course flows better and doesn't return to the clubhouse until you finish the 18th hole, a testy little par 4 that requires a good drive and better approach for a chance at birdie or routine par.
When the Pinnacle opened in 1995, its layout and that of the original Monument Course at Troon North were a bit discombobulated. There were areas where distances from greens to the next tee were lengthy and almost confusing.
Original Pinnacle architect Tom Weiskopf (Weiskopf and longtime partner Jay Morrish designed Monument) headed up the renovation, completed in 2007. The entire facility was reconfigured, blending some holes from Monument with Pinnacle. The result is shorter distances between the front and back nines, shorter distances between greens and tees; you could even consider walking these courses now.
In addition, greens were resurfaced with Penncross creeping bentgrass, and bunkers were renovated or moved. In short, the Pinnacle Course is just plain better, and it wasn't too bad before.
"The new configuration was something we contemplated in 1996 when we built the second course," said Weiskopf, whose reputation as designer continues to ascend with each passing year. "Both courses can be played exactly as the land dictates."
The new layout changed the Pinnacle Course from a par 72 to par 71. At 7,025 yards from the tips, it's all the course a good player can handle. Even one tee up, which is one of four tee box choices, it plays at 6,625 yards, and you can hit driver on virtually every par 4 or par 5.
The Pinnacle Course's best holes
The first hole, a 392-yard dogleg left, is a good gauge of what's to come. If you can keep your tee shot to the left side of the fairway, it sets up a short-iron approach. But finding the right portion of this huge multi-tiered green is critical. If you're left with a 70-foot putt, merely three-putting can be a challenge.
It's really that way throughout the golf course. Reading the subtle undulations of these greens isn't so easy either for first timers.
There's a good mix of holes, and they are all pretty memorable.
For example, push your tee shot on the 456-yard par-4 seventh, and you won't soon forget the huge boulders just right of the fairway. Because they can completely block out your approach shot to the green, which is still 200 yards away. Get behind them, and you could be punching out backwards.
The eighth is one of the coolest par 3s you'll find anywhere in the desert. At 190 yards from the back tee, the eighth plays over a deep ravine to a sloping green surrounded by high rocks on the left and three bunkers. A collection area below the green on the right makes for some fun up-and-down opportunities.
You make the turn on a 407-yard par 4 called "The Pinnacle," which features the signature pinnacle-shaped peak behind the green. That's followed by a great risk-reward par 5 called "The Saddle." This dogleg right tempts long hitters to cut the corner on the right to set up a reasonable approach across an arroyo. Most good players will probably risk going for it in two if they are somewhere within 200 yards of the green, but there is danger of being in the desert if you miss this small green left or right.
The 14th is another good par 5, especially the elevated tee shot. At 609 yards, it probably plays more like 570 yards, so some of the flat-bellies can get there in two shots, but it won't happen often.
The 16th is arguably the signature hole. Maxing out at 140 yards, this downhill "Post Card" hole plays shorter than its yardage, but with water in front and bunkers left and right, distance control is everything. It's part of a nice finishing kick, which also includes a dogleg left par-4 17th and solid finishing hole.
The Pinnacle Course at Troon North: The verdict
Troon North Golf Club has been and continues to be one of the top golf courses in Arizona. Ranked among the very top public facilities over the past decade by most major Arizona golf publications, the course is just that much better after the recent renovations.
The semi-private club also has a 32,500-square-foot clubhouse with plush locker room facilities, a restaurant and banquet and meeting facilities large enough to accommodate 200 people each.
The Pinnacle Course really falls under the category of you get what you pay for. For $200-$300 you would expect a course in immaculate condition with really interesting holes, a good flow and a perfect experience from clubhouse to range to first tee. Troon North and the Pinnacle Course deliver on all accounts.
Troon North's golf lessons and practice facilities
Large teeing areas on the driving range are complemented by plenty of good targets. There are also spacious chipping and putting greens as well as practice bunkers.
Lessons are available from the professional staff. Troon North also has the Callaway Performance Center, the first of its kind in Arizona and one of only 10 in the entire country. The facility combines computerized analysis with the expertise of certified professionals. It's the same system used to fit Callaway's tour staff players, including Phil Mickelson and Ernie Els.
"We are thrilled to offer golfers in the Scottsdale area access to the same state-of-the-art fitting technology we have at our headquarters in Carlsbad, Calif.," said Joe Urzetta, Callaway Golf's senior vice president of U.S. sales.
To book a fitting lesson, contact the golf shop at (480) 585-5300.
More photos
«
»
March 20, 2009
Mike Bailey is a senior staff writer based in the Houston area. Focusing primarily on golf in the United States, Canada, the Caribbean and Latin America, he contributes course reviews, travel stories and features as well as the occasional equipment review. An award-winning writer and past president of Texas Golf Writers Association, he has more than 20 years in the golf industry. Before accepting his current position in 2008, he was on staff at PGA Magazine, The Golfweek Group and AvidGolfer Magazine. Follow Mike on Twitter at @Accidentlgolfer.