Renovated TPC Scottsdale Champions Course now comes with goosebumps

By
Chris Baldwin
,
Contributor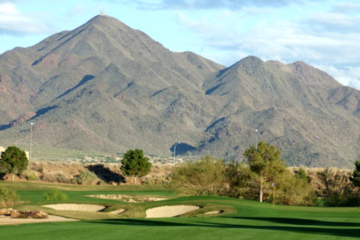 View large image | More photos
TPC Scottsdale Champions Course starts with fun par 4s toward the mountains. (Chris Baldwin/WorldGolf.com)
TPC Scottsdale's Desert Course has been renovated and reborn as the Champions Course, and the new change is just the start of this Phoenix Valley transformation. WorldGolf.com was among the first to play the new golf course.
SCOTTSDALE, Ariz. - The first thing you'll notice about the revamped, reborn TPC Scottsdale Champions Course is how much more rugged it is. And that's a good thing.
It's gone from being a posing pretty boy to a character with chomps, from a Tobey Maguire to a Harrison Ford.
Twelve million dollars, an unprecedented three-agency cooperation, a year of work from architect Randy Heckenkemper and a name change later, TPC Scottsdale's longtime second course has new life.
Pre-renovation and rebranding, this wasn't a bad golf course. But it never gave you goosebumps. In its new incarnation as Champions Course, it just might.
That's because the closing stretch now has drama.
Heckenkemper did the most work on 15 through 18, giving the end run what it long lacked: a set of cajones. You can no longer just push around this course, bully your way to pars and birdies simply by hitting long shots.
Instead, when you get to the Champions Course's 15th, you'll find yourself stepping back for a moment. It's an intimidating look from the raised hill tee box, a significant forced carry just to reach the fairway on the way to a green that's tucked back on another hill.
No. 16 brings a par 3 with another carry, a bridge and a cactus looming over the green. No. 17 gives you a par 5 that's as difficult as Roseanne Barr. Then, No. 18's probably the most unmissable change of all, a 460-yard par 4 with a lake in play.
"We wanted a finishing stretch that would stay with golfers," Heckenkemper said.
They got it. The new Champions Course's end run could haunt some scorecard dreams. I was playing great, then we got to 15 ...
Still, as much improved as TPC Champions Course's finish is, that wasn't the most encouraging part of this reopen visit. As one of the first golf writers to play the course post renovation, I didn't know what to expect.
The average regular golfer's fear is that the greens fees will skyrocket - especially for out of towners. They were still extremely reasonable by Scottsdale standards in early winter. Better yet, the course is now really promoting its walking rate.
The sometimes-superior attitude that can permeate the atmosphere at the cross-the-street sister course, TPC Scottsdale Stadium (home of the FBR Open, and they'll never let you forget it), is still nowhere to be found here even after that 12 million was pumped in.
It's still a low-key and relaxed place where golfers know the actual golf comes first. There are no cart shows or fancy dining touted despite its tony North Scottsdale address. You're here to get out onto the course, and that's respected.
Heckenkemper still lets you work your way into the round in his revamp of Jay Morrish and Tom Weiskopf's original design. Champions Course starts with two short, fun par 4s and then a straight-forward par 3, all the better to get you rolling.
With the mountains in the far distance and the private jets zooming overhead to and from nearby Scottsdale airport, it's a pretty unique scene.
It's the same course as the Desert Course in many ways, only much more fun. The Bureau of Reclamation - a U.S. government agency under the Department of the Interior that oversees water resource management and actually owns the land the course is on - let Heckenkemper put in a number of new back tees up on little side hill corners that had previously been off limits.
Some of these tees appear almost squished in, but they create interesting, tough shots.
Heckenkemper pumped the new Champions Course up to a 7,115-yard par 72 - an increase from the 6,423-yard, par-70 Desert Course. The best part of the renovation, though, is how the desert waste areas look more natural, bleeding in with the fairways.
This area of Scottsdale's been so industrialized and condo-sized that a lot of the real desert feel got lost. Heckenkemper's brought some of the desert back.
No more faux posing. TPC Scottsdale Champions Course is now interesting enough to stand on its own.
The Verdict on the new TPC Scottsdale Champions Course
This major dollar renovation - which came out of the city budget (Scottsdale finances both TPC Courses in collaboration with the PGA Tour) - makes TPC Champions a course you can play on its own merits, as opposed to a course to play because you can't afford or stomach TPC Stadium's greens fees.
It still doesn't make TPC Champions one of the elite, must-play courses in the Valley. But the change for the good is even more dramatic than you'd expect. Take No. 7. While this hole is still in the midst of the course's office hole stretch (you'll see a mortgage outlet, condos and a Marriott under construction), the actual golf has done a nice 180.
The big desert is much more defined in the middle of this short par 4, suddenly capable of playing havoc with your tee shot. What used to be a rather mundane hole on TPC Desert is now a compelling one on TPC Champions.
That's what Heckenkemper's eye seems to have brought to the transformation. This isn't a rote, take-the-cash-and-do-a-few-tweaks makeover. There's obviously a lot of thought and passion put into making it better.
Now that the course itself is more interesting, some of the things that could take away from the playing experience at TPC Desert don't seem quite as huge anymore. The private jets still parade over, close enough to rumble the flags on a few greens, but for some reason it's not as annoying.
When you're having fun on a golf course, the outside stuff doesn't matter so much.
Call it $12 million of good vibes. And a success.
More photos
«
»
January 23, 2008
Chris Baldwin keeps one eye on the PGA Tour and another watching golf vacation hotspots and letting travelers in on the best place to vacation.