High tech walking on the Saguaro course at We-Ko-Pa Golf Club near Scottsdale

By
Chris Baldwin
,
Contributor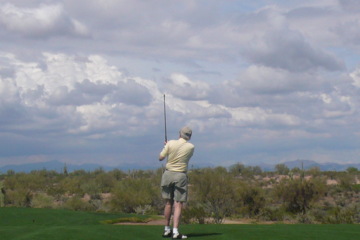 View large image | More photos
It's all green fairways, striking blue sky and memorable shots at Saguaro. (Chris Baldwin/GolfPublisher.com)
A high-end, walking golf course in the heart of the Arizona desert. Sound crazy? Welcome to the Saguaro Course at We-Ko-Pa Golf Club, where the high-tech hijinks of electronic pull carts do not take away from what is one of the most memorable rounds of golf in any Phoenix-Scottsdale golf vacation.
SCOTTSDALE, Ariz. - Want to feel like James Bond while golfing?
You need a gadget. And not just some swing aid that looks like it came out of a Cracker Jack box either. No, this requires something cool enough to have been cooked up in Q's laboratory.
The Saguaro Course at We-Ko-Pa Golf Club provides this opportunity. This Bill Coore and Ben Crenshaw design is a new course on American Indian land in Scottsdale's shadow that is made for walking.
Of course, this is Scottsdale's resort corridor and just walking will not do in the land of slickness. It has to be walking with style. That's where the Speed Carts come in.
Forget those tired old pull carts. Banish any thought of lugging your own clubs. Or straining yourself any more than the Sultan of Brunei for that matter.
Saguaro's Speed Carts are the electronically self-propelled version of the pull cart. They look like Segway scooters, only the one rider is your golf clubs. You press buttons to increase or decrease the speed and send your clubs on their way, ahead of you up the fairway. The carts stop automatically after a certain distance on one setting.
Meanwhile, you're strolling leisurely up Saguaro's ultragreen fairways, hands and mind free as the striking blue sky.
At least, that's the theory.
The reality's a little more complicated - and comical.
Turns out, they don't call these things Speed Carts for nothing. Hit a button once too much, and your clubs are racing up a hill, zooming toward an imposing cactus. And guess who's racing to catch up and hit stop before there is a whole lot of explaining to do in the clubhouse?
"I never knew golf could be so much like track," John McKnight, one of my playing partners, quipped as I sprinted after my self-propelled clubs. Again.
Sure, you might look like a crazed MTV Jackass cast member to a few of the more stodgy old-schoolers playing Saguaro in traditional riding carts (and most golfers surprisingly do still ride the walking course). But who cares?
It's all part of the fun of Saguaro, one of the most anticipated courses in the Phoenix-Scottsdale valley in the past decade.
"We try to give you serious golf," said Derek Crawford, We-Ko-Pa's director of sales & guest services. "But not take ourselves too seriously."
Walking in desert golf fantasyland
In a world of modern courses that are as spread out as the Manhattan subway system, Coore and Crenshaw designed Saguaro so that it could be easily hoofed. The greens and the following tee boxes are close enough together to make for a leisurely, easy pace. In many cases, you walk off the green, take about 10 steps and are on the tee.
Which doesn't mean that Saguaro is a crammed-in course. Anything but. With no houses in sight, towering cacti everywhere (saguaros are a type of monster cactus) and bluish mountains looming, a round here promises to include many admiring head shakes.
Sometimes, you'll feel like you climbed up onto the frame of that great golf picture, jumped right in and started swinging.
There are holes where you're shooting straight uphill, seeing nothing but those mountaintops in the sky from the tee (No. 6). There are holes that curve up, hugging the desert on every turn (like No. 16 which ends on a high plateau green that's the best viewing platform on a course full of great views).
Only, this pretty picture often slaps you right across the face.
You can't swing hesitantly at Saguaro. You have to make decisions and be sure of them. And not just on No. 14, where the fairway is completely split in two, right down the middle, by cacti and the risk-reward is so obvious it practically falls from the sky.
The green fairways are so well-manicured at Saguaro it's sometimes easy to forget you're in the middle of the desert. Until one of your shots goes screaming into the brush or bouncing off a cactus.
Suddenly, you realize We-Ko-Pa is a long way from Scottsdale's home-side golf courses.
At least your clubs have their own ride to get back.
The Saguaro course at We-Ko-Pa: The Verdict
A high-end walking course in the heart of the Arizona desert sounds a little crazy.
Yet this wacky idea works.
This promises to be one of your most memorable rounds on any Phoenix-Scottsdale trip (even if you insist on riding in an old-fashioned cart). Saguaro Course is more than just a gimmick.
It's a tough test of Arizona golf in a uniquely beautiful setting. While the original Scott Miller course at We-Ko-Pa (now called Cholla) intimidates by putting the jagged desert in your face, Saguaro mostly keeps it in the corners and select forced carries.
The desert's always lurking, but it's never over the top.
Those self-propelled Speed Carts are the drama queens at Saguaro. You'll get a brief few-minute lesson on how to work them before your clubs are sent out. Pay attention - don't expect it to be as easy as it sounds.
Your clubs will often be on a journey of their own.
"We wanted to do something a little different," Crawford said.
Forget the little. Saguaro's one of a kind. It's an experience you don't want to miss in this land of cool resorts.
More photos
«
»
August 27, 2007
Chris Baldwin keeps one eye on the PGA Tour and another watching golf vacation hotspots and letting travelers in on the best place to vacation.