Michelle Wie, other teenage pro golfers need to announce retirement

By William K. Wolfrum,
Contributor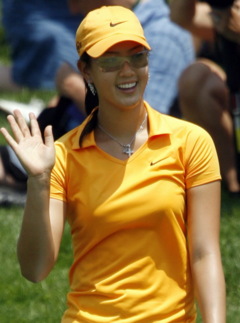 View large image
Michelle Wie has encouraged many other golfing teens to shoot for the sky. (.)
Attention all young golfers intent on shocking the world with your greatness in LPGA Tour and PGA Tour events: It's over.
Yes, just as the Pet Rock disappeared from the social conscious, so must the excitement over the now trite and dull "Kid golfs good" story. Because I believe that I speak for just about everyone when I say the thrill is gone. Much like Jennifer Lopez, you've been overexposed.
Because, face it, lately it's just become an endless barrage of stories of teens trying to take on the golfing establishment.
• South African teen golf star Ashleigh Simon turned professional and signed a management deal with IMG.
• Dakoda Dowd, 14, fails to make U.S. Women's Open.
• Fifteen-year-old Ryo Ishikawa is the toast of Japan after winning the Munsingwear Open KSB Cup on the Japanese men's tour.
• In Canada, 18-year-old Kyle Griffis qualified for the Nevada Bob's Men's Tour.
• Jed Dirksen, 18, was the medalist at local qualifying for the U.S. Open at the Davenport Country Club in Davenport, Iowa.
• Samantha Larson, 19, of the U.S. became the 'youngest foreign woman' to summit the world's tallest peak as thirty-one climbers scrambled to the top of Mt. Everest. Ok, maybe this isn't about golf, but it just shows that once you start letting young people do things, they get all crazy about it, and then we have chaos, pure and simple.
There are even Tiger Beat-styled magazines like Golfer Girl magazine (featuring an interview with 15-year-old golfer MacKenzie Kline!).
Michelle Wie, soon to celebrate her 18th birthday (amazing, given the fact that it seems like she's actually been in the news for 25 years or so), blazed a trail for so many of these younger golfers. Actually, she more than blazed the trail, she scorched it.
Because if you look realistically at Wie's on-course accomplishments, you see she's done quite well. A bunch of top-5 finishes in LPGA majors, and some seriously good tournaments, despite her lack of victories. At just a tick under 18, she's put together a solid resume, despite her foolhardy forays into men's golf.
But, face it, Wie pretty much ruined the public for young golfers. Over the last few months, as Wie recovered from injury, many people have breathed a sigh of relief as the shrieking blare of the Wie PR machine has finally quieted. The public relations effort not only made Wie a star, it also got people believing that not only would she be the best golfer ever of either sex, she would likely cure hunger and sadness.
In the end, the PR machine helped make Michelle Wie, but it made us all a lot more wary of the next youngster coming up.
Now don't get me wrong, I completely understand that I'm displaying a "Hey you kids! Get off my lawn!" type of attitude. I want these kids off our lawns. I just don't like living in a world where "So, do you like anyone?" is considered a biting question at a professional golf tournament press conference.
In fact, I'm willing to give the grandfather-rule to at least one teenager, before banishing the rest of them to college, high school, grammar school, or wherever it is that they really belong. Tadd Fujikawa can stick around. First off, he's what? four-foot-seven? He's adorable as hell. Plus, the 16-year-old became the youngest player to make a PGA Tour cut, then won the Pearl Open in Hawaii against more seasoned pros.
So Tadd can stay. And Morgan Pressel. A major earns you an exemption. The rest of you, call us when you're 21.
May 22, 2007
William K. Wolfrum keeps one eye on the PGA Tour and another watching golf vacation hotspots and letting travelers in on the best place to vacation. You can follow him on Twitter @Wolfrum.