Tom Hoch Design knows that by design, successful golf hangouts make you want to stay after play

By
Mike Bailey
,
Senior Staff Writer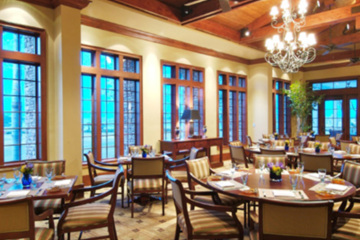 View large image | More photos
The dining room at the Ritz-Carlton Sarasota isn't just designed for golfers; it's laid out to attract non-golfers as well. (Courtesy of Tom Hoch Designs)
The best part of golf, sometimes, comes after the final putt. That's when you retreat to the clubhouse, go over the scorecard and regale the shots missed and made. It's when you have a great dinner, maybe a couple drinks, watch a ballgame and settle the score.
It's called the 19th hole. And like golf courses, some are better than others. Lately, golf courses have infused a lot more detail into these hangouts. A good 19th hole doesn't happen by accident.
Tom Hoch Design of Oklahoma City ranks as one of the best in the business at creating a memorable 19th hole. Recent projects include Dove Mountain at the Ritz-Carlton Golf Club in Marana, Ariz., the Farm Links Golf Club in Sylacauga, Ala., the Ritz-Carlton Golf Club in Sarasota, Fla., the Renaissance Golf Club in Haverhill, Mass., TPC Valencia in California and the Tulsa Country Club in Oklahoma.
The firm has also completed projects with Apes Hill Club in Barbados and The Abaco Club in the Bahamas.
All in the family
Hoch, 47, offers a lifetime of experience. Although he attended Texas Christian University initially to study finance, he quickly realized his passion and talent for the family business, founded by his parents, Tom Sr., and Joanne Hoch, in 1963 in Oklahoma City. He switched his major to interior design and has never regretted the decision.
"I grew up around it my whole life," he said. "It's exciting stuff."
Tom Hoch Design has, in some ways, reinvented its practice, using what Hoch calls a "revenue-based design" model. It involves space planning, sizing and mapping for retail-driven spaces suitable to create food and beverage operations and golf shops.
To his clients, it means money. To you and me, it translates into a place to spend time.
It all starts in Tom Hoch Design's 30,000-square-foot studio, where projects highly skilled artisans, carpenters and designers build and design projects. An-house team handles the installation, allowing the process to require minimal outsourcing.
Hoch starts with a branding survey, conducted to assess membership or customers.
It's part of a three-pronged approach to success - a great building, great product and great people to deliver it.
"We help clubs find out who they are," Hoch said. "'Build it, and they will come' is a dangerous proposition."
These days, people gravitate toward a surrounding that tells a story, he said.
"It's more of a pub concept," Hoch said, "which gives you a sense of belonging, warmth."
In other words, would you visit if you weren't playing golf? The successful 19th holes and clubhouse grills attract even the non-golfers, who can provide an additional revenue stream.
For example, Hoch Design finished a renovation at Farm Links Golf Club in Sylacauga, Ala., in which his company enclosed a back porch and opened a dining area to ofer more flexibility. It's now a popular spot for weddings.
At Dove Mountain, site of the WGC Accenture Match Play Championships, Hoch designed the extensive, climate-controlled wine room to appeal to golfers and non-golfers alike. Careful planning went into the lighting, hardware and furnishings.
"Attention to detail is so important," he said.
You'll find the latest technology in Hoch's recent designs. Look for big, flat-panel TV screens with high-definition programming and business centers that feature Internet and e-mail access. Nothing is left to chance.
A successful 19th hole must hold its own. It's a place where golfers and non-golfers want to congregate. And it will make you think twice about that trip to Chili's or any other chain restaurant after a round of golf.
More photos
«
»
December 29, 2009
Mike Bailey is a senior staff writer based in the Houston area. Focusing primarily on golf in the United States, Canada, the Caribbean and Latin America, he contributes course reviews, travel stories and features as well as the occasional equipment review. An award-winning writer and past president of Texas Golf Writers Association, he has more than 20 years in the golf industry. Before accepting his current position in 2008, he was on staff at PGA Magazine, The Golfweek Group and AvidGolfer Magazine. Follow Mike on Twitter at @Accidentlgolfer.